How Monimala cleared CCIE exam in 1st attempt and got placement after CCIE Training from Network Bulls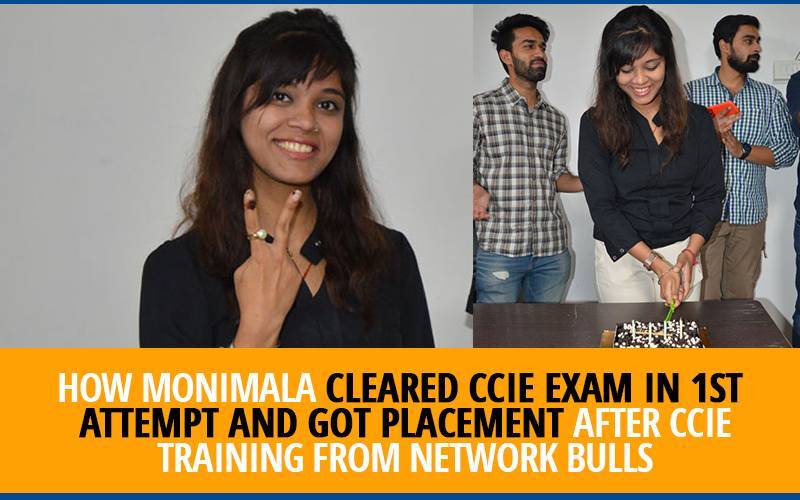 By
Networkbulls
"Network Bulls not only helped me pass the CCIE exam in the 1st attempt but also shaped my career by helping me find a job at top IT Company Intec Infonet as a Network Security Engineer at the package I ever imagined"
Passing Cisco Certification exam is a once in a life-time dream of any Network lover. 
Yes, CCIE is one of the toughest IT certifications exams in the world which summarizes why it is globally acknowledged as the highest-paid networking certification by Cisco.
But Network Bulls students have been passing this toughest exam in the first attempt from past few years. In fact, we are the only institute in India producing 95% CCIE success rate in Cisco examinations.
Monimala (A Network Bulls Student) has portrayed one of the best examples for the same. Where everyone dreams to crack the CCIE certification exam, Monimala achieved CCIE success in the first attempt only.
 Interesting, right?
Chasing your CCIE dream in 1st attempt in difficult but believe me for this one, it's not impossible.
To know how Monimala cleared CCIE exam in 1st attempt, let's have a look at her CCIE training journey at Network Bulls and learn how she got placed at Intec Infonet.
Also read: How Network Bulls Intensive Training Model Makes You Job-Ready in Networking Industry?
Monimala CCIE Success Story Starts at Network Bulls 
After a friend's recommendation, Monimala joined Network Bulls for Cisco CCNA, CCNP, CCIE Security courses training.
She completed her CCIE training under the guidance of certified trainers and practiced in NB's 24/7 accessible labs for double and triple slots.
After world-class training, she started preparing for the Cisco CCIE written exam & lab exam by giving her full-time to the Network Bulls' labs.
She cleared the CCIE Security exam in the first attempt within a few months of CCIE exam preparation and achieved the biggest milestone of her career. 
Let's hear from Monimala about her CCIE Security Training journey at Network Bulls –
"Hello, I am Monimala. Recently, I cleared CCIE Security Certification exam in first attempt after CCIE Security V5 Integrated course training at Network Bulls. I decided to attempt the Cisco certification exam as my trainers made me believe that I can do it and today I succeed #62119. 24/7 lab facility at NB advantage me the most for my CCIE Security exam preparation and I have prepared so rigorously that the result is in front of you all."
Monimala's placement journey at Network Bulls after CCIE success
Once passing the Cisco certification exam on the 30th of May, 2019, Monimala came into regular contact with Network Bulls' dedicated placement cell.
It didn't even take a month to Network Bulls' placement team to find a suitable job for Monimala in the top IT company Intec Infonet.
Unbeatable training by the pool of professional trainers gets paid off when Monimala cleared her technical rounds in just one go by speaking fluently and confidently in her interview.
Let's listen to what Monimala has to say about her placement journey at Network Bulls –
"First I would like to thank my trainers Mr. Piyush Kataria and my lab instructor Mr. Abhinav Singh for their unmatchable teaching skills. My voice and accent trainer Mr. Siddhartha Paul for teaching me how to speak fluently, confidently in job interviews and the whole Network Bulls family for optimum training atmosphere. They are the ones who get credit to my job placement in one go."
So, Networking and Network Bulls was the perfect choice for Monimala to start her professional career which gave her technical knowledge, networking skills, charismatic personality, and job placement after training.
Clearing Cisco certification exam and finding a suitable job placement could be a daunting task when you miss any of the above-mentioned facilities. But at Network Bulls you get additional facilities like,

Download PDF
How Monimala cleared CCIE exam in 1st attempt and got placement after CCIE Training from Network Bulls
100% job guarantee course

Intensive training model

Cisco authorized study material, practical workbooks

Unlimited repetition of batches

Smart classrooms with live racks, projectors and more...
Remember, righteous guidance, true dedication, and consistency are the major factors which play a huge role in accomplishing CCIE Success. How hard you work is how better you score.
Also check: Back to Back Placement after CCIE Security Course Training
Monimala is one of the Network Bulls students who have achieved her career goals within less than a year. And if she can, you can also achieve your career goals from Network Bulls and become a legendary example for network lovers.  
To clear CCIE certification exam and get guaranteed job placement enroll in Network Bulls' CCIE integrated program available in R&S and Security track.
Training facilities, labs, trainers, learning environment, cutting-edge devices, training methodology, past CCIE track record and placement history matters a lot which you can check on Network Bulls' official website - https://www.networkbulls.com/ or visit Network Bulls, Gurugram to learn more about us. Schedule your visit today - 1800-313-2545.