Meet Network Bulls' Recent Students Who Got Placed In MNCs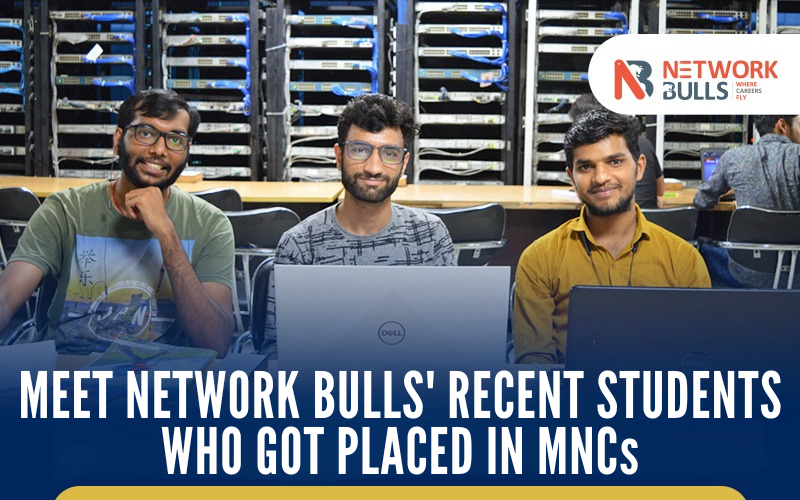 By
Networkbulls
Network Bulls is Asia leading IT and CISCO networking training institute. It has been offering some of the best CCIE networking training courses to its students for the last several years. It has well equipped Cisco networking Lab with advanced routers, switches, and racks. 
Network Bulls, Gurgaon, has also successfully maintained its glorious track record of 100% placement for its students. The Gurgaon-based institute has won 17+ awards and several accolades in the past few years. 
It is not only Asia's best CISCO training center for graduates and postgraduates but also a launchpad for students to realize their dreams. Students of Network Bulls have been placed at big MNCs over the world. 
Recently, many students got a big career breakthrough in reputed companies like Locuz,  Airtel, Concentrix, and more. 
Registered students can get access to its 24-hour lab facility for practice sessions. NB has a team of brilliant instructors and trainers with dual and triple-level CISCO certifications. They make sure that students understand each topic and segment carefully before moving on. 
Network Bulls is a thriving example of an institution par excellence. It has helped several students accomplish their dreams and career goals in life. 
Lets meet and also here video testimonials of some of our best students who got their dream job in IT networking:
 Surajit | Orange
Surajit enrolled in the CCIE Security V6 Integrated course a few months back. He always wanted to become a networking security professional and work at a reputed MNC. Network Bulls, Gurgaon, is happy to inform you all that as soon as he completed the course, he got placed at Orange at a lucrative salary package.

Nikhil | Airtel 
Nikhil joined Network Bulls to pursue his dream. He studied CCIE Enterprise Infrastructure and was successfully placed at Airtel upon completing the course. Nikhil is happy that he is living his dream. He also recommends Network Bulls to other aspirants who want to do something big in their lives.

Hitesh | British Telecom
Hitesh enrolled in Network Bulls to complete a job-guarantee program in CCIE Security V6 Integrated training as he wanted to pursue a rewarding career in networking. He bagged the job at British Telecom as a CCIE security professional. He thanked the Network Bulls placement team for their constant support and mentorship.     

Kunal | Capgemini
Kunal cannot forget his memorable days at Network Bulls. He thanked the institute for making him what he is today. Kunal wanted to have advanced knowledge of networking, and he joined Network Bulls. And as they say, the rest is history. He not only learned the nitty-gritty of networking through the CCIE Enterprise Infrastructure course but also got the necessary support and mentorship from team NB. After successfully completing the training program, he got a job at Capgemini.

Narayan | TATA Communication
Narayan wanted to carve his niche in the field of IT networking security and he successfully did it. He took admitted to our 100% job-guaranteed CCIE Security V6 Integrated Training Program and successfully completed the same. He bagged a job at the prestigious Tata Communication with the help of our placement support services.
Video Testimonials
 Rupesh | Capgemini
Rupesh joined Network Bulls and never looked back since then. He always wanted to be a successful networking professional and now living his dream. The institute provided him necessary guidance and mentorship that helped him get a job at Capgemini. Rupesh completed CCIE Enterprise Infrastructure from NB and thanked team NB for helping him accomplish his dream job.
You can check his success story here:
Jyoti | Compucom
 When Jyoti took admission to Network Bulls, she didn't have any idea how her career would take a sharp turn soon. She studied the CCIE Enterprise Integrated training program at NB to fulfill her career goals. Subsequently, she got a job at Compucom as a networking professional. Now she is thoroughly enjoying her life. 
She recommends NB to other aspirants as well because the institute has an excellent training infrastructure, a 24-hour lab access facility, and an excellent team of trainers and placement support staff.
Let's listen to her career story here:
Rahul | Airtel
Rahul thanked Network Bulls for all the success he's enjoying these days. He enrolled in Network Bulls' CCIE Security V6 Integrated program and successfully completed the same. He is especially grateful to the trainers and placement team who supported him whenever he needed any assistance. Rahul is now gainfully employed at Airtel as a networking security professional and enjoys each aspect of his work.
Here's what Rahul said about Network Bulls in this video:
Tanishq | CSS Corp
Tanishq has recently completed the CCIE Enterprise Integrated training program from Network Bulls. He is delighted that he got a job at CSS Corp immediately after completing the program with a lucrative salary package plus perks. He is thankful to Network Bulls for making him what he is today. As a newbie, he did not know anything about IT or networking. But instructors at NB made him an expert in just a few months.  
Know more about Tanishq's journey here:
Aman | Blackbox 
Aman joined Network Bulls as a graduate. He never knew that joining the institute was the best decision of his life. Aman completed NB's job-guaranteed course: CCIE Enterprise Infrastructure and was subsequently placed at Black Box. He thanked Parvez Sir, Shivani Ma'am, and NB's placement team for his success. Aman recommends Network Bulls to candidates looking for a successful career in IT networking.
Here's what Aman has to say about Network Bulls:
100% Job-Guaranteed Programs of Network Bulls
CCIE Enterprise Integrated Training Course
If you want to get a high-salaried job immediately after completing a course, join NB's CCIE Enterprise Integrated Training Course. It is the best course for those students who are looking forward to a rewarding career in networking.  
Some of our recent students who pursued the CCIE Enterprise integrated program have got placed at CSS Corp, Spectranet, Tech Mahindra, Netoyed, and various other reputed companies in India and abroad...
CCIE Security V6 Integrated Training Program
Another brilliant career option is to pursue the CCIE Security V6 Integrated training program. As soon as you enroll for any of these courses, you will get a written job guarantee letter assuring you of 100% placement at a reputed firm after completing the course.
Some of Network Bulls' recent candidates who successfully completed their CCIE Security courses got placed in Orange, L3 Harris, DELDSL, Locuz, British Telecom, and others. Many of our candidates are also gainfully employed abroad.
In Conclusion
At Network Bulls, you will receive theoretical training, hands-on experience, and an opportunity to work with advanced networking routers and switches, plus personalized attention for grooming.
Any graduate or postgraduate can take admission to Network Bulls to accomplish their dream. Our training module includes theoretical classes, lab sessions, spoken English classes, and mock-in interview sessions to help you crack interviews.  
After completing a job guarantee program from NB, you can expect a lucrative salary package of around 5 lakh per annum as a fresher. What are you waiting for? To know more about our 100% placement record or admission process, call us at 1800-313-2545 or email us at admin@networkbulls.com for more information. All the best!