10 Reasons to Choose CCIE as Career in India | Know Scope of CCIE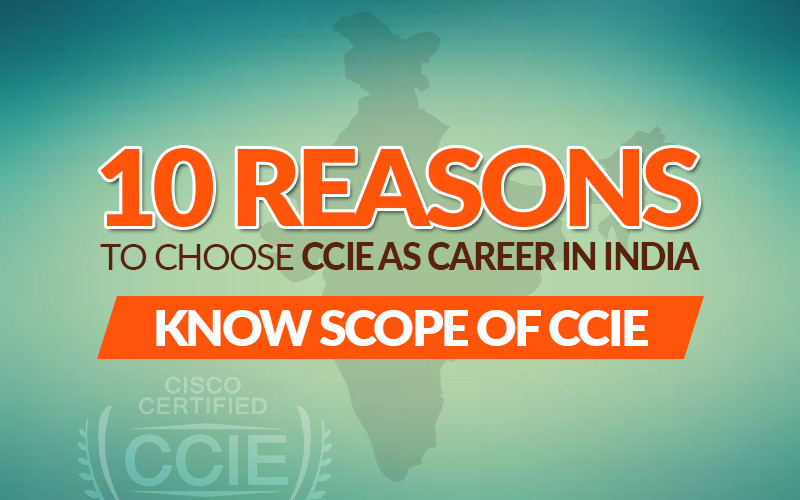 By
Network Bulls
To achieve success in any field being an expert is very important and to become an expert one should master that field.  Conquering CCIE Certifications certifies your expertise in the IT networking industry.  CCIE (Cisco Certified Internetwork Expert) is amongst the most demanded, and rewarding IT certification around the globe.
Many B.Tech, BCA, MCA and other non-technical students face a dilemma while opting for CCIE certification courses. They get confused about the career scope and growth, this field can offer. Don't get worried, because we know your concern and this blog post will address all such concerns of yours. 
We will give you 10 reasons to choose CCIE as Career in India, which can help you to achieve the biggest milestone in your career and become a complete IT package.
1. Most Reputed IT Certification Ever -
CCIE is the highest level Cisco certification and it trains on designing, implementing, and troubleshooting complex enterprise networking infrastructures.
"There are only 58,000 CCIE Certified Professionals in the entire world? Whereas, IT Industry needs over 500,000 CCIE's more in India"
Can you see the opportunity, salary, career growth, and respect which can be achieved by being CCIE Certified? You can be only CCIE Certified professional in your process, or in the company.  
In order to become a CCIE certified, you need to pass its 3 hours of written exam + 8 hours of the lab exam. However, CCIE examination is conducted over 10 locations worldwide. Sounds tough? 
It is tough, but absolutely possible even in the 1st attempt if right training is taken and hard work is done. We have over 80% 1st attempt pass rate and 95% of our students are freshers. 
2. Kick-Start Your Career With 4-6 Lacs Package As A Fresher
In a country like India, B.Tech/BCA engineering students face difficulties to kick-start their career with 2 Lacs package, CCIE gives you the opportunity to kick-start your career at 4-6 lacs/yr. package if you pass the CCIE Written + Lab exam. That's a dream career start for any fresher. 
Even if you don't pass the CCIE Lab exam but you have the knowledge up to CCIE level, you can still get 3-5 lacs/yr. package depending on your skills.
3. Incomparable Salary Growth after CCIE in India -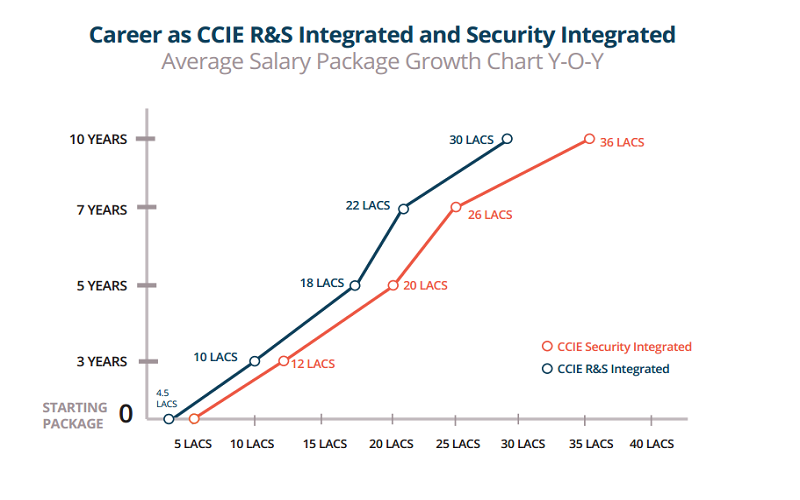 The scope of CCIE is huge, this field has an incomparable growth in terms of salary packages. If a candidate has pursued Software engineering course, Oracle, or other IT certification courses, the salary package of CCIE would be supremely higher than the other tech fields. If you want to know CCIE Salary in India in 2018, answer is here. CCIE Salary in India varies from company to company, profile to profile and city to city.
CCIE Fresher engineers in Delhi NCR and Bangalore gets 4-6 Lacs package, whereas Chennai offers over 6 lacs as well. Noida, Hyderabad, Kolkata, Mumbai and Pune gives little lower salary packages to CCIE's in Inda than Delhi, Gurgaon, Bangalore and Chennai. A CCIE Engineer in India can get upto 40 lacs package even before 10 years of experience if he/she earn multiple CCIE Certifications like R&S and Data Center or R&S and SP or R&S and Security. Scope of CCIE in India is really huge, as CCIE Salary Packages in India are already at higher side looking at increasing demand of CCIE's every year and less supply.
4. Recession Free Career -
Networking professionals enjoy a secure future as their demand remains constant without losing its grip over economic market worldwide. 
The biggest reason for the same is - IT company's internet networks and infrastructure cannot be designed, implemented and maintained by just any individual or software professionals. Thus, Network Engineers are always required, no matter what. It's a recession-free career.
5. Chance to Quadruple Your growth With Multiple CCIE Certifications -
Having multiple CCIE certifications into your resume will add an unmatchable edge to your portfolio which in return can get you tremendous career growth. 
For an instance, if a candidate has pursued CCIE Routing and Switching course certification, and worked for a couple of years, then he/she can either pursue CCIE Security, CCIE Service Provider or CCIE Data Center. All these combinations will help you double your salary fortnightly or even more. Here are some amazing combinations of CCIE Certification to boost your career growth and salary packages in India:
CCIE R&S + CCIE Security
CCIE R&S + CCIE Service Provider
CCIE R&S + CCIE Data Center
CCIE R&S + SP + DC
CCIE Security + CCIE DC + Multi Vendor Security Certifications
6. Get Promoted Faster -
If you have CCIE certification, you'll get promoted faster in the IT industry as compared to - CCNA and CCNP candidates or if compared with non-networking career options like Software Engineering. IT companies trust CCIE's because they have more in-depth knowledge of networking so they want CCIEs to lead their projects.
And the reason for the same is obvious - CCIE Certification validates that a candidate is expert in respective technology and can handle networking projects better than anyone else in the company. 
If you do CCIE as a Fresher and start your career as even L1 profile/position, you can reach L3 within 3-4 years of experience which is impossible for CCNA or CCNP level engineers.
80% students who did CCIE 3 years back from Network Bulls are working @ 15 lacs/yr. or more package in India.
7. International Career Opportunities - 
International placement is the dream of many students as well as working professionals and CCIE Certification is definitely a ticket of the same. If you got CCIE certified, this certification can work as a direct visa to abroad.
More than 10% Network Bulls pass out students are working internationally in USA, UAE, Oman, Qatar.
If you are a CCIE, and working in India in companies like Tech Mahindra, TCS etc, you can easily get a lot of On-Site career opportunities where you get chances to visit countries like Dubai (UAE), Canada, USA, UK, Australia and more. You will have a chance to work on multiple international projects and get paid really well. You also get multiple opportunities to get settled in such countries. Scope and CCIE Salary in Dubai, Canada, Australia, UK are much higher than CCIE salary in India in 2018.
8. Tremendously Growing Demand for CCIE's - 
More and more companies from around the globe are getting connected and collaborating. That is another reason why demand of Network Engineers is increasing rapidly.
Today IT industry requires 500,000 CCIE's and this demand is going to increase 2x within next 5 years.
Now to fulfill this demand India has become a popular destination because of having the largest young workforce in the world and quality of Network Engineers available. So entire world is looking to hire from India, tremendous growth is obvious. Introduction of smart cities concept in India is biggest reason of booming demand of CCIE's in India.
9. Availability of CCIE Training in India For Freshers - 
Earlier, CCIE training was not available in India due to two reasons -
Lack of CCIE Certified Trainers
Over a million dollar investment needed to set up CCIE Labs
But those days are over, now we have CCIE training available in India with the most updated training infrastructure and world's biggest team of CCIE's @ Network Bulls. 
Network Bulls offers 100% job guaranteed CCIE Integrated courses in which we train our students from very basics i.e. CCNA (associate level) and take them to CCIE (Expert Level). 
If you're a fresher, you can do CCIE integrated certification course @ Network Bulls. After completing the training, you'll be offered to work as a Network Engineer in BIG IT companies with handsome salary packages. 
10. Intensive Training Model by Network Bulls - 
We at Network Bulls not only train our students theoretically but we also groom them professionally. Network Bulls offer Intensive training which includes - 
2 Hrs theoretical Classes
3 Hrs practical Classes
2 Hrs Personality development Classes
Things you'll get to learn under personality grooming sessions -
    Spoken English classes
    Personality Development classes
    Group Discussions
    Presentation skills and confidence building classes
    Mock interview sessions
    CV Writing classes
    Technical interview sessions
    HR interview sessions, etc.
And that is how we turn a fresher student into job-ready professional.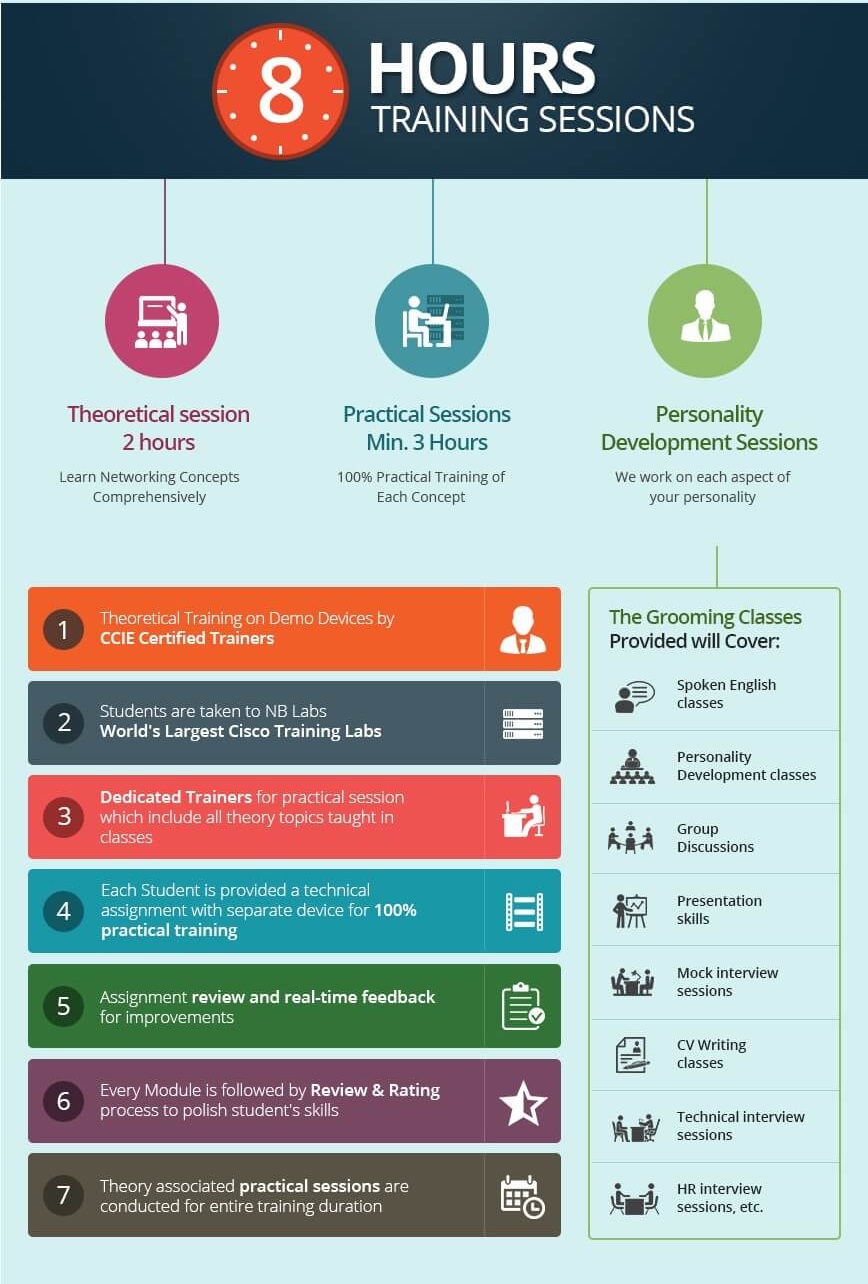 Conclusion -
So if you are reading conclusion then by this time you would have got a fair idea why to do choose CCIE as a career in India. To become a CCIE Certified professional, one would need a right and authorized Cisco training partner to kick-start their career in networking.
Network Bulls, India's No.1 Cisco CCIE Training Company fulfills all the needs one student would require. This Cisco institute holds the record of over 90% CCIE Success rate in the 1st attempt which personifies its training offerings. 
More than 16,500 students have got certified and placed from this Cisco CCNA, CCNP & CCIE Training Institute. Network Bulls aims at transforming a fresher into complete IT/networking professional and making them job ready as per the requirements of the industry.
So what are you waiting for? You can be next! Step forward to become CCIE certified professional for exploring the exciting opportunities and climbing up the ladder of success.
For more details of CCIE courses, contact us on 1800-313-2545 or email at admin@networkbulls.com. Students from outside India can connect with us over +91-8745885377.