Is CCNP Certification Worth It?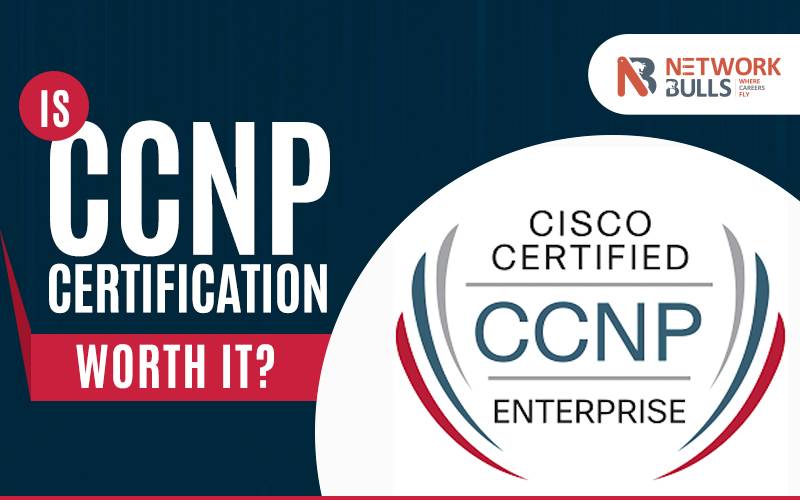 By
Networkbulls
The CCNP certification can be very helpful to you if you want to opt for a well-remunerative career in IT networking with a high prospect of growth. As a CCNP professional, you'll have to find solutions to different organizational networking security-related issues.  
Your career graph can quickly move upward in the long run if you have a Cisco-certified CCNP certification. Most recruiters at MNCs and other organizations always prefer candidates who have studied CCNP.
You need CCNP certification to be a successful network engineer. Here is why CCNP certification is essential for candidates willing to make a career out of IT networking:
Excessive Demand for Network Professionals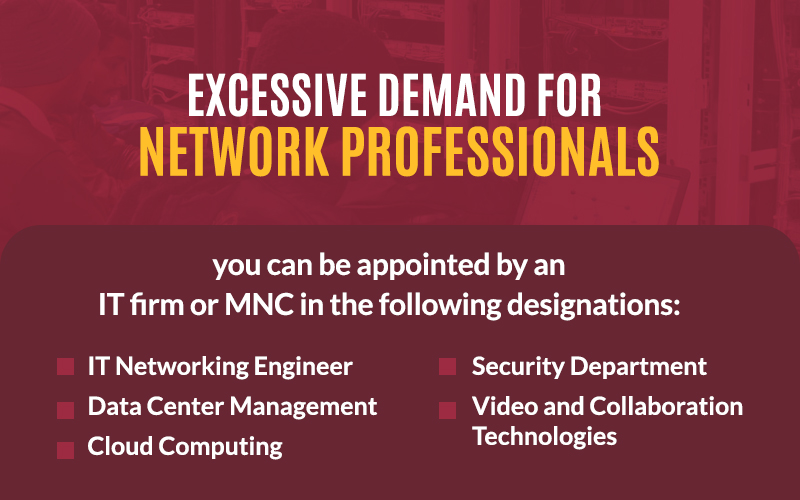 Every company, government department, and other organization hires IT networking professionals with a CCNP certification. This demand is likely to grow more in the coming days. 
According to recent statistics, a fresher network engineer's average salary is around Rs. 40,000 per month, which is 21% more than the country's national average salary. More and more companies are now investing in IT networking devices and systems to safeguard the company's IT apparatus.    
Multiple Job Opportunities In IT Networking
If you have a CCNP certification, you can be appointed by an IT firm or MNC in the following designations:
IT Networking Engineer

Data Center Management 

Cloud Computing 

Security Department 

Video and Collaboration Technologies 
Diversified Areas of Specialization
When it comes to CCNP, you'll get plenty of scope for specialization. You can specialize in any of the following streams of specialization: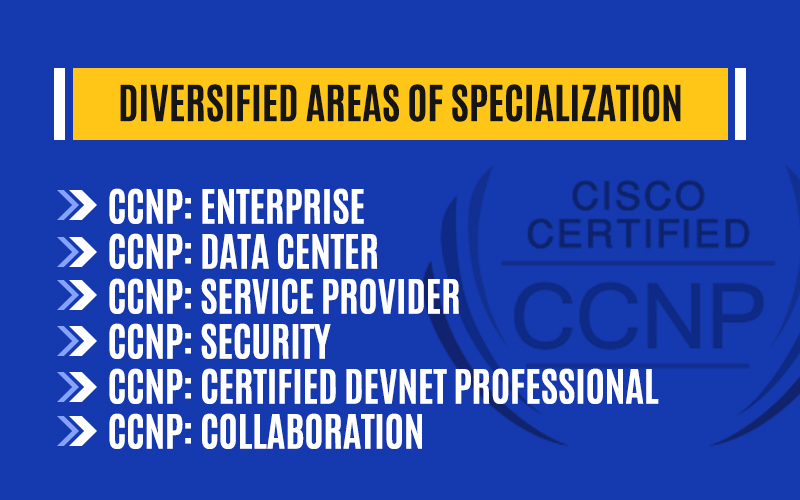 No Question of Getting Stuck in Your Career
We often get stuck in a particular rank or organizational position with no promotion for several years. But it won't happen when you have a CCNP certification. Due to the short supply of CCNP professionals, recruiters are always looking for experienced hands. 
Higher Chances of Retention in a Particular Company
CCNP professionals enjoy a high retention rate in almost all companies, IT firms, and organizations. A firm knows that it is difficult to recruit experienced CCNP professionals, that's they retain their networking professionals. You stand to benefit from this trend of retention with the company.
Salary-Hike Linked To Career Growth
It is ultimately the annual salary package that matters to a networking specialist. The usual practice of corporate companies in India is to give a good annual salary hike to induce CCNP professionals to stick to the company. Additionally, you also get a higher income if you are switching over to a new company.

Annual Salary Range: Rs. 6,35,000 to Rs. 19,60,000.
Eligibility & Career Options for CCNP Certification
To be eligible to obtain the CCNP certification, you should have at least one year of experience in networking. After obtaining the CCNP certification, you will be appointed in any of the following designations:
Network Engineer 

Network Technician 

Support Engineer 

System Engineer 
After obtaining a CCNP certification, you can also go for higher knowledge acquisition by getting yourself admitted to advanced certification courses offered by Cisco. 
Before doing the CCNP Security test, you must have already passed the CCNA examination. During the course of training in it, you run through different tests relating to video, voice, wireless, and advanced security issues. 
In Conclusion
Under the current IT ecosystem of companies and organizations, the software and networking stand almost integrally linked to each other. If you have a CCNP certification, you can perform in a company under this IT system. 
All companies, small, medium-sized, and big including the MNCs, need experts in their IT departments to run the networking setup or system. This necessitates them to recruit CCNP certification holders. As a result, you can always find plenty of opportunities in the private and government sectors in India.
You can take admission to Gurgaon-based Network Bulls, which is Asia's largest CISCO-certified IT networking training institute. It has a 100% track record when it comes to placement. 
For more information, please don't hesitate to contact us at 1800-313-2545 between office hours. We'll be happy to assist you.