PHP Web Development vs CCIE - Scope in India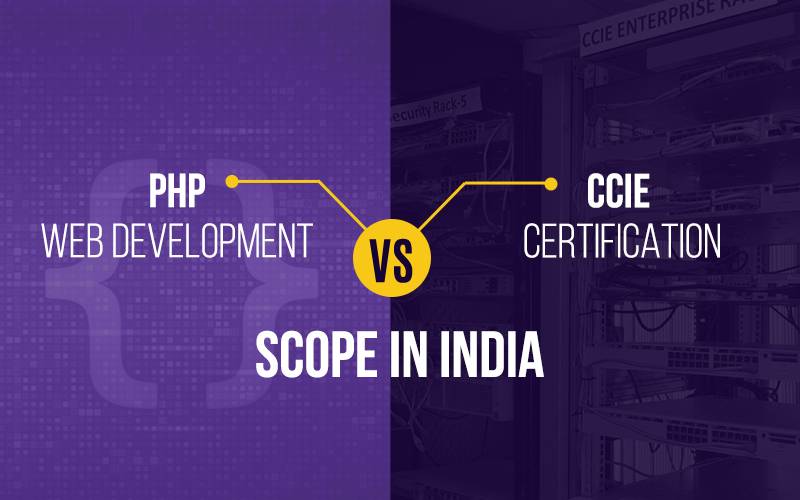 By
Networkbulls
Are you struggling to choose the right career for you? Wondering whether you should make a career in software development or networking? 
Today, we hear a lot about opportunities in software as well as networking. The right career path you choose primarily depends on your field of interest, ambition, and professional goals.
In this post, we will take you through the scope, future, and benefits of PHP web development vs CCIE in India.
CCIE (Cisco Certified Internetwork Expert)
CCIE is a Cisco networking Certification. Networking can be defined as the process of creating, developing, and maintaining computer networks. It involves connecting computers at any geographical distance. It is a fast-growing field and the demand for networking professionals is constantly increasing.
If you are interested in networking and want to make a career in this field, Cisco provides associate(CCNA), professional(CCNP) and expert level(CCIE) certifications in the field of networking. CCIE being the topmost certification is the best choice.

 
CCIE stands for Cisco Certified Internetwork Expert (CCIE) which certifies the individual in designing and handling complex network systems. This is the world's most prestigious certificate and holding this certification is a big achievement. CCIE prepares individuals for advanced level networking and makes them masters in their respective domains. There is a vast scope of CCIE certification in India compared to other certifications.  
Job Growth
There is a huge scope of opportunities in the field of networking, especially for CCIE certified professionals. The demand for CCIE professionals in data center and enterprise infrastructures is high. Getting CCIE certified and gaining practical knowledge is what makes you a high-demand professional. 
Job Role
Some of the major profiles in networking include – network engineer, network analyst, network technician, network solution architect, network programmer, and so on. The individuals working in the networking field are responsible for designing the process of the network system, writing codes or scripts, assessing the created network, and managing the group of computers. 
Salary 

The average starting salary of CCIE certified networking professionals ranges from 4.5-7 lakhs per year. There are plenty of jobs for CCIE certified engineers. Students pursuing CCIE certification trainings even get placed before getting certified. Certified CCIE engineers can take senior positions in top-rated companies in India. The employment rate in the field of networking was 5% in 2018. It is expected to grow to 15% by 2025. 
Future
When it comes to making a career in networking, CCIE offers high-paying jobs to aspirants compared to other IT certifications. There are numerous high-paying jobs and the future of CCIE certified engineers is very bright. The certification transforms unskilled individuals and makes them suitable for today's competitive market. The scope of networking is increasing at a fast pace. With more and more companies adopting the latest technologies, the demand for networking jobs will significantly increase in the coming years. 
PHP Web Development
If you are interested in developing web applications or web-based products, you should think of making a career in PHP web development.
PHP is an object-oriented programming language that has become popular in recent years. It is easy to understand and simple to learn. 
PHP stands for hypertext preprocessor and is involved in web development and design. One can create, design, and maintain dynamic websites and applications. With more than 60% of websites built on PHP, it is widely used by corporate companies. Some of the popular websites that use PHP are – WordPress, Yahoo, Wikipedia, Flickr, etc. It can be counted as one of the preferred server-side programming languages that would be used in the coming years as well. 
Career Growth
As our dependency on technology increases, there is tremendous growth in the IT sector. One of the most sought job profiles in the field of software development is – web developer, architect, software programmer, tester, QA analyst, and so on. As technologies evolve, the demand for IT professionals keeps on increasing. IT professionals are expected to witness double the number of vacancies by 2025. 
Job Role and Salary Package
With technology seeping into the industry, there are endless opportunities for IT professionals. Some of the companies that hire IT professionals include – TCS, Infosys, Wipro, IBM, Facebook, Oracle, Google, Microsoft, etc. 
Due to high demand and competition, IT professionals are paid high salaries. There is always a scope to take up advanced skills and grow in the career. The salary and job roles can increase substantially in the IT field. 
The average salary of a PHP developer is around 3-4 lakh per year. It will increase with experience and expertise. Bigger companies offer high packages compared to start-ups. 
Future Prospects
One can secure a job in IT easily by enrolling in a professional certification course. The days of doing a full-time course are gone. Individuals now have an option to take up a career of their choice by enrolling in certification courses. There are many institutes that offer IT certification courses. The duration of these courses range from 6 to 12 months. Some even offer job assistance and help their students placed in reputed MNCs. 
CCIE vs PHP: Which is the best?
If you have to choose between CCIE and PHP certification, the best option depends on your interest. Emphasizing the fact that companies are falling short of CCIE candidates compared to industry demand. Due to this, networking roles have turned out to be high-paying jobs. The industry is changing continuously and the opportunities are endless. A lot has changed in terms of knowledge and technology in the networking industry. One thing for sure is that the scope of CCIE in India is bright and one can land a high-paying job by getting certified in CCIE.  
 
| | |
| --- | --- |
| CCIE Certification | PHP Web Development |
| CCIE certification helps you make a career in IT networking industry | PHP helps you make career in software development |
| Lot of job opportunities in India and abroad | Limited opportunities in India and abroad |
| High starting salary package, ranging between INR  4.5-7 LPA | Medium starting salary package, between INR 3-4 LPA |
| Ever-green technology with bright future | PHP skills may get replaced with more advanced skills in future |
Now you have an overview of both the fields, if you are interested in networking, Network Bulls can surely help you.
Network Bulls offers two types of CCIE Certification Courses in India. CCIE Enterprise Integrated and CCIE Security V6 Integrated are the two 100% job guarantee courses offered by Network Bulls.
These programs are designed in such a way that the placements are guaranteed after the successful completion of the course, even before certification is cleared. Because of the vast scope and demand of these certifications, the average salary grabbed by CCIE Certified Engineers is around 4.5-7 lakhs per annum. 
Network Bulls provide complete student support from theoretical and in-house practical training in the world's largest Cisco Lab. The training at Network Bulls is given by CCIE certified trainers with 5-15 years of experience. With well-equipped classrooms and 100% practical sessions, individuals can expect the best of the best training in networking. 
Want to make a career in the networking industry? Get in touch with us. We will help you choose the best course based on your requirements.   
Whatsapp: +91 7840018889
Email: admin@networkbulls.com
Call: 1800-313-2545