5 Reasons to join Network Bulls' CCIE Enterprise Infrastructure and CCIE Security V6 Course Training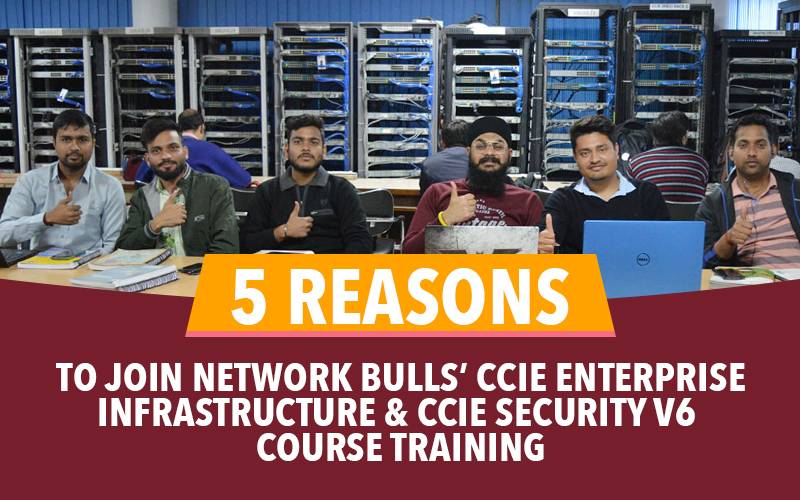 By
Networkbulls
CCIE Enterprise Infrastructure V1.0 and CCIE Security V6 had taken over CCIE Routing & Switching and CCIE Security V5 certifications on the 24th of February 2020.
And we are ready for it with our updated labs, new curriculum based study materials, CCIE certified trainers and 100% job guarantee programs for you.
Network Bulls has never failed to fulfill their student's training demands. That's why network learners believe us, join us, and successfully chase their dreams.
Believe us again with our training and we promise to keep you amazed by what we hold for you all Network Aspirants in the coming future.
For your tangled free CCIE Enterprise Infrastructure and CCIE Security V6 training experience joining Network Bulls', CCIE Enterprise and CCIE Security V6 would be the best option.
Recommended read- Scope of CCIE Enterprise Infrastructure V1.0 Certification
And let's discuss why? 
1. Network Bulls is a Cisco Gold Partner Learning Center:

Network Bulls leads in providing network learners with Advanced Networking Architecture specialized by Cisco as we are authorized Cisco gold partner learning institute. We have access to Cisco's latest devices the quickest. So, we have set up fully equipped CCIE Enterprise and CCIE Security V6 Racks in our labs with the latest devices to deliver the training on the latest blueprints. 
In the past, we were the first CCIE Training Institute in India to set up fully equipped CCIE Security V5/R&S labs.
2. Biggest Cisco Training Labs: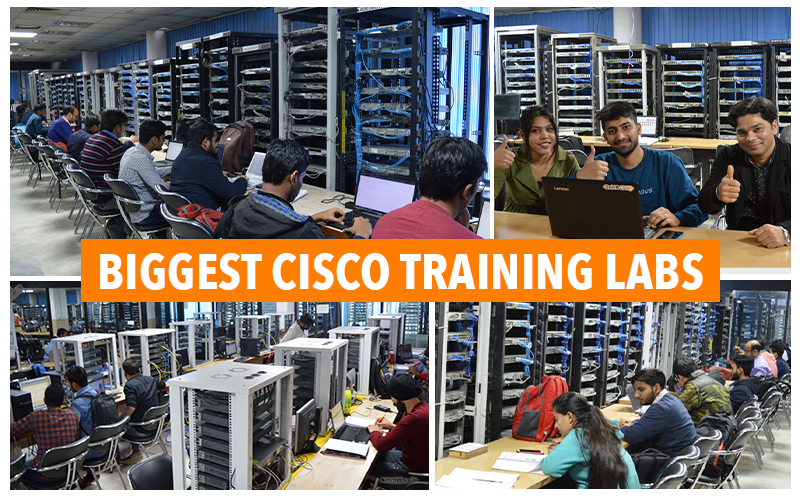 For CCIE level training it's mandatory for students to practice on his/her dedicated rack without waiting for anyone else to be done with it. Network Bulls labs hold space, racks, devices and lab instructors for each student dedicatedly. Our students will have their own separate racks for CCIE Enterprise or CCIE Security V6 Course Training for an effective learning experience.
Moreover, we keep our labs all day and night open so our students could practice any time they want as per their own convenience.
3. 100% Job Guarantee Program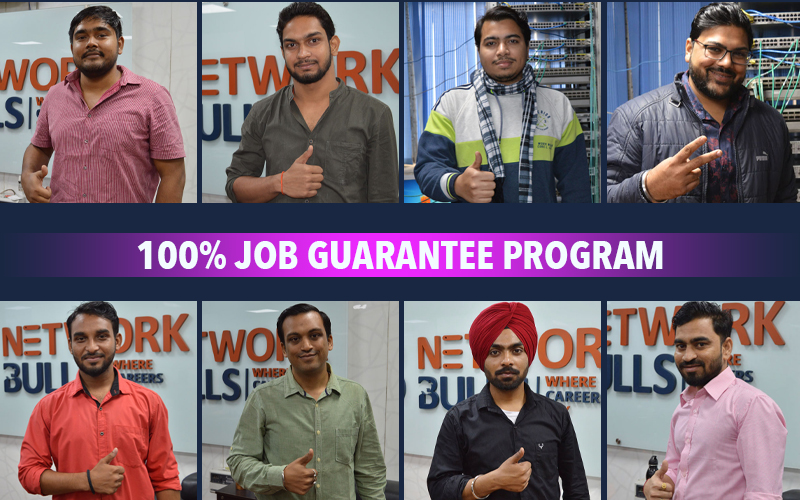 CCIE Enterprise and CCIE Security V6 are the 100% job guarantee programs at Network Bulls. They were designed in such a way that job placement is assured post the successful completion of less than a year training program. 
In India, Network Bulls is the only institute providing a 100% written job guarantee letter to students on the first day of their joining the Integrated training program. Students are also provided with an overview training on Checkpoint, Firewalls, advanced networking technologies, and Nexus in a 100% job guarantee program.
Read also- Network Bulls Delivers Record-Breaking Placements Again, Check Recent CCIE Security Placement Results
4. Certified Trainers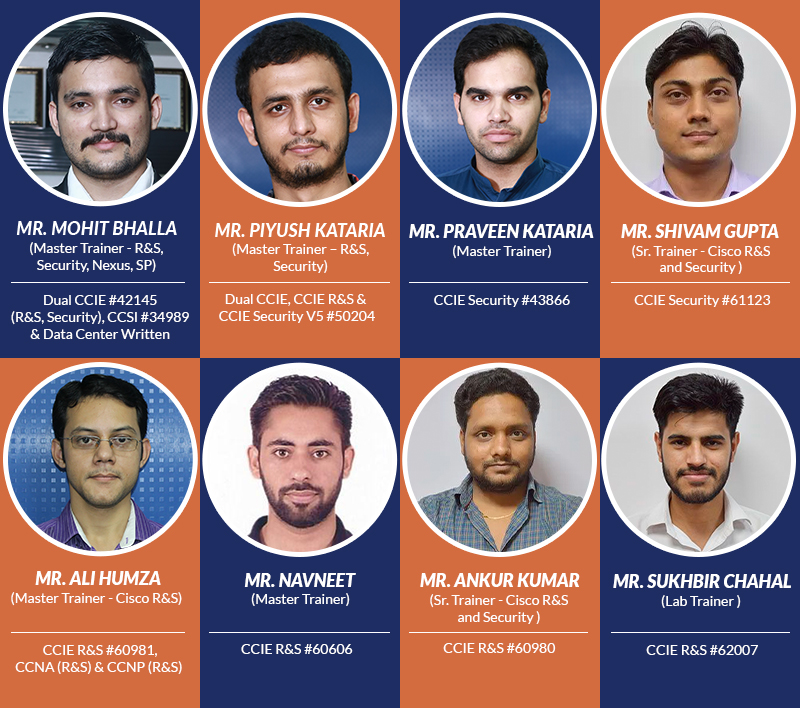 Network Bulls has the biggest pool of Cisco Certified Trainers. This pool consists of 10 CCIE's, dual CCIE's as well as triple CCIE who train networking aspirants with 5-15 years of industrial experience.
They know what industries demand in skilled network Professionals and equip our students with it.
5. Intensive Training Model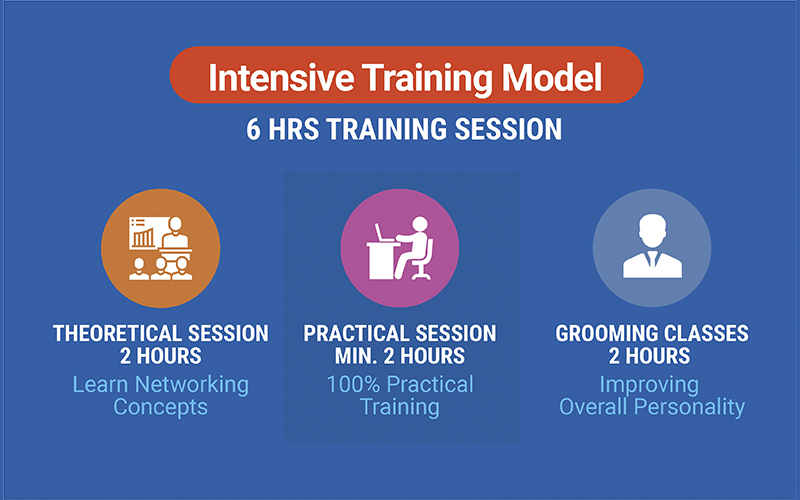 Network Bulls Intensive Training Model was specially designed to enhance students' communication skills so, they could share their viewpoints and worth, confidently while appearing for an interview.
Top IT and Multinational companies look for an all-rounder package who is technically sound and highly presentable, Network Bulls' Intensive model fulfills this requirement in candidates.
This is the reason why Network Bulls students get placed in top IT giants being freshers without even clearing any Cisco certification exams.
In Network Bulls' CCIE Enterprise Infrastructure and CCIE Security V6 Course Training programs, candidate will be provided with all the above-listed facilities so, you get the best out of your training.
Network Bulls was the first Indian Cisco Networking Training Institute to produce a CCIE Security V5 and CCIE R&S Expert. And we will be the first Indian Cisco Networking Training Institute producing a CCIE Security V6 and CCIE Enterprise Expert in the future.
Network Learners from all over India and 40+ countries join Network Bulls for CCNA, CCNP. CCIE level training because,
We hold the highest number of CCIE produced in the 59xxx, 60xxx, 61xxx, 62xxx, and 63xxx CCIE series.

Download PDF

5 Reasons to join Network Bulls' CCIE Enterprise Infrastructure and CCIE Security V6 Course Training

The cutting-edge Cisco Technology training provided by Network Bulls has placed 10x more students from any other Cisco training institutes in India.
Check Our Recent Placements here -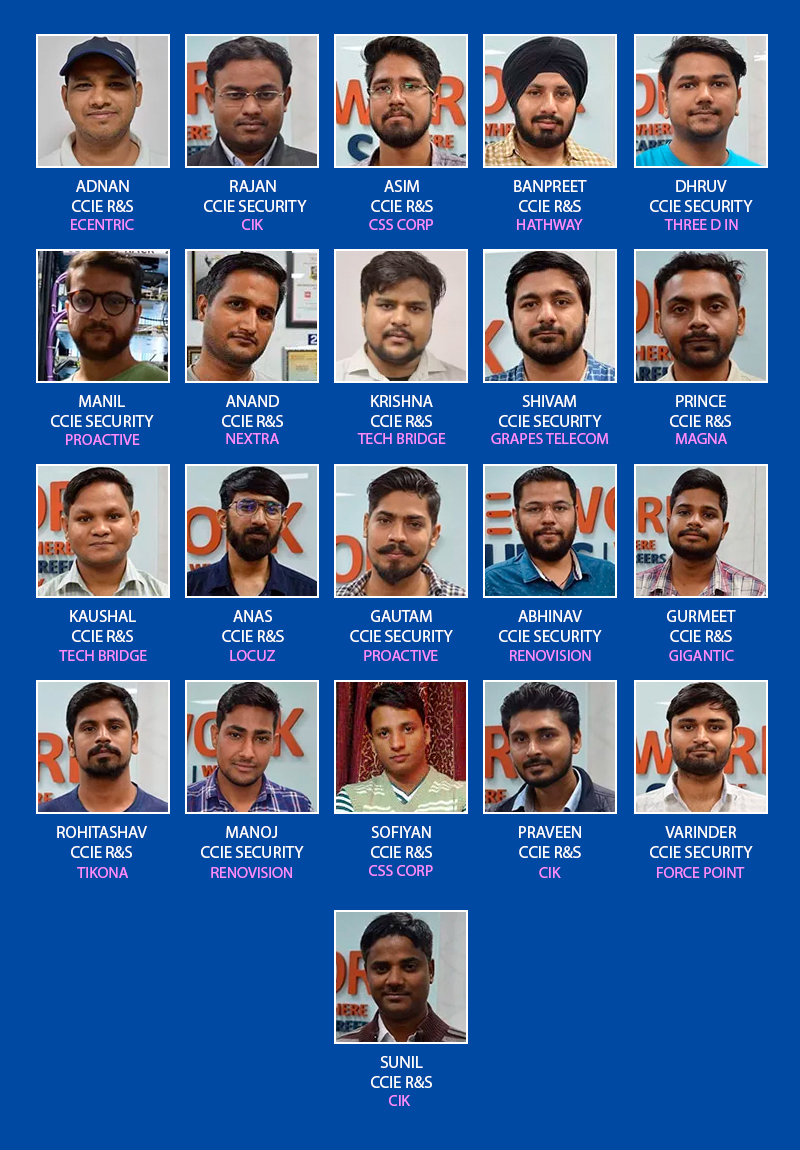 Check more placement success stories here- https://www.networkbulls.com/placement-success-stories
So, at Network Bulls you get the well set up labs, latest devices, trained trainers, 100% job guarantee and intensive training for 360-degree personality development and easy placements.
Network Bulls holds its head high because of all its student's accomplishments who have expert networking skills and are a perfect candidate for big IT MNCs. To nurture your career in networking domain with CCIE Enterprise Infrastructure and CCIE Security V6 Course Training, join Network Bulls today - 1800-313-2545.