Scope of CCIE Enterprise Infrastructure V1.0 Certification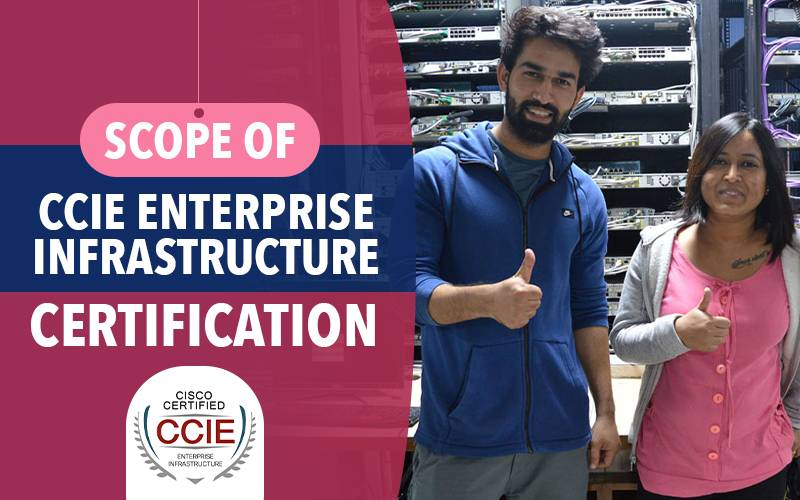 By
Networkbulls
From the 24th of Feb 2020, we will have CCIE Enterprise Infrastructure Certification to pass in order to become CCIE certified in the Enterprise track. 
As we all know, this updated version of the Routing & Switching track has a new written exam known as ENCOR and a Lab exam called as CCIE Enterprise Infrastructure Version 1.0.
With these upcoming changes, Cisco has streamlined its certification paths and with this new learning portfolio, you can take your Career to the Next Level.
But, we have questions! Like, what will be the scope of CCIE Enterprise Infrastructure Certification, what will be the job possibilities, salary package and career opportunity after this certification training.
So, here we are with every detail on CCIE Enterprise Infrastructure Certification and its scope in India in one space.
Recommended read- All you need to know about CCIE Enterprise Infrastructure Certification
What you get after passing ENCOR and CCIE Enterprise Infrastructure V1.0 Exam
Qualifying ENCOR exam earns you a Specialist certification and validates your skills to provide enterprise solutions using core enterprise infrastructure technologies. Whereas passing the hands-on lab exam, you get certified to handle enterprise networks entirely, from designing and deploying to operating and optimizing.
Job role of a CCIE Enterprise Infrastructure Certified Professionals
As we know, technologies like automation, AI (artificial intelligence) and programmability have been added to the Cisco CCIE curriculum to capitalize on maximum job opportunities and fulfill today's technologies and enterprise needs.
CCIE Enterprise Infrastructure fulfills the huge demands of skill sets and knowledge required by networking professionals to program & automate networks and become Network Leader. The top job roles available for CCIE Enterprise Infrastructure Certified Professionals in India are,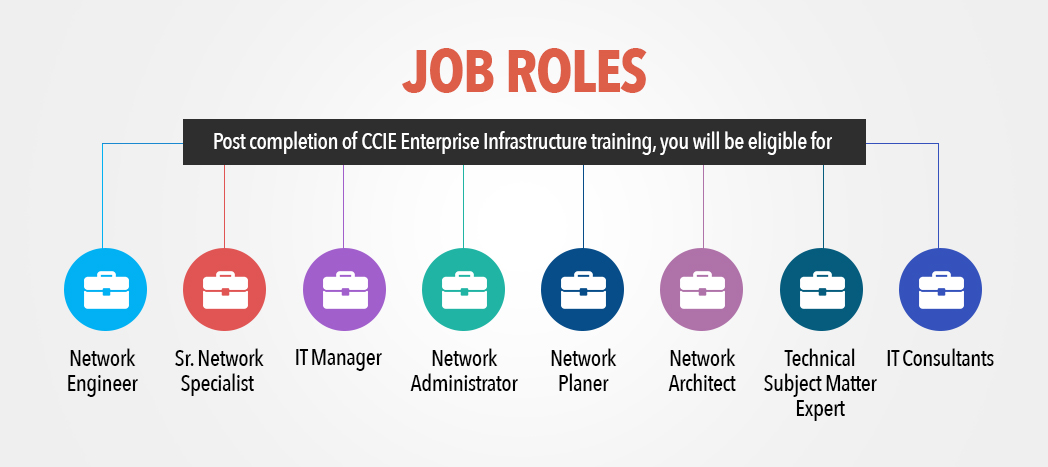 Network Engineer/Administrator 
Sr. Network Specialist 
IT Manager 
Network Planer 
Network Architect
Technical Subject Matter Expert
IT Consultants
Scope of CCIE Enterprise Infrastructure Certification
Cisco has just doubled the Scope of CCIE Certifications especially in the form of job opportunities in countries like USA, UK, Australia, India and UAE.
Some of the benefits of being CCIE Enterprise Infrastructure Certified today,
1. You will be able to combine your technical expertise with automation to position your organization for digital transformation.
2. Unlock job possibilities as both Network Engineers or Developers and become demandable for today, tomorrow and beyond.
3. Job opportunities for software developers with CCIE Enterprise Infrastructure Certification in the networking domain will rise.
4. You will be able to serve at the key intersections of digital solutions in IT organizations.
5. In the coming years, Network automation and programming will take 70% of focus in any IT organization and CCIE Enterprise Infrastructure Certification will be the one fueling the demand.
Salary package and hike
It's assumed that professionals with CCIE Enterprise Infrastructure Certification in the future  will be the highest-paid IT professionals in the world. They will always get higher packages than other technical professionals even as a fresher.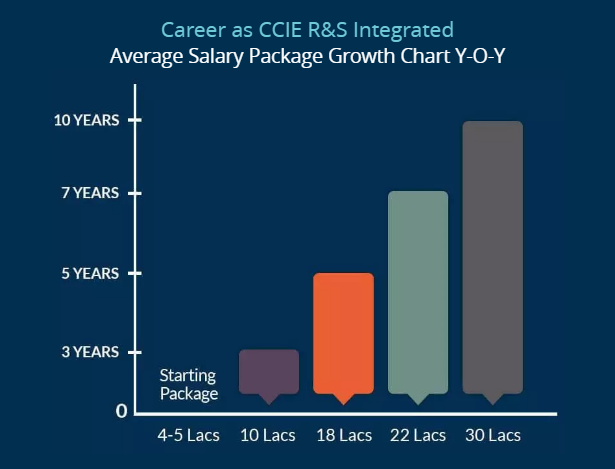 Cisco CCIE Enterprise Infrastructure Training and Certification will bridge the skills gap between professionals and IT requirements so, Network enthusiasts can advance their careers. 
Also check- Record-Breaking Job Placements in Big IT companies after CCIE R&S Course Training
Network Bulls being the most prominent Cisco Networking Training Institutes of the world has quickly updated its CCIE certification programs so, students could quickly adapt to the rapid changes across the networking and programmability technology landscape. 
In our world's largest Cisco Networking Training Labs and fully equipped classrooms, the pool of Cisco Certified Trainers will provide 100% practical training of recently updated courses to students. So, they gain skills and confidence to spot their place in digitizing companies with adequate CCIE Enterprise Infrastructure Version 1.0 training.