Record-Breaking Job Placements in Big IT companies after CCIE R&S Course Training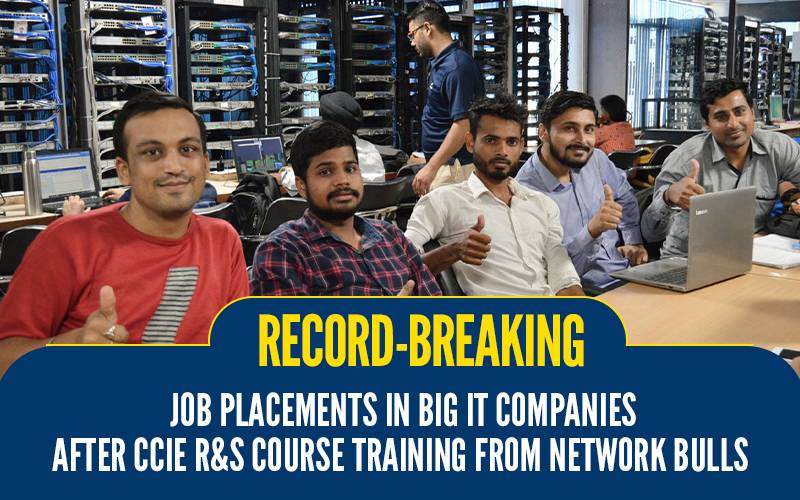 By
Networkbulls
Setting the benchmark of placing the highest number of students, we have now started breaking our own records each year. Our students take ground to expert-level knowledge of routers and switches throughout their CCIE R&S training and gain the confidence to attend interviews with big brands.
Innovative learning makes them more enthusiastic about cutting-edge networking technology. Also, our CCIE trainers, lab instructors, and 24/7 lab facility boost their dedication which results in Back to Back placements at Network Bulls. 
We priorities enhancing their skills like experts who are best in every upfront either technical or communicational. Our brilliant students and their hard work, dedication, compassion towards their training make them achieve their career goals. And, we as a ladder give them a suitable platform to showcase their talent to the world.
Record-breaking placements rejoice our hearts making us celebrate CCIE R&S students' success stories. So, let's witness some of our recently placed students' success after CCIE R&S training and job placement in Big IT companies.
Recommended Read- How Network Bulls Intensive Training Model Makes You Job-Ready in Networking Industry?
Dileep Kumar Singh — ICDS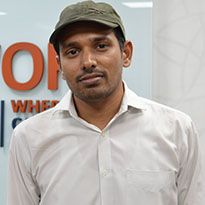 The best part of my CCIE Routing and Switching training journey at Network Bulls was the freedom to come and practice my regular lab work on my dedicated rack. They had done a great job in making these Cisco labs which used to inspire my interest in networking every day at NB. There incomparable training quality and guidance are the reasons, I have a job at ICDS today.
Reena Ahuja - Airtel
Through my personal experience after joining Network Bulls' CCIE R&S training, I will strongly recommend this institute to freshers. Starting from counseling, course content, real-time training, placement preparation, and job guarantee, NB deserves much more than 5 stars. I got all of these facilities and a job at Airtel, thanks to NB!
Sukhwant Singh - Airtel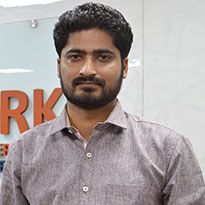 Excellent training delivery and lab support by lab instructors are available when needed. Practical sessions were conducted on live Cisco devices that reinforced my regular CCNA, CCNP, CCIE learning. The placement cell at Network Bulls holds active management which got me a job at Airtel.
.
Sandeep — Nextra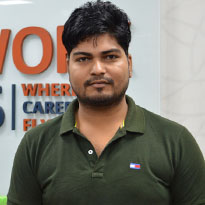 I joined here a few months back with no networking skills and look at me now, I have knowledge and a job within months of training. It was really a considerable experience, the course was well- designed and provided by dedicated trainers for timely query resolution in 24/7 labs.
Susanta Kumar — ICDS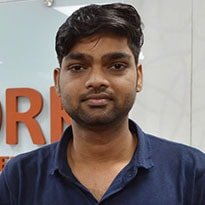 Blessed to get trained in such an incredible learning platform having excellent trainers, separate placement cell and an active management team. Here at Network Bulls, I had a perfect opportunity to explore and enhance my technical skills. And, I am thankful to all the team members of the placement cell for a job at ICDS.
Prasant — Gigantic
Rather than just feeding theoretical knowledge, Network Bulls strengthen my practical approach on how to handle Cisco devices and its equipment. It was really a fun learning experience at NB and getting a job just after completing my CCIE R&S course training was unexpected but felt amazing. 
Jeeru Nageshwara -- CSS Corp
NB provided me and all the other students with the best course-related study materials, dedicated racks, and lab trainers to do our regular practical work. This helped us to keep up with regular theoretical classes and share our doubts with CCIE trainers. No doubt they are the best for Cisco certification training and placements.
Rakesh Kumar -- Airtel
I couldn't have asked for more - timely training, regular labs, 24/7 device availability, friendly trainers to share doubts with, best study material and more facilities came straight to me at NB. All these facilities benefitted me and I got placed at Airtel. Thanks to the placement cell, Cheers to them!
Glimpse of a few more Network Bulls students who started their CCIE R&S careers Recently!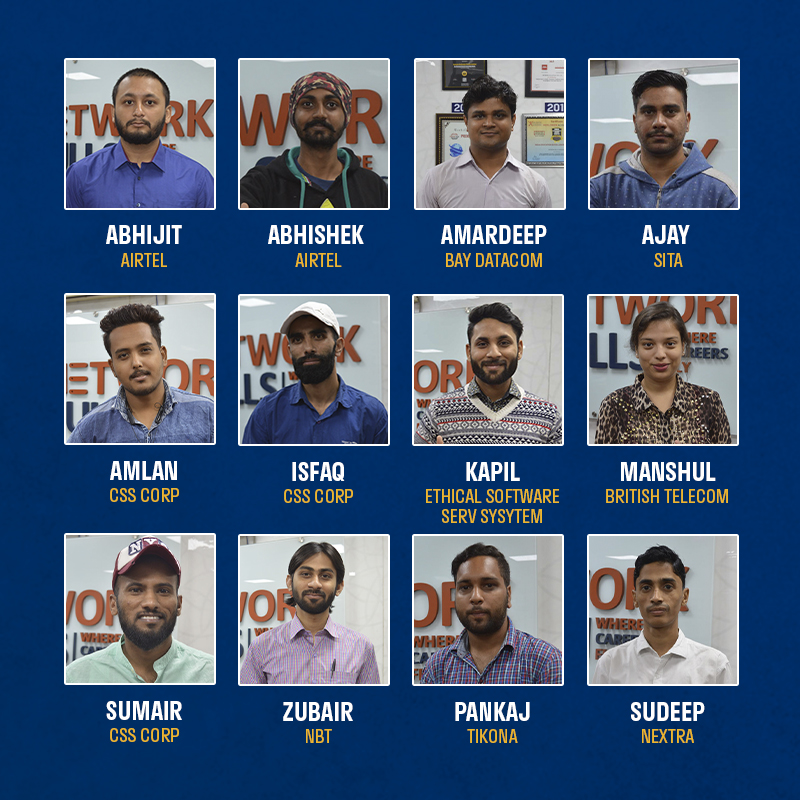 Check more recent placement success stories here- www.networkbulls.com/placement-success-stories
These students' placement success stories were just a small picture to Network Bulls Record-Breaking Job Placements after CCIE R&S training. At Network Bulls, these future networking experts get to have interview sessions with top IT brands and a phenomenal chance to get placed with them. 
We have always delivered the best results in student's placements and this is why we have been globally acknowledged as the institute with the best placement results year after year. 
Our students are making their names all over the globe with a suitable job profile and a significant salary package in both hands. We are proud of them and we will always cherish their success, here at Network Bulls.