My CCIE Journey @ Network Bulls: Mr. Vikram Sisodia | CCIE R&S #49587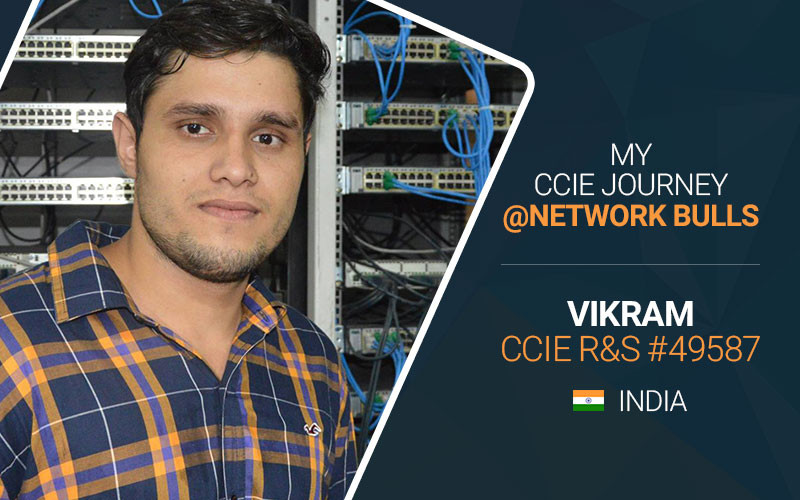 By
Network Bulls
Journey of Mr. Vikram with Network Bulls started in 2013 when he came to enquire for CCNA Routing & Switching Course. After meeting with NB Career Counselors, having detailed discussion about CCNA R&S training program, career path and taking a tour to our labs decided to enroll for the course. As he shared some of his initial thoughts about us when he came to NB for first time –
"My first interaction with Network Bulls was a great experience, as they say first impression is last impression and on my first visit to NB everything was absolutely perfect. Career Counselors at NB were great, they did not treat me like just another customer but like a student who is seeking right information and that's what impressed me along with Labs."
My first day of training -
"As my initial interactions with NB Counsellors and labs were great, my expectations with my first day of training were high. And Network Bulls did not disappoint, on first day I was taken through entire training plan and my learning started with Basics i.e. N+. Initially I used to have many doubts but then trainers helped so much and I was able to grasp the knowledge. During my CCNA R&S training itself I decided that I will be doing my CCIE R&S from here only."
My second experience with Network Bulls-
After finishing his CCNA R&S Vikram focused over completing his B. Tech and once he was done with his B. Tech final year he joined Network Bulls again to peruse his CCIE dream. In 2014 Vikram was once again at NB and started preparing for CCIE R&S. As he shares himself
"Most of my friends were busy in placements preparation but I was excited about coming back here to study CCIE R&S. And I came here, studied and appeared for CCIE R&S exam on 28th July. Today I can proudly share with all of you that I am a CCIE finally with #49587. And guess what I did it in my first attempt, achievement of lifetime.
I met some great folks here, brilliant trainers and amazing facilities. I would like to name my trainers as without them this would not have been possible, Mr. Sourav Yadav and Mohit Bhalla. Both guided me throughout my training as mentors not only just as a trainer who comes, teaches you and leaves. Always available to resolve my doubts and happy to have a counselling conversation when I was down."
And Finally…..
"I feel proud today sharing my Network Bulls experience, you can only experience it when you come here and take a class or session from trainers or counsellors. For me it was a great decision to be here, definitely recommended to everyone who wishes to have CCIE status."
Its students like Vikram make us proud and motivate us to continue with great work. Network Bulls wishes him and all students passing CCIE in 2015 a shining career ahead.
To see more reviews about Network Bulls training Click Here.
What are you waiting for? To Start your CCIE Journey Contact Us Now.
Candidates from India Contact Us Here & Overseas Candidates Contact Us Here.