David of Nigeria achieves his CCIE R&S #53366 in 1st attempt, Shares Network Bulls CCIE R&S Training Reviews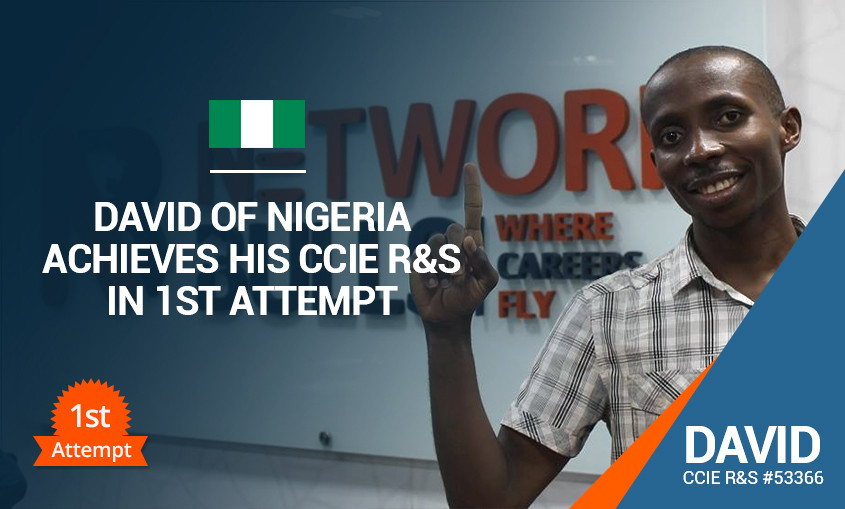 By
Network Bulls
Achieving Cisco Certified Internetwork Expert (CCIE) Status or Number is quite a tough task and millions of students across the globe strive hard to get CCIE status. Only right training under the guidance of experienced and certified trainers, exposure to the real lab environment and hard work can make it happen. Being a CCIE Certified expert means a great career, handsome salary package, respect from colleagues and much more.
David Imoko from Nigeria had the same dream and wanted to become a CCIE certified expert in R&S Technology. After doing a thorough research for weeks, he came to Network Bulls, Gurgaon India - World's most trusted Cisco CCNA, CCNP & CCIE Training Institute for  his CCIE training. Today we will look at his journey of becoming CCIE R&S #53366.
Today we will look at his journey of becoming CCIE R&S #53366. Meanwhile, you can also read - More & More International Students Choosing Network Bulls for Cisco CCNA, CCNP, CCIE Training.
David's Search for right CCIE Training Institute in Nigeria ends with Network Bulls
Once decided, David started looking out for best CCNA Training Institutes in Nigeria, best CCIE Training Institutes in Nigeria and found few Cisco training companies in Nigeria online but all of them were not having a world class training infrastructure which is must to become a CCIE.
He also found Network Bulls' name very prominently highlighted by fellow Nigerian students on web. He discussed with it friends and luckily few of them have been to Network Bulls already. They also went for Cisco CCNA, CCIE Training in India and successfully achieved their CCIE Number or career dreams. He got all the information which he needed from Network Bulls testimonials, Network Bulls reviews and got convinced about Network Bulls.
David's CCIE R&S Training in India, Let's hear it from him
"Hi everyone, I came to Network Bulls for CCIE R&S training as Nigeria has very less good options for CCNA Training & CCIE Training in Nigeria. I also searched CCNA & CCIE Training Institutes in Lagos, which is a major city in Nigeria. But finally, I came to know about NB from my friend, who got his CCIE number from this Asia's No.1 Training institute. Likewise, I also got my CCIE number #53366 from Network Bulls.
I think Network Bulls is a nice place, so anyone who wants to learn technology and become CCIE certified professional should come and enroll with Network Bulls. Training Instructors at NB is good, they give you the material, the T-shoot, proxies etc.  Highlights of training are - World's biggest Cisco labs which is 24x7 accessible and CCIE Certified trainers. So, anyone who wants to follow the same path, I call you to come here.
I was well-taken care here, Visa, Meals, Hotel & other support was provided genuinely. I made new friends as well, many students from Nigeria, Ghana, Congo, Cameroon & other African countries come here, so you are never away from friends. It's like home away from home.

Download PDF
David of Nigeria achieves his CCIE R&S #53366 in 1st attempt, Shares Network Bulls CCIE R&S Training Reviews
Thanks for NB Team for meeting my expectations in terms of everything."
You may like this: Daniel from Congo, Nigeria, Shares his Network Bulls CCIE R&S & MCSA Training Journey
The Learning from David's Story 
Are you unable to find best Cisco training institute in your country? Want to join world's No-1 networking institute? If yes, we at Network Bulls are here to provide you with the best networking Training. We take special care of our international students and provide them numerous facilities such as accommodation facility, meal facility, visa assistance and a lot more. Read our International students written reviews and video testimonials from here: https://www.networkbulls.com/international/customer-reviews
If you have any query then feel free talk our counselor +91- 9540774889, 8745885377 or just drop your mail at: admin@networkbulls.com.