Choosing Between IT Networking and Engineering: Factors to Consider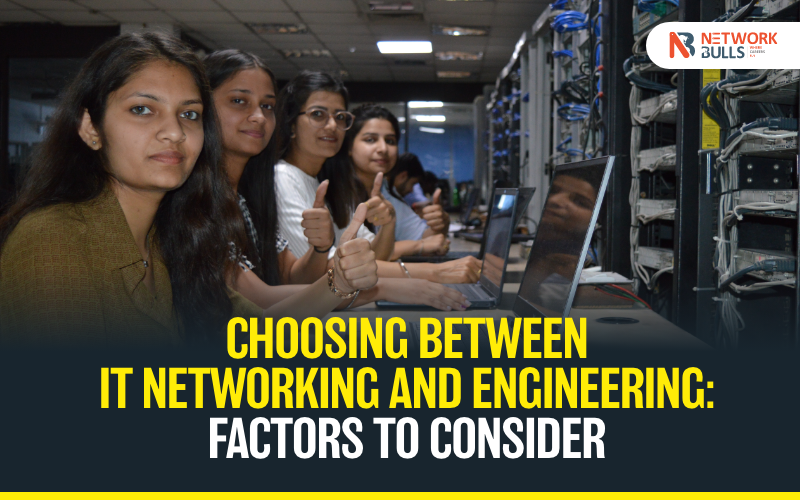 By
Networkbulls
In today's rapidly evolving technological landscape, the fields of IT networking and engineering have emerged as two prominent career paths for individuals with a passion for technology and problem-solving. While both disciplines offer exciting opportunities, it is crucial to consider various factors before making a decision. 
In this article, we shed light on the significance of IT networking over-engineering and highlight the benefits of a career in networking. Additionally, we will explore how to secure a job in IT networking, discuss networking courses, and provide a balanced conclusion.
Significance of IT Networking over Engineering
IT networking, also known as computer networking involves the design, implementation, and maintenance of communication systems that connect devices and networks.
This field plays a vital role in today's interconnected world, enabling seamless communication and data transfer across organizations and individuals. 
One of the primary reasons for considering a career in IT networking is the growing demand for certified networking professionals.
As organizations increasingly rely on technology, the need for robust and secure networks has become paramount. Skilled networking professionals ensure the smooth operation of networks by addressing issues promptly and protecting them from potential threats. 
Moreover, the rise of cloud computing, the Internet of Things (IoT), and virtualization has further amplified the demand for networking experts who can effectively manage these complex systems.
Benefits of a Career in IT Networking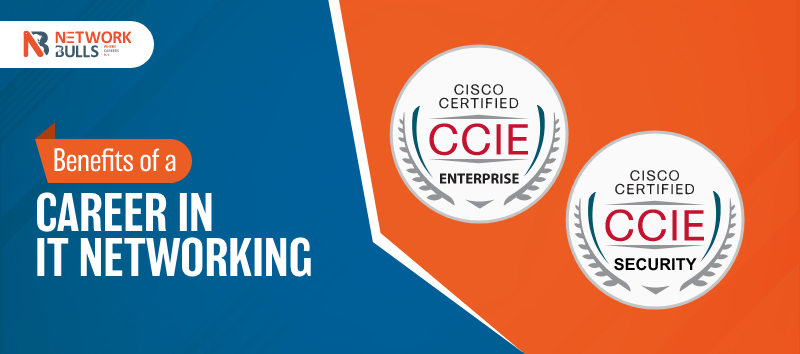 A career in IT networking offers several benefits that make it an attractive option for aspiring technologists. 
Firstly, networking professionals often enjoy lucrative salaries and ample job opportunities. 

With the increasing dependency on technology, organizations are willing to invest in skilled individuals who ensure the security of their networks. This results in competitive salaries and potential for career growth. 

Additionally, networking professionals get an opportunity to work in various industries, including healthcare, finance, telecommunications, and technology, among others, providing a diverse range of jobs. 

Furthermore, a career in IT networking offers continuous learning and skill development. This field demands continuous learning and certification to enhance one's expertise and maintain a competitive edge. The dynamic nature of IT networking ensures that professionals are constantly engaged in acquiring new knowledge and honing their skills.
How to Secure a Job in IT Networking?
To secure a job in IT networking, one needs a valid degree in any field technical or non-technical . However, it is important to note that a degree is not the only path to a career in IT networking. 
Certifications such as Cisco Certified Network Associate (CCNA), and Cisco Certified Network Professionals (CCNP), Cisco Certified Internetwork Expert (CCIE) can greatly enhance the scope of your employability in the field. Additionally, gaining practical experience through internships or entry-level positions is invaluable. 
These opportunities allow aspiring networking professionals to apply their theoretical knowledge in real-world scenarios, learn from experienced mentors, and build a network of professional contacts. It is also essential to continuously update your skills and stay informed about the latest advancements in networking technologies.
Networking Courses and Training Programs
Various networking courses and training programs are available to help individuals acquire the necessary skills and knowledge for a successful career in IT networking. These courses cover a wide range of topics, including network design, configuration, troubleshooting, and security. 
The CCNA is designed to provide a strong foundation in networking concepts, including IP addressing, routing protocols, LAN switching, network security, and more. Students learn to configure, troubleshoot, and manage Cisco routers and switches. The course covers both theoretical concepts and hands-on practical training. It also focuses on network security principles and technologies. Students learn about various security threats, firewall technologies, intrusion prevention systems, VPNs, and network access control. Practical lab sessions enable students to implement security measures and mitigate vulnerabilities in network infrastructures.
The CCNP Routing and Switching program builds upon the knowledge gained in CCNA and focuses on advanced routing and switching technologies. Students delve into topics like OSPF, EIGRP, BGP, VPN, network design, and troubleshooting complex networks. The course includes extensive practical labs to reinforce the concepts taught.
CCIE R&S/Enterprise Infrastructure
The CCIE Routing and Switching certification is one of the most prestigious networking certifications globally. Network Bulls provides comprehensive training for the CCIE R&S program. The course covers advanced topics such as advanced routing protocols, MPLS, QoS, security, and network optimization. Rigorous hands-on practice and mock lab examinations are an integral part of the training to prepare students for the CCIE lab exam.
The CCNP Security program is designed for professionals looking to specialize in network security. It covers advanced topics like ASA firewalls, VPN technologies, intrusion prevention systems, secure network designs, and identity management. The course emphasizes practical exposure and includes simulated labs to enhance hands-on skills.
The CCIE Security certification is recognized worldwide as a highly esteemed credential in network security. Network Bulls offers rigorous training for the CCIE Security program, focusing on in-depth knowledge of network security technologies, threat mitigation, secure network designs, and advanced troubleshooting. The training includes extensive hands-on practice and mock lab sessions to prepare students for the CCIE Security lab exam.
Conclusion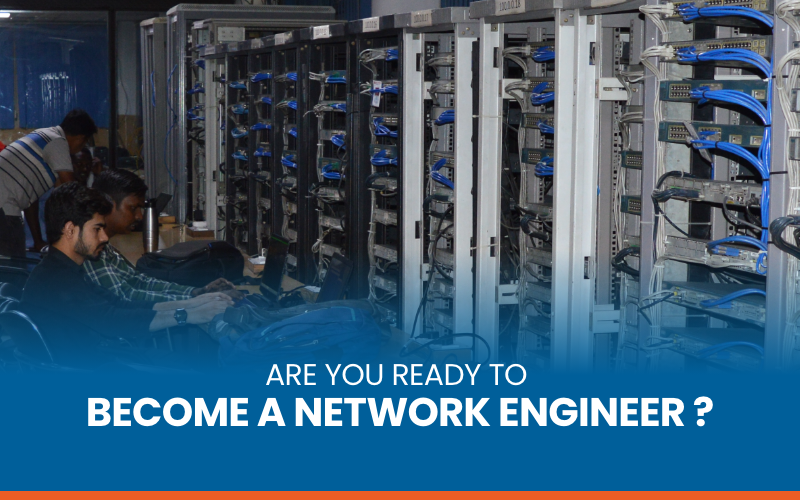 Choosing between networking and engineering requires careful consideration of personal interests, career goals, and the current and future job market. While engineering offers diverse opportunities in different branches, IT networking holds significant importance in today's interconnected world. A career in IT networking provides attractive benefits such as competitive salaries, continuous learning, and ample job opportunities. 
To secure a job in IT networking, a combination of education, certifications, practical experience, and a commitment to ongoing skill development is essential. By pursuing networking courses and staying up-to-date with industry trends, aspiring networking professionals can position themselves for success in this dynamic and rewarding field.
Insider Tip for IT Networking Enthusiasts: Network Bulls, India's Largest Cisco Training Institute, prioritizes the development of professional skills.
Through their comprehensive courses, students not only acquire technical expertise but also enhance their communication, teamwork, and project management abilities.
Moreover, students receive valuable career guidance and support to secure the perfect job upon course completion.
An outstanding perk of the CCIE course at Network Bulls is the assurance of a 100% job guarantee.
So, seize the opportunity now! Elevate your skills with Cisco certifications and pave your path to becoming a proficient network architect."