Yatin Makes his Career Fly with Network Bulls, Gets Job Placement with Wipro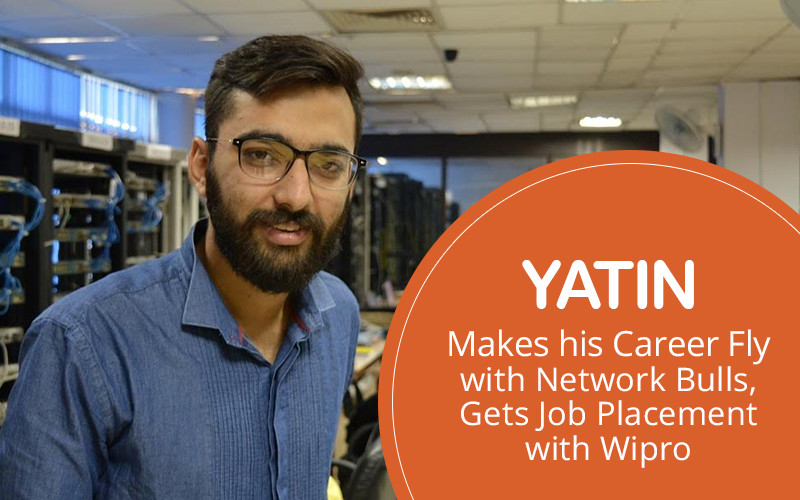 By
Network Bulls
"Network Bulls' role in transforming my career has been critical, I came here as a student and today after training, I am an expert professional"
Millions of students across India complete their graduation degrees and look out for a good job. Every engineering student's wish is to kick start his/her career with a reputed IT MNC. And we work round the clock to fulfill student's wishes if they are targeting career in networking.
Yatin was also among those millions of Indian students, looking to make a bright career in networking. And then he found Network Bulls from Google Search and suggested by peers as well.  Looking at credentials of Network Bulls, he decided to come to Gurgaon and pursue Cisco CCIE Certification with NB.
The Search of Right Cisco Training Institute
Many Cisco Training Institutes do not keep their promises which they do on website, social media sites, blogs etc. and that was the reason for numerous doubts in minds. There was a fear that will they provide same facilities described on various digital channels? But my doubt vanished a bit when I saw video testimonials of Network Bulls' students. That gave me some confidence about this institute. I noticed and realized that actually the facilities promised and recited were provided with.
Here is my Cisco CCIE Training Journey with NB
"Hi, I joined the institute on 10th of March and I still remember that day very well. The biggest purpose of joining Network Bulls was to get knowledge & attain skills needed to be an expert in the field of networking. I enrolled for CCIE Security Integrated Course, This Course had -
CCNA R&S, CCNP R&S, CCNA Security, CCNP Security, CCIE Security Version 5, Juniper SRX firewall, Checkpoint Firewall, Palo Alto Next Generation Firewalls, etc.
A perfect course to become an expert in Cisco Security domain. Classes started with CCNA, as it is the base for CCNP and CCIE. First month passed and things started to move smoothly. Yes, as they say their labs are open and accessible all round the clock. The best part is that the trainers were also available all time, so even if you are studying late at night you have the assistance a trainer."
They kept their promises and Today I am Placed at Wipro
"One thing which was still tickling in my mind, 100% CCIE placement guarantee promise. It was quite hard to believe but after attaining my certification, I was approached by NB placement team and within few days I started receiving calls from Top MNCs for jobs. All the classes of Spoken English, Resume Writing, Group Discussions & Personality development given in last phase of course, came handy in this process. Because of all these efforts from Network Bulls, I am placed at Wipro Today. Thanks NB"
Are you the Next?
Network Bulls has a dedicated placement team which gets maximum students placed before the completion of their training.  If you wish to make a big career move in life and get placed with a big MNC, enroll for 100% Job Guarantee Cisco CCIE Integrated Courses of Network Bulls Today –https://www.networkbulls.com/nb-jobguarantee
To speak to our career advisors and get better career guidance call us on our toll-free number 1800-313-2545 or Contact Us Now.
"Hi actually I have done MC..."
Hi actually I have done MCA in 2009. bt I had lot of many family issues that's why I didn't get any right opportunity. And 2009 year was in recession. ... I m currently in manufacturing. I want to join IT company wipro,tcs etc again...so ..is it poss