Why Network Bulls is the top choice as Cisco Training Institute for Students of Middle East?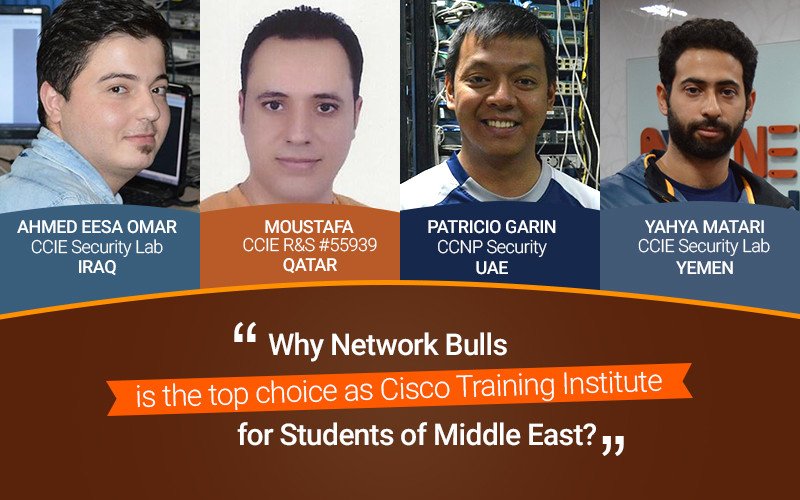 By
Network Bulls
Cisco certifications are globally recognized and have vast scope in the networking field. So, if you are searching for IT certifications than Cisco courses are the best option for you.
Because of global recognition and lack of certified network engineers, Cisco Courses have a great scope in Middle east countries like UAE, Egypt, Saudi Arabia, Qatar, Bahrain, Oman, Kuwait etc. 
Cisco Certifications are not only about learning technology theoretically, you also need to have an in-depth understanding of the technology along with hands-on practical networking skills. Thus, you need to find the best networking training institute for developing a crystal understanding of the technology.
And that is where Middle east countries struggle because of lack of world-class Cisco Networking Institutes. Plus cost in India for similar courses is comparatively very less. That is why millions of students and working professionals look for Cisco Training in India. 
Choosing the Best Cisco Training Institute means half of the battle is won.
More often than a not search of "Best Cisco Training Institutes in India" ends with Network Bulls. Want a proof of that? Let's see one - 
Google UAE Search Proves "Network Bulls is - Best CCIE Training Institute in India"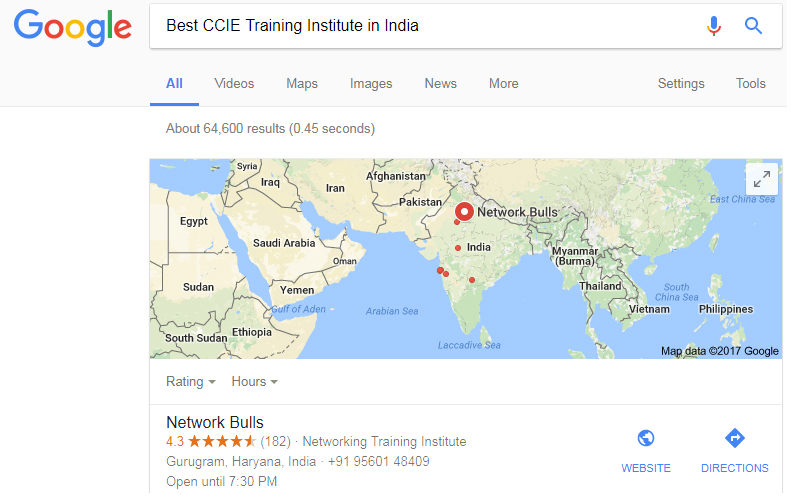 See Results of - "Best CCNA Training in India"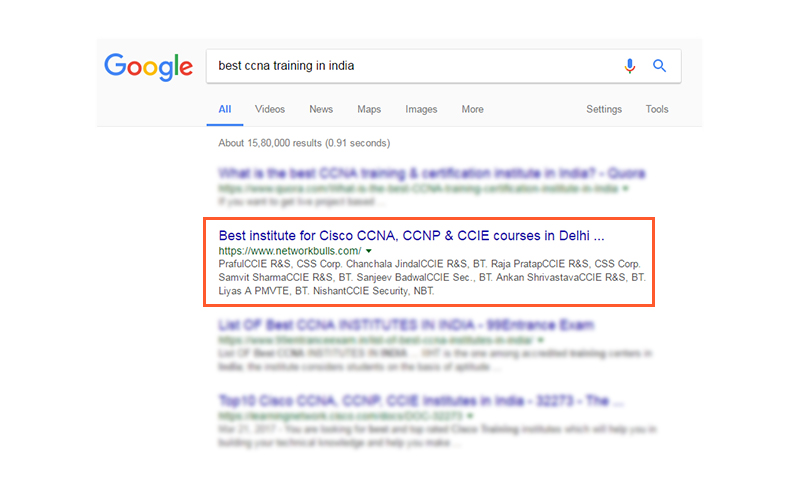 Google UAE Showing "Network Bulls is - Top 10 CCNA Training Institutes"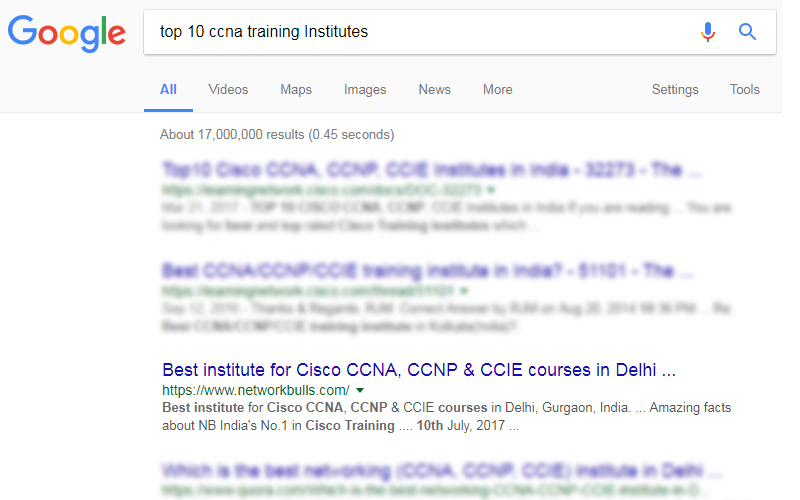 Coming on the first rank or in top 3 positions on Google is not a piece of cake, you need to be best in the industry for bagging the first position on Google's search engine.
Landing on the top search of Google itself reveals – "Why we are the top choice of networking students". Let's have a look at other factors which contribute in making us their top choice
#1 World Class Cisco Training Infrastructure
As stated above, Cisco certification is not only about learning the technology theoretically but you also need to know the real time utility of the technology. For learning the practical implementation of the technology, you need latest Cisco devices and live racks which are not provided by every Cisco training institute.
Being Cisco authorized networking training institute and Cisco's premium training partner our labs are equipped with latest Cisco devices in accordance with the blueprints provided by Cisco. In fact, we have separate labs for different levels of Cisco training i.e. CCNA, CCNP, and CCIE.
We provide 100% practical training to students for making them an expert in the domain of networking.

#2 Unlimited lab practice @ 24*7 Lab access facility
We at Network Bulls, aim at making students an expert in the domain of networking. Thus, we provide 24X7 lab facility to all our students irrespective of the courses they have enrolled in.
24X7 lab access facility helps them to practice networking for long hours and develop a crystal clear understanding of the implementation of the technology.

#3 Best Technical Training Team
Trainer plays a key role in shaping a student's skills and Network Bulls Training team is full of vastly experienced CCIE Certified Trainers. Lead by Mr. Vikas Kumar (Triple CCIE ##30078 R&S, Security, and Voice), NB Training team has Dual CCIE Certified trainers like Mr. Mohit Bhalla (Dual CCIE #42145 R&S, Security, CCSI #34989 and Data Center Written) accompanied by Mr. Piyush Kataria (CCIE R&S V5 #50204, CCIE Security V5 Written), Mr. Ajaypal (CCIE R&S #51341 & Data Center Written Certified) and so on. 
To See entire Network Bulls Training Team Click Here.
#4 End to End Facilities for Students coming from the Middle East
At Network Bulls, International students are taken care like family members and team NB takes care of every requirement of the students. From visa assistance, arrival to India, transportation to accommodation and meals; at every stage team Network Bulls assists its students. 
Apart from facilities, training at Network Bulls' labs by vastly experienced CCIE Certified trainers makes the learning journey special. During your stay in India, students also enjoy festival celebrations, tours to exotic locations and hospitality in India.

#5 Trust
Trust is one of the major reasons which makes us the top choice of networking students. This trust is based on the results which Network Bulls has provided continuously for 7 years. Let's have a look at few facts –
We are the World's only training company to deliver 90% first attempt pass rate for CCIE Lab exams in 2016.
Students who did CCIE 2 to 3 years back from NB are now working in USA, UK, UAE, South Africa, Australia, Oman and Qatar at handsome salary packages.
In fact, over 10% students have already crossed 150000 USD salary benchmark in USA.
Bagged 13+ awards for imparting best Cisco training and highest placement records.
These are just a few of many amazing facts about Network Bulls, Want to see all?

Go to - 9 Amazing Facts of Network Bulls
Let's get all we have said verified by students themselves who came all the way from their countries to India. We are featuring students from the middle east only in this blog post. 
As a fact, students from 40+ countries study at Network Bulls. 
Let NB students from The Middle East speak about Cisco CCNA, CCNP and CCIE Training
Moustafa of Qatar Cleared CCIE R&S #55939 in 1st Attempt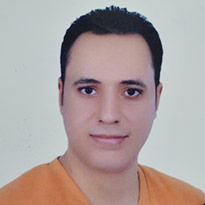 Mr. Moustafa came at NB all the way from Qatar for learning Cisco CCIE Routing and Switching Technology and fulfilled his dream of becoming a CCIE.
"I got to know about Network Bulls via the Internet while searching for best networking training institute. Trainers here are very professional and technically sound. Network Bulls provided me with visa assistance, airport pickup and drop facilities, accommodation facility and a lot more. Thanks, Network Bulls and team"
Yahya Gumaei of Yemen did CCIE Security Lab Training

Mr. Yahya Gumaei came to Network Bulls from Yemen with aim of the getting CCIE Security Lab training. Let's Listen to him -
"Network Bulls has world's largest Cisco training labs which are well equipped with ultra-modern Cisco devices and racks. Practicing at NB is like working in the real networking environment. Thanks, NB and team for helping me to grow in my career"
Ahmed Omar did CCIE Security Lab Training @ Network Bulls | Iraq

"Hello guys, my name is Ahmed Omar and I belong to Iraq. I wanted to complete my CCIE Security training from the best networking Institute and due to lack of resources in Iraq, I travelled to Network Bulls.
I found Network Bulls to be the best networking Institute as it has world's largest Cisco training labs which are open 24*7, CCIE certified trainers, CCIE certified lab instructors and numerous other facilities which help students to achieve the milestone of their career"
Mr. Patricio from UAE Successfully finished CCNP Security Training from Network Bulls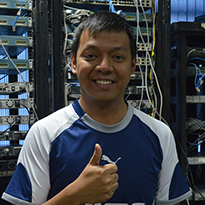 "Hi everyone, I was searching for the best Cisco training institute for pursuing my CCNP Security training and came to know about Network Bulls, India. 
They have the world's biggest labs and provides 24*7 lab facility which serves a long way in learning the practical implementation of the concepts. Trainers are CCIE certified and were always available to guide. It was one of the best learning experience of my life. Thanks, Network Bulls and team!"

Download PDF
Why Network Bulls is the top choice as Cisco Training Institute for Students of Middle East?
Recommended read: Network Bulls Launches CCNA, CCNP & CCIE Data Center Certification Training
Conclusion
Network Bulls has become the top choice of networking students all-around the globe and we have achieved such status after providing successful results continuously for 7 years.
Today, Network Bulls is not just a name but it has become the synonym of success and trust for the networking aspirants as, over the short span of 7 years, we have continuously provided proven results. Thus, became the top choice of networking aspirants.
In addition, the facilities we provided have no comparison with other networking training institutes in the industry. Their testimony is a proof of our success and services that we provide. 
At Network Bulls, we provide numerous IT certification courses which include –
CCNA R&S, CCNP R&S, CCIE R&S, CCNA Security, CCNP Security, CCIE Security, CCNA Collaboration, CCNP Collaboration, CCIE Collaboration, CCNA Data Centers, CCNP Data Centers, CCIE Data Centers, MCSE Windows Server 2012 and numerous other Microsoft courses.
If you are interested in Cisco Courses offered by Network Bulls, Gurugram then Contact Us on +91- 9540774889, 8745885377 or email us at admin@networkbulls.com. If you are from India then Contact Us on 1800-313-2545.