Why Network Bulls is No. 1 Choice for Cisco CCNA, CCNP & CCIE Training in Nigeria?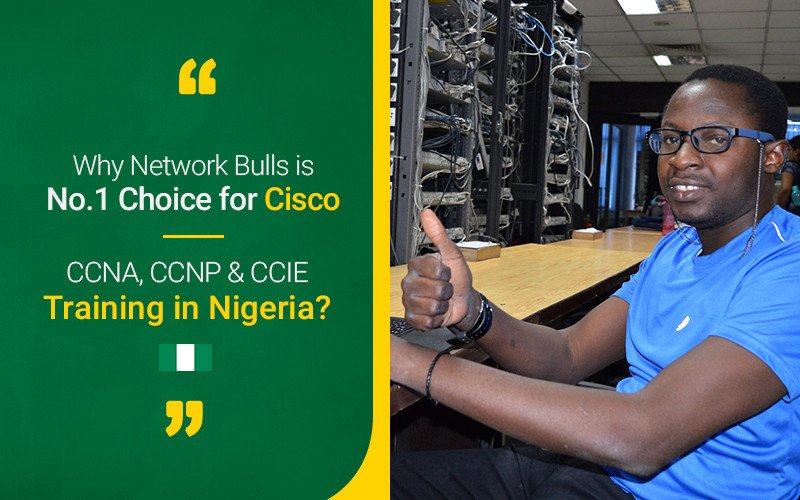 By
Network Bulls
Cisco Certifications matter the most when anyone wishes to make a bright career in networking. To crack Cisco CCNA, CCNP, CCIE Certifications, you need a training institute with best of lab facilities, experienced as well as CCIE Certified Trainers, inspiring learning environment and much more.
In Nigeria students and networking professionals have always faced challenges in finding the right Cisco CCNA, CCNP & CCIE Training companies. At present Cisco CCIE Training institutes in Nigeria lack behind in terms training facilities + infrastructure when compared to India, USA, UK, Aus etc. 
This is the main reason why students and working professionals these days are ready to cross all the borders for gaining the Cisco training in order to have a bright career ahead. India has emerged as a hot destination for IT Certification training because of its world class training facilities and abundance of industry experts.
And when you think of Cisco CCNA, CCNP & CCIE Training in India then Network Bulls comes as the very first name. Google is the proof, See -
Recommended read: Cisco Announces Changes in Exam Fee of CCNA, CCNP & CCIE Written Certifications
If you search for "Best CCNA Training in India" on Google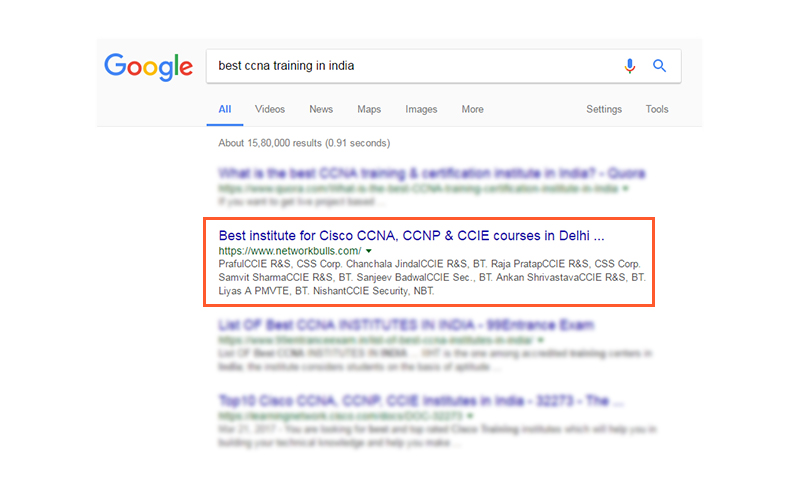 Now let's see what Google say if you search for "Best CCNP Training Institute in India"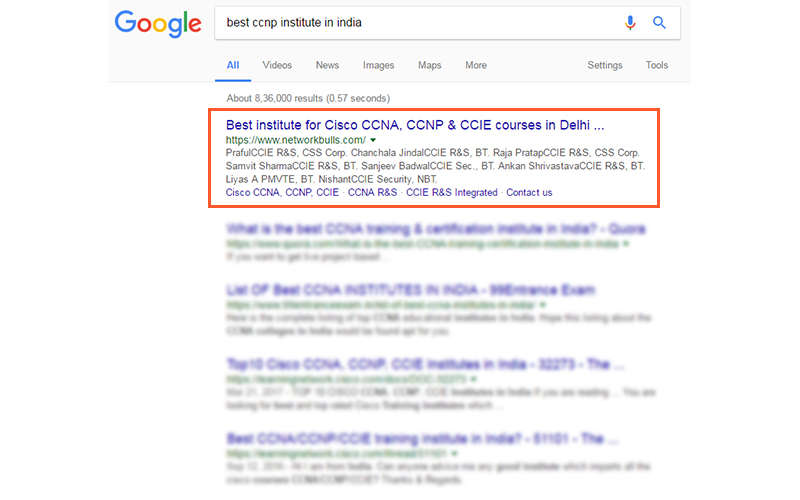 And Now if you search for "Best CCIE Training in India"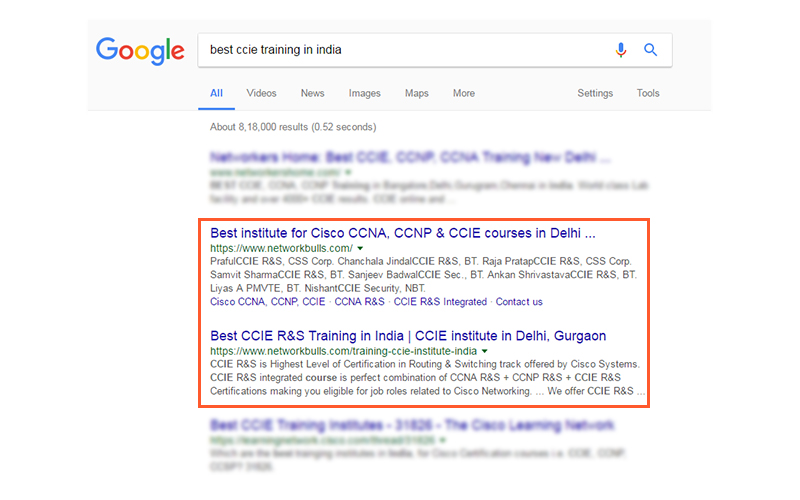 Source - Google Nigeria
These above given snapshots are proof of Network Bulls' credibility. Also, let's look at an interesting fact -
"2000+ Students and Working Professionals from Nigeria have trusted Network Bulls for their Cisco Certification Training in last 7 years"
But what is the reason of so many students from Nigeria, traveling for Cisco certification training at Network Bulls, India?
Well, we will find out the answer below. Keep reading. 
5 Reasons of Nigerian Students Choosing Network Bulls for Cisco CCNA, CCNP, and CCIE Training
We are really glad that so many students from Nigeria choose to complete their networking certifications with us. There are many reasons for choosing NB, we give you Top 5 - 
#1  |  100% Practical Training @ World's Largest Cisco Training Lab
This is one of the top most reason because of which students from 40+ countries trust Network Bulls. Practical learning matters the most in Cisco Certification preparations. Network Bulls has the World's largest Cisco training lab which is fully equipped with all the Latest Real Cisco devices like Routers, Switches, Firewalls, CCIE Racks etc.  
NB has separate labs for different levels of Cisco training i.e. CCNA, CCNP, and CCIE. NB Lab follows Cisco blueprints for practical training and provides 100% practical exposure to students for making them an expert in networking.

#2 | Unlimited 24x7 Lab Access 
Another compelling reason to get Cisco training at Network Bulls, India. As we say, once you enroll with NB, you become the part of NB Family and can access Network Bulls lab 24x7 for the unlimited number of hours. 
This means that you can practice the modules of concepts learned on real devices anytime and till the time you master it. Just what you need to prepare yourself for Cisco Lab Exams. Click here to know more about Network Bulls' 24x7 Lab Facility.

#3 | Biggest Pool of Vastly Experienced CCIE Certified Trainers 
A trainer's guidance, experience, knowledge level and ability to impart knowledge plays a vital role in learning of students. Network Bulls has the biggest pool of CCIE Certified Trainers, ready to guide and help students 24x7. NB Training team also consist of Triple CCIE, Dual CCIE Trainers with 5 to 15 years of industry experience.
Click here to check Network Bulls' Training Team
#4 | End to End Student Support + Over 90% 1st attempt CCIE Success Rate
Coming to another country for Cisco Training is a big decision and it can only be taken when a student's visa, accommodation, meals, living experience is going to be good apart from Training. That's why Network Bulls assists students of Nigeria in each step of training. 
Starting from Visa application, arrival in India, accommodation & meals arrangement to providing all necessary support so that you focus only on training, not anything else. NB's end to end support guarantees a happy India experience.  
Apart from this Network Bulls' CCIE Success record since inception has been amazing. NB has been consistently delivering over 90% CCIE 1st attempt success rate which is highest in the world. Now such learning environment boosts your chances of CCIE success. 
#5 | Up to 60% Saving on Training Expenses Compared to USA & UK 
Yes, that is absolutely correct. The student from African continent have 3, 4 major countries to choose from i.e. USA, UK, Dubai or India for their Cisco Certification Training. If all expenses of Cisco training in these 4 countries are compared then India tops the list.
In India, students will be able to complete training in up to 60% lesser cost including living expenses. And that is truly because of difference in currency exchange rates.Plus India is known for it's high-quality training facilities.
Apart from these top 5 reasons, there are many other factors like innovating training methodology, multiple and customized training modes, the experience of Incredible India, no discrimination etc. attracts students. Also, India is a safe country for students, which is a big factor, especially for women.
Let Nigeria Students Speak about Network Bulls' Cisco Training Experience 
Michael | CCNA + CCNP R&S Training
"Hello Guys, I am Michael and I am from Nigeria. I came to India for studying CCNA R&S and CCNP R&S at Network Bulls. Labs at Network Bulls are really big as well as equipped with ultra-modern Cisco devices.
Trainers at NB are very helpful and always ready to walk an extra mile for the better understanding of students. Recently, I appeared for CCNA examination and got very high grades. Cheers NB!!!"
Shakiratu | CCIE R&S Integrated course
Not only males but also female students have traveled from Nigeria for building a bright career in the IT industry. Shakiratu is the best example, let's hear from her –  
"Hello everyone, I am Shakiratu from Nigeria and I was enrolled for Cisco CCIE R&S training course at Network Bulls. They have the best staff and the best trainers. Before coming to Network Bulls, I was quite scared but the moment I arrived, I felt being at home. They provide the best training and are always available to help you. Trainers ensure that you have complete understanding of the concepts and their 24*7 lab facility helps in refining the practical skills"
Adebowale | Cisco CCIE Training
"Hi, I am Adebowale and I came all the way from Nigeria for pursuing Cisco training at Network Bulls. They have well-equipped labs with latest Cisco devices and live racks. Trainers at NB are also very supportive. Lectures were very comprehensive and we learned a lot. The Management team at NB is also very good; they gave their best for making us feel comfortable and good. Thanks, NB and Team"
These are just a couple of students and we have a long list, which just goes on and on. See more Network Bulls Reviews by Students around the globe.
Conclusion
Network Bulls is not just the name but the trust of millions of students from all around the world. We have built this trust over the hard work and dedication of years.
Over the 7 years, we have provided beyond-excellence training to millions of networking aspirants and helped them to give a kick-start to their career. More than 2000 Nigerian students have traveled to India just for enrolling at Network Bulls and building their career in networking.
As a result of beyond excellence training and continuous CCIE Success results, we have become the first choice of students from Nigeria for Cisco CCNA, CCNP, and CCIE training.
If you are interested in Cisco Courses offered by Network Bulls then Contact Us on +91-8745885377/9540774889 or email us at admin@networkbulls.com. Students from India can connect with us on our toll-free number 1800-313-2545.