Which NB CCIE Course is for YOU - CCIE R&S Int. Vs CCIE Security Int. Vs MVTE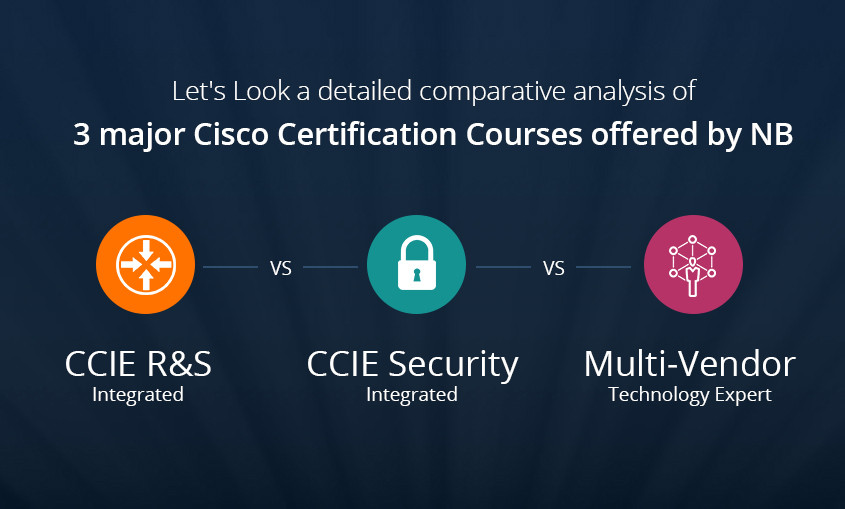 By
Network Bulls
In last 5 years, Networking industry has become a favorite domain for many IT professionals because of opportunities and pay scale it offers. So if you are deciding your career field then, you must consider it because future in Networking has unlimited as well as bright career opportunities. To make a shining career in networking, Cisco Certifications are huge boosters.
Being leader in networking Cisco pioneers the technology as well as courses which make you a networking expert. Cisco offers certification in 3 levels (CCNA,CCNP,CCIE) for various technologies. So which technology is to go for and excel is a million dollar question.
Before jumping on that, we would like to inform you all that always go for a Cisco authorized training company for training. Other factors you should consider while choosing a Cisco training partner - Trainers, Labs infrastructure and Learning environment plus results. Network Bulls – India's No. 1 Cisco training company, offers all under one roof for Cisco aspirants.
Let's Look a detailed comparative analysis of 3 major Cisco Certification Courses offered by NB  -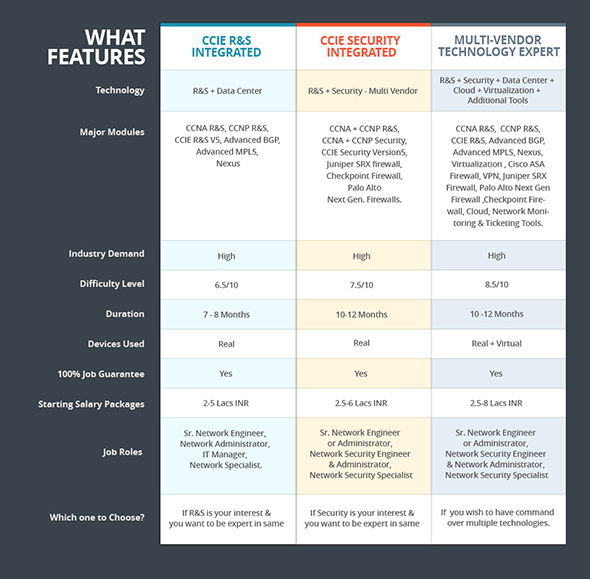 Apart from being different there are some common points in above courses -
Network Bulls offers 100% Job guarantee for all above courses. Exciting, Right?
All Above courses make you an expert professional in respective technology which always helps you in career.
Network Bulls follows Cisco guidelines in training of above courses.
All practical training is provided on real devices + live racks.
Team Network Bulls will work on your personality development, soft skills and communication skills in all 3 courses to make you job ready.
Here are the Quick links of these courses -
CCIE R&S Integrated - https://www.networkbulls.com/training-ccie-institute-india
CCIE Security Integrated - https://www.networkbulls.com/training-ccie-security-india
Multi-Vendor Technology Expert (MVTE) - https://www.networkbulls.com/multi-vendor
So now you can easily compare these 3 and decide which one to choose? Every program is unique and designed after considering the requirements of top IT companies.
Network Bulls - India's No.1 Cisco Training company
Network bulls is a well reputed Cisco training company in India. With record breaking placements in last 6 years, total 13000+ students have got their certifications & placements from here. This number includes international students as well who come from USA, UK, Australia, Canada, Europe etc.
Hear from our happily placed NB students - https://www.networkbulls.com/placement-records
Thousands of students enroll in 100% job guarantee courses at Network Bulls and get placed with Big MNCs even before the completion of their CCIE training. Network Bulls has got world's largest Cisco labs which are well-equipped with fully functional real devices and racks. In fact, there are separate labs for different levels namely CCNA, CCNP, and CCIE. In addition, its labs are open all round the clock. So, you can come and have access to live racks and real devices as and when you want.
So what are you waiting for - Enroll with Network Bulls today and make your career fly.
Contact Us Now or Call us at 1800-313-2545 or email us at admin@networkbulls.com