Want to Make Career in Data Center Field? All you should know about Network Bulls' Data Center Training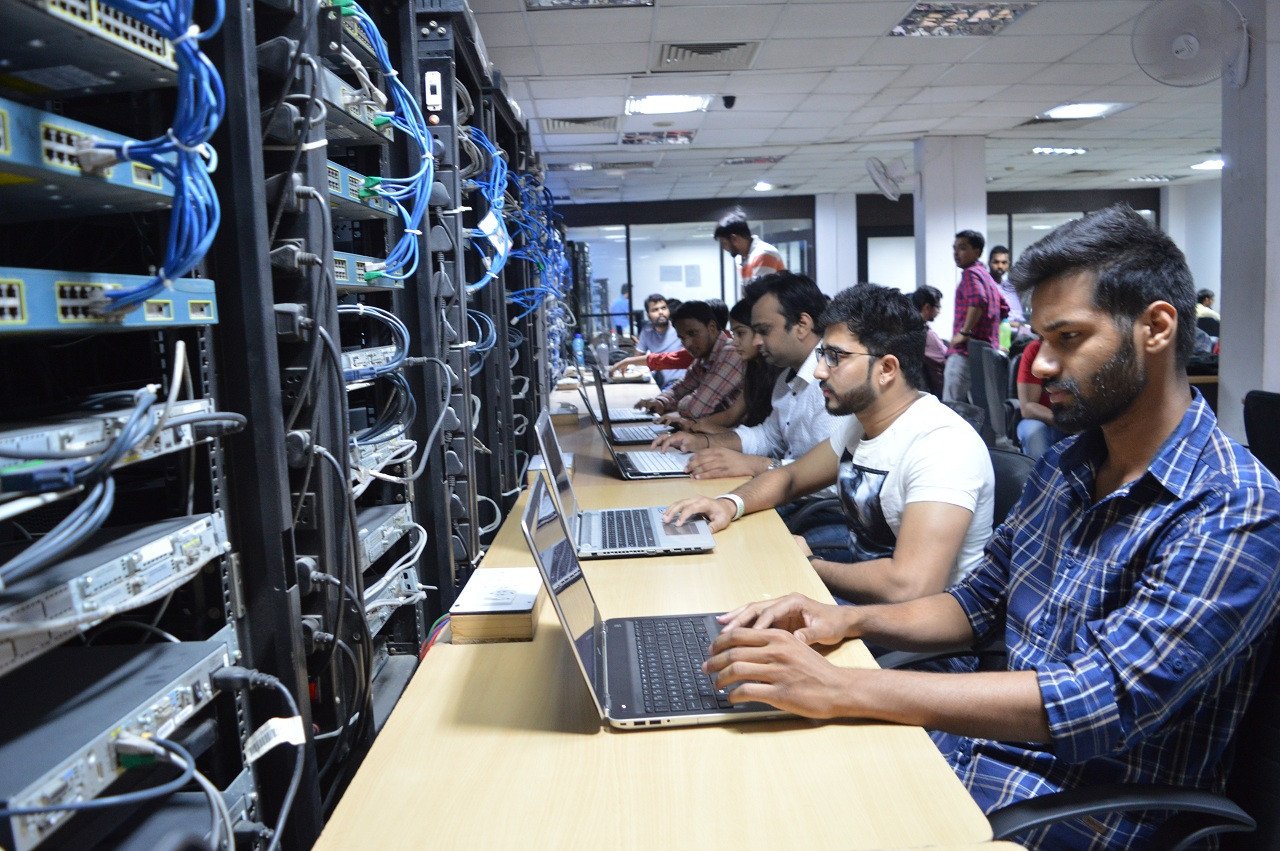 By
Network Bulls
We are in the 21st Century and it is the era of digitalization....
Technology is taking over and use of advanced technology has become the requirement of business for facing the intense competition.
With digitalization, Data Centers has become an eminent part of the technology and a core requirement of the business for competing in this digital era.
This also means Data Center field offers very attractive career options and high salary jobs. In recent times the scope of Data Center Jobs has increased exponentially. 
To make good use of this grand opportunity working professionals and students must look forward to Cisco CCNA, CCNP & CCIE Data Center Certifications. 
Attaining Cisco Data Center Certifications validates their skills and expertise to administrate Data Center Setups. Now after deciding about taking Cisco Data Center training next big step is to find out Best Cisco Data Center Training Institute.
Recommended read: Everything you need to know about CCIE Data Center V2 Lab Exam
Best Data Center Certification Training Institutes in India?
In Today's world, all searches start from Google. Let's start -
Search for "Best CCNA Data Center Training", If you are searching this term from India then you will see following results - 
CCNA DC is an associate level course in Data Center Technology by Cisco.
Now let's search for next level - "CCNP Data Center training in India" and see what Google results show -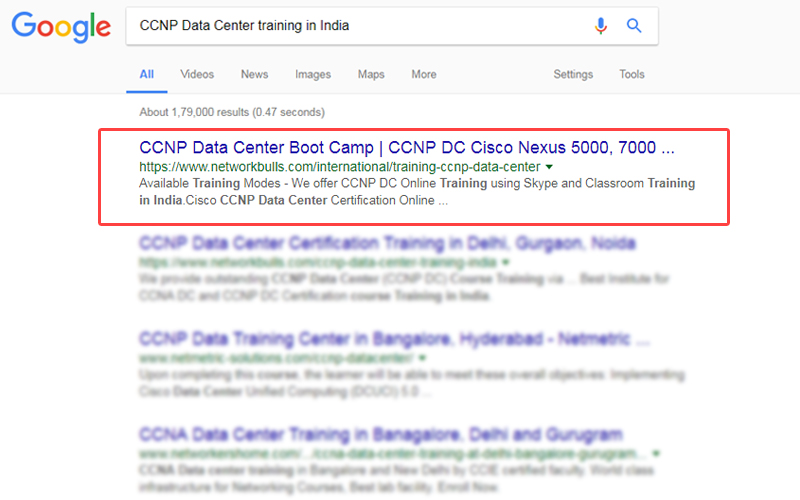 Now Let's look at Google results for "CCIE Data Center Training in Delhi"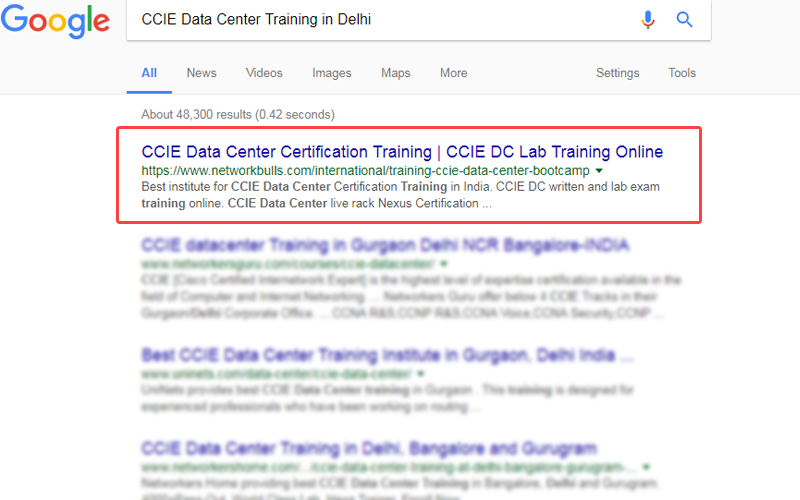 All the above Google results answer our question and one prominent name which comes out is Network Bulls. That means Network Bulls is definitely one of the top training institutes for Data Center Certification Training.  Let's look at Network Bulls Data Center Training courses in the following section.  
Cisco's Data Center certification introduces you to the latest data center technology making you an expert in it. Like any other Cisco certification course, the expertise will be provided in three levels namely –
There is no prerequisite for pursuing Cisco's Data Center Certification but it is best for the networking professionals having few years of experience and knowledge of Cisco CCNA Routing & Switching.
1. Cisco CCNA Data Center Certification Training in Delhi/NCR
CCNA Data Center Certification is the associate level or initial level certification which introduces you to the basics of Data Center technology. Post completion of your CCNA Data Center training you know the skills of installing, configuring and maintaining data center infrastructure.
CCNA Data Center Course Syllabus - 
CCNA Data Center Courses offered by Network Bulls follow Cisco's official curriculum & trains on following modules - 
DCICN (200-150) Introducing Cisco Data Center Networking
DCICT (200-155) Introducing Cisco Data Center Networking Technologies
CCNA Data Center Certification Exam -
Once prepared with the topics, students have to appear for Cisco CCNA Data Center Exam and get certified. To test candidate's skills two exams are conducted covering one module each. Exam's duration is 90 minutes for each and generally, 55-60 questions are asked.
Jobs after CCNA Data Center Certification -
Once you are CCNA Data Center Certified, you become eligible for entry level jobs in Data Center field and can apply for Data Center Administrator Jobs. 

2. CCNP Data Center Certification Training by NB
CCNP Data Center Certification is the professional level certification which introduces you to the advanced concepts of Data Center Technology. CCNP Data Center Certification is best suited for technology architects, business services architects, pre-sales engineers, design engineers and implementation engineers having around 3 to 5 years of experience.
Pre-requisite - CCNA DC certification or a valid CCIE certification in any track is the pre-requisite for CCNP Data Center certification.
CCNP Data Center Course Syllabus -
CCNP Data Center Course by Network Bulls covers following modules - 
DCUCI  (300-175) Implementing Cisco Data Center Unified Computing
DCII      (300-165) Implementing Cisco Data Center Infrastructure
DCVAI  (300-170) Implementing Cisco Data Center Virtualization and Automation
DCID    (300-160) Designing Cisco Data Center Infrastructure (or)
DCIT    (300-180) Troubleshooting Cisco Data Center Infrastructure
Post completion of your CCNP Data Center training you will have the expertise to use advanced technologies which include virtualization, policy-driven infrastructure, automation, orchestration, data center security, integration of cloud initiatives and unified computing.
CCNP Data Center Certification Exam -
Like CCNA Data Center, each CCNP Data Center Module has the separate exam and Cisco gives attendees choice to choose 4 exams out of 5 (for latest DC version i.e. v6). There is a choice amid DCID (300-160) and DCIT (300-180) module. Each exam lasts for 90 minutes and contains around 65 to 75 questions and is only available in English.
Jobs after CCNP Data Center Certification - 
A CCNP Data Center Certified professional will be eligible for following job roles post completion –
Support Engineer
Implementation Engineer
Design Engineer
Pre-sales Engineer
Technology Architect and
Business Services Architect

3. Cisco CCIE Data Center Certification  Training in Delhi/NCR, India
CCIE Data Center certification training is expert level Cisco Data Center certification which validates your expertise in designing, planning, implementing as well as troubleshooting complex or enterprise level Data Center infrastructure.
Pre-requisite - There is no formal pre-requisite for Cisco CCIE Data Center certification but you need to have in-depth knowledge of CCNA Data Center and CCNP Data Center course.
CCIE Data Center Course Syllabus -
Learn How to design, implement and troubleshoot Complex L2, L3 Technologies & External Fabric Connectivity
Design, implement & troubleshooting network services, Service Insertion and Redirection
Configure & Troubleshoot Data Center Storage Protocols
Design, implement and troubleshoot Data Center Storage Networking features, Physical and Virtual End Point Connectivity  & DC Computer connectivity
Learn to Implement & troubleshoot Compute resources. Implement & troubleshoot DC Automation, Orchestration Tools
Integrate Cisco Cloud offerings into DC infrastructure
Study of policy and non-policy-driven Internal Fabric Connectivity, Master infrastructure elements and policies
Gain expertise in Cloud, Network Programmability (SDN), Internet of Things (IoT)
CCIE Data Center Certification Exam -
Like every Cisco CCIE certifications, CCIE DC certification also has two exams, namely -
A) CCIE DC Written Exam
Cisco CCIE Data Center written examination is 120 minutes having approximately 90 to 100 questions. It tests your skills of configuring, troubleshooting and diagnosing a complex DC topology. It is a closed book examination so you cannot take any external material for reference. 
B) CCIE Data Center Lab
Like other CCIE lab examinations, it is also of eight hours and conducted into two parts –
Part 1: Diagnostic module (1 hour)
Part 2: Configuration & Troubleshooting module (7 hours)
Part 1 is written whereas part 2 is the practical examination to test your practical networking skills. The cost of CCIE Data Center lab exam is 1600 USD.
Jobs after CCIE Data Center Certification - 
Your expected job roles will include senior level designations as post completion of CCIE Data Center Certification you will be an expert in the domain.
Also read: 15 reasons to join Network Bulls
Conclusion
Data Center has become an eminent requirement of the today's IT industry. Understanding the scope and the requirement of Data Center certification in the IT industry, NB has recently launched the Cisco CCNA, CCNP and CCIE Data Center training.

Download PDF
Want to Make Career in Data Center Field? All you should know about Network Bulls' Data Center Training
Network Bulls Cisco Data Center Training Highlights - 
Cisco's official Course Curriculum 
100% Practical Training on World's Largest Cisco Lab
Practice on Updated CCIE DC V2 Live Racks - Only NB has these racks in India 
Dual CCIE Certified Trainers
Weekday & Weekend Batches to suit your timings
100% Success Guaranteed
So if you are eyeing Data Center jobs then Network Bulls Cisco Data Center Certification Training can be a big help in achieving your goal. 
If you are interested in Cisco DC Course or any other networking course offered by Network Bulls then Contact Us on 1800-313-2545 or email us at admin@networkbulls.com. Students from outside India can connect with us over +91-8745885377 / 9540774889.
This is a great stuff shared. I really happy to find detaliled information about Network Bulls data center courses. I am working in a company as a CCIE security expert and want to boost my post and salary so I think data center field is best for me and