Top 7 difference between CCNA & CCNP Certifications and its benefits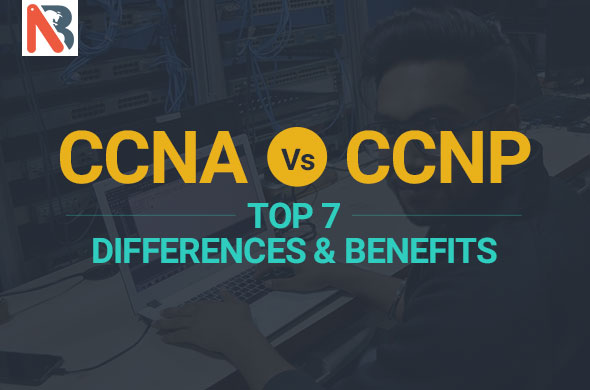 By
Network Bulls
Are you planning to build your career in the field of networking and quite confused about the Cisco certifications to take?  As you already know, there are three levels of Cisco certification exam and all the three have a great value in the IT industry.
CCIE Jobs are readily available after each and every level of Cisco certification course i.e. CCNA, CCNP and CCIE. No doubt there is a great difference between all the three levels and in this post, we will cover the key differences amid CCNA & CCNP certification and advantages of having CCNP certification over CCNA certification.
What is CCNA certification?
CCNA stands for Cisco Certified Network Associate and is the initial or entry level of Cisco CCIE certification. This certification builds up your base for the professional and expert level certification.  Post Completion of your CCNA training and certification, you will know how to manage, configure and install a medium sized network.
Network Bulls provides CCNA course training on the latest Cisco devices and live racks. Training at NB is provided by CCIE certified trainers, who help you to build a strong base. NB provides training in numerous different tracks such as Routing and Switching, Security, Voice etc.
What is CCNP certification?
As per its name, Cisco Certified Network Professional certification is the professional level of CCIE certification which introduces you to the advanced networking technologies. CCNP Certification exam includes numerous modules for example CCNP R&S is a three module examination; CCNP Security has four modules etc.
CCNP training at Network Bulls includes 2 – 3 hours of theoretical classes followed by the practical session @ World's largest Cisco Training Labs at NB. Labs are accessible all round the clock so you can complete your practical training as per the availability of your time.
As you know, Cisco CCIE certification is available in different tracks and you have to take up CCNA and CCNP followed by CCIE exam for all the tracks. Hence, you must have a clear idea of both certifications.
Recommended Post: What is CCNP? | Scope, Salary & Training of CCNP certification by Cisco
Know the Key Differences amid CCNA & CCNP Certifications -
| | | |
| --- | --- | --- |
| Point of Difference | CCNA Certification | CCNP Certification |
| Level of Certification | It is an Entry or Initial level certification. | It is the Professional level Cisco certification |
| Prerequisite | There is no prerequisite for undertaking this examination | For undertaking CCNP certification, qualifying CCNA certification is a prerequisite or you must have a CCIE certification in any track. |
| Examination Modules | It is a Single module examination i.e. one needs to give only single exam for becoming CCNA certified | This certification contains various modules mostly 3 or 4 which means you need to give 3-4 exams for becoming CCNP certified. No. of modules depend upon certification track. |
| Level of Knowledge / Skill Set | This Certification builds up your base of networking. It introduces you to the basic concepts of networking. | This certification gives a detailed knowledge of advance networking technologies. It Exposes the candidates to advanced technologies in networking. |
| Expected Job roles | Expected JOB Roles post completion of this certification are – Network Technician, Network Support Engineer, Helpdesk Engineer, Second and first Line Support, Service Desk Technician / Engineer. | Expected JOB Roles post completion of this certification will include all the job roles as a CCNA professional as well as numerous other– Network Specialist, Systems Engineer, Network Analyst, Network Engineer, Third Line Support. |
| Cost of Certification | Registration or examination cost of this Certification is $295. CCNA Course fee for every track is same. | Registration or examination cost of this Certification is $250 for each module. |
| Expected Salary range | Starting CCNA Salary is up to 1.5 lacs per annum. | Starting CCNP Salary is up to 2.5 lacs per annum. |
Benefit of CCNP over CCNA certification
Candidates often ask, which is best CCNA or CCNP certification and if similar question tickles in your mind, then you must know that there is a great scope of CCNA as well as CCNP course certification.
CCNP being the professional level examination offers better opportunities to the candidates in comparison to CCNA course certification. Although jobs are available after the completion of CCNA examination or training, but your career growth increases manifolds after CCNP exam or training. Your designation, as well as salary, will be step up after CCNP certification. So, if you are CCNA certified professional then don't restrict yourself there, step forwards to take up CCNP certification and training for exploring the opportunities.
Want to know the major difference amid CCNP and CCIE certifications???
Stay tuned, the blog on the same is coming soon!!!
Till then, feel free to ask your queries in the comment box. If you are interested in Cisco Courses offered by Network Bulls then Contact Us on 1800-313-2545 or email at admin@networkbulls.com. Students from outside India can connect with us over +91-8745885377.
"Hello Sir/Mam, I am look..."
Hello Sir/Mam, I am looking forward for CCNP. But I am living in Nagpur, Maharashtra. Is there any hostel provided by you or any other accomodation facility Since it is 3 Months course. What job opportunity will be open for me after completing course.