Top 5 Networking Concepts to prepare for CCNA Routing & Switching Examination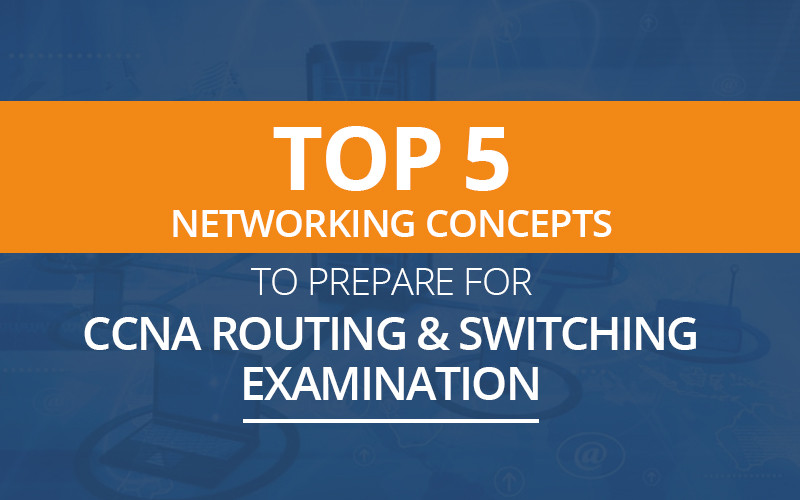 By
Network Bulls
Passing Cisco Certified Network Associate (CCNA) examination is a hard nut to crack as you need to have in-depth knowledge of varied fundamental networking topics. If you are preparing for CCNA examination, then you must be familiar with number of different technologies. As per Cisco guidelines, you must consider topics under 200-125 CCNA or 100-105 ICND1 exams for CCNA R&S.
However, there are few topics or modules that you must prepare for the CCNA examination. Today, In this blog we will list out those Top 5 CCNA R&S Examination Topics which you must prepare.
1. OSI model and TCP/IP
This is amongst one of most important as well as a fundamental topic that you must cover while preparing for CCNA R&S examination. The open systems interconnection model (OSI model) defines the framework of networking for implementing the protocols in seven different layers.  You are required to study all the seven layers of OSI model in detail.
The seven layer of OSI model includes – Physical layer, Data Link Layer, Network Layer, Transport layer, Session layer, Presentation Layer and Application Layer.
The Transmission Control Protocol or Internet Protocol is set of communication protocol which is used for interconnecting network devices. The topic is considered to be the foundation of the networking course, thus you must know in detail about OSI model and TCP/IP model.
2. Subnetting
Second major topic to prepare for the examination is subnetting. In this topic, you will learn to divide a network into two or more networks. Subnetting provides two major benefits –
a) The performance issues of the network can be resolved without affecting the other parts of the same networks.
b) The maintenance of the network becomes an easy task as it is quite easy to manage different small networks.
If you are going to give your CCNA examination, then you must know about the working and the concepts of Subnetting.
3. IPv6 
Internet Protocol Version 6 (IPV6) is the latest version of Internet Protocol. Remember that IPv6 is considered as a separate component for the purpose of CCNA examination.  It is a communication protocol which provides for identification as well as a location system for the computers on route traffic and network across the net. IPv6 is a step ahead of Internet Protocol and is little more comprehensive and complex.
4. Wireless Access
Another important topic to cover for your CCNA examination is the Wireless Access as the wireless technology is gaining importance with the passage of the time. Numerous wireless routers and networking equipment are offered by Cisco and every company is trying to switch to wireless technology. So, the wireless access has become an important topic of CCNA certification examination.
5. Network Access Translation
Often abbreviated as NAT is used for modification of information of the IP address into the IPv4 header when in transit via network. One-to-one NAT or the basic NAT is considered to be the simplest NAT amongst the different types of NAT. Basic NAT is used for the purpose of interconnecting 2 IP networks which have incompatible addressing. It is amongst commonly used NAT as numerous network users and employees make use of it for the purpose of remote accessing.
Pass 200-125 CCNA or 100-125 CCNA  exams with Network Bulls - India's No.1 CCNA Training Institute
CCNA R&S is the associate level certification of Cisco and first step of any candidate into the world of networking. That marks the importance of right training at this level and aspirants should only consider the best when it comes to CCNA R&S Training in India. For gaining in-depth knowledge and excelling networking skills enroll with Network Bulls – India's No.1 CCNA, CCNP, and CCIE training institute.
Network Bulls is an authorized Cisco training partner and follows Cisco official course curriculum for CCNA R&S Training at Gurgaon center.  In addition Network Bulls also provides its students with ample of study material such as lab workbooks, sample questions, video lectures and a lot more. With CCIE Certified trainers & world's largest cisco training labs, it offers an amazing learning environment for all CCNA attendees.
Contact Us Now or Call us at 1800-313-2545 or email us at admin@networkbulls.com