Tips to pass CCIE Lab Exam in 1st Attempt | Do's & Don'ts of CCIE Exam Preparations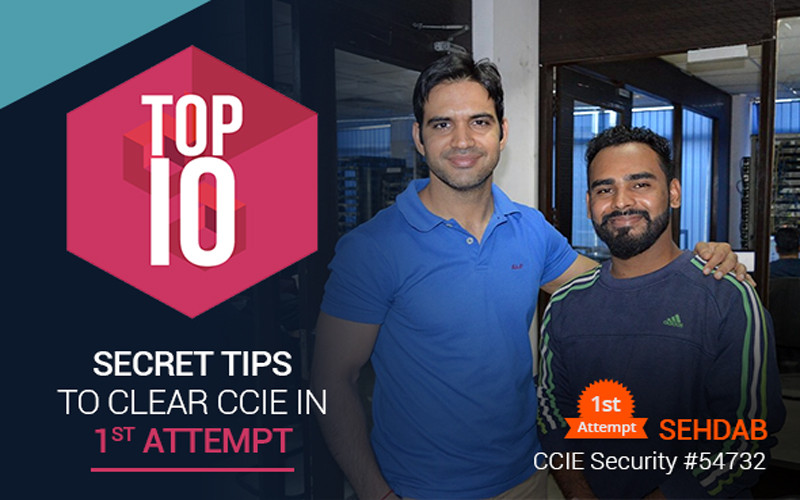 By
Network Bulls
"Network Bulls Delivers over 90% CCIE 1st attempt Success Rate for 2nd consecutive year" 
But How? Cisco CCIE certification of Cisco Systems is the toughest and the highest paid IT certification in the world. Millions of networking aspirants enroll every year with the aim of becoming a CCIE certified expert, but many take their steps back in the mid-way.
No doubt that the journey of becoming CCIE certified professional requires a lot of dedication, commitment and money as well. However, in addition to these 3, you must step forward in the right direction for achieving the success. Millions of Cisco aspirants lack proper direction and thus fail to achieve their goal.
Today we will reveal that secret and guide you on CCIE exams preparation. We have come up with a big secret in form of Top 10 tips to pass CCIE exams. Not only tips, in the latter half of the post we will also uncover the Do's and Don'ts that you must take care of if you are targeting CCIE exams.
"It takes 7-10 years for an average Networking Professional to become a CCIE and many keep dreaming about it for the lifetime. At Network Bulls Students kick off their Career with CCIE Status"
Tips to take care for becoming a CCIE in 1st attempt -
1. Find a Right Cisco CCIE Training Institute 
One of the common mistakes committed by millions of Cisco aspirants is to choose Best CCIE Training Institute. Remember, quality training is the basic key to success. There are over 10,000 Cisco training companies around the world, but only 4-5 Top most companies that can actually help you pass CCIE lab exam. We have delivered over 90% pass rate for both CCIE R&S and CCIE Security Certifications in first attempt.
Recommended Read - Why studying at the best CCIE Training Institute is key to the Career Success
2. Get Trained by CCIE Certified Trainers Only 
Learn from the CCIE certified trainers as they can guide you the best. And that's why a right training institute or trainer is a key to CCIE Success. Remember, learning from the CCIE certified trainer is the best part as they have gone through the same road and hence known to the Do's and Don'ts of the field.
3. Learn with CCIE aspirants' Get Inspired every minute
To succeed  in CCIE Exams it's necessary to put more than 100% focus and commitment for a year. And to focus for such a long tenure, it's important to be surrounded by CCIE aspirants who are on the same journey. Plus CCIE certified trainers who can not only solve your doubts but also guide you with their experience. If possible, make a group of 4-5 students who are dedicatedly focused on passing CCIE lab exam in same stream.
4. Take Mock Exams before Real One
Once you have completed your CCIE course training, you must undertake a quick revision, brush up your skills and go for mock CCIE exams. This will make you ready for questions and practical exam. You can improve time management, learn to do configurations faster and master the Q&As with each mock exam.
5. Practice, Practice & Practice on Real Lab Infrastructure
Practice makes & will make you perfectly ready for CCIE exams. CCIE exams have 8 hrs. lab exam and there your actual skill level will be tested. That's why practical training on real devices is a must. Avoid use of simulators for practical, that's why lab infrastructure is a key factor while choosing a Cisco CCIE training institute.
6. Read Books, Cisco Docs & Related Learning Material
Don't rely on one book, read from multiple learning sources. You can go for Cisco docs, press books, RFC's, Network Bulls workbooks, online material etc. Network Bulls has in-house workbooks drafted by Mr. Vikas (3xCCIE,World's Top CCIE Trainer); these workbooks are like blessings for NB Students. Even before appearing for CCIE Lab exams, you need to go through CCIE Written exams first.
7. Focus on Developing Expertise
CCIE is all about 360-degree knowledge of technology. in fact, CCIE exams are designed to test a candidate's expertise practically + theoretically. So gaining expertise in CCIE modules/configurations is key, it can only be done by daily training + practical of the same module. Ideally, you should spend 8-9 hours daily if possible.
8. One Task at a Time & Re-read the Task
Never mix two tasks. Take it easy. Think about one Task at a Time only. When giving your CCIE lab exam for the very first time, students generally get nervous and think too much. Its suggested by top CCIE Gurus and Lab Mentors that when you are executing a task in your lab exam focus on that particular task only. Re-read that task again. Answer is hidden in that question only. if your concepts are clear and you re-read the task and focus on current task only, the solution comes automatically.
9. Stay updated with the Official Curriculum & latest workbooks
While preparing for the Cisco CCIE Lab Exam, staying updated with the official Cisco curriculum and latest practical workbooks is of utmost importance. CCIE syllabus is upgraded with the advancement of the technology, thus it is eminent to know the latest advancement in the field of networking.
10. Time Management, Speed & Know the References 
You need to have hands-on technical skills and a great speed for clearing CCIE lab examination in a go. The concepts and topologies are quite hard, thus, it is advisable to start at a slow pace and achieve a good speed. Time management in the exam is key and it's an open book exam so attendee must know right references for commands as well as instructions.
At Network Bulls, students are provided training as per all 10 points mentioned above and that is why we have highest CCIE 1st attempt success rate. Along with these Tips for CCIE exams, there are few Do's and Dont's that aspirants must take care of.
Do's of CCIE Exam Preparations -
Reach examination center half an hour earlier, you can also locate the center one day prior to avoid any last minute hiccups.
Read Questions carefully and prepare your strategy accordingly.
Listening to proctor carefully is also key in exams.
Verify all consoles and ensure the access + working of all devices before exams.
In case of doubt, reach out to proctor and explain him or her the situation.
Don'ts of CCIE Exams
Don't freak out, it's tough exam for everyone and everyone gets nervous. Be calm and give your best.
Don't forget to save everything you complete such as configurations.
Don't waste time because of long breaks, lunch or etc. Every minute counts.
Don't just focus on theory, master the practical part of preparation.
Don't use simulators for practical while CCIE preparations, go for real set up, ALWAYS.
We hope this will help many CCIE aspirants. At Network Bulls, attendees get to focus on each strategy + we make them 200% ready before exam with multiple mock exams.
Contact us for more details on courses, training batches, CCIE jobs & more. Indian students can call us on 1800-313-2545 or email at admin@networkbulls.com. Students from outside India can connect with us over +91-8745885377.