Redefining Success: Inspiring Stories of Our Network Bulls Students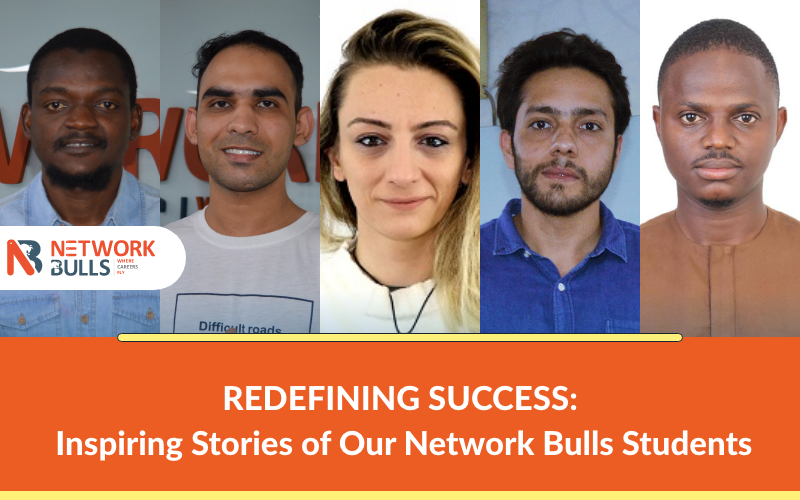 By
Networkbulls
Network Bulls is an established and reputed IT and CISCO networking training institute in India that has been providing best IT networking training courses to students from many years.
The institute has a top-notch Cisco networking lab with advanced routers, racks, and switches.
It is a unique platform for students to realize their dreams. 
Many Network Bulls students have landed jobs in big MNCs across the world. 
Recently, many students have achieved significant career breakthroughs in top MNCs like TCS, Wipro, Airtel, Zomato, Sophos, etc.
We have an excellent team of trainers with dual and triple-level CISCO certifications.
Our trainers are well-experienced and ensure students understand each topic before moving on to the other sections. 
Network Bulls is an excellent institution that has helped many students achieve their dreams and career goals in life. 
In this post, you'll meet our successful alumni and review the video testimonials of some of our best students who successfully got placed leading companies.
Let's get started...
Abhishek  | Konverge | CCIE Security V6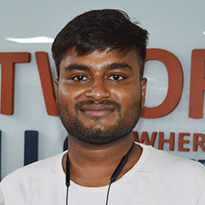 Abhishek, who has completed CCIE Security V6 Intregrated from Network Bulls, initially had no idea about real networks when he came to Gurugram.
However, after completing the course, he found every networking tool and concept to be a cakewalk for him. He also experienced a drastic change in his personality due to the unmatched personality development program offered by Network Bulls.
Abhishek thanks the entire Network Bulls family for their teachings, guidance, and hands-on experience with real devices in the world's biggest lab, which helped him secure a job in a multinational company.

 Murli  | Konverge | CCIE Security V6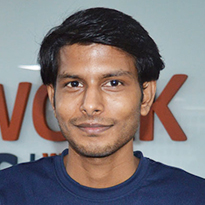 Murli Mohan, a student from Bihar Madhubani, joined Network Bulls with high expectations of gaining knowledge and getting placed.
He got placed before completing his course.He approached the placement team and within one day, he received two offers and three interview calls. 
He also mentioned that Network Bulls delivers what they promise, and he had a great experience learning there.Murli thanked Network Bulls and Santosh sir for guiding him towards a successful career.

 Mandeep  | ACPL | CCIE Security V6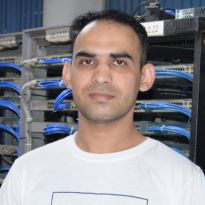 Mandeep, a CCIE Security graduate, believes that learning from professionals is always beneficial. After completing the course, he was promptly placed in a job.
He praises the experienced and professional trainers at Network Bulls, particularly Praveen Kataria, who trained them to excel in interviews.

 Vishal  | ACPL | CCIE Enterprise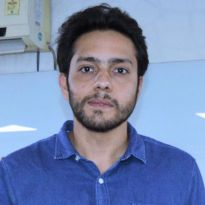 Vishal, who completed the CCIE Enterprise Integrated course from Network Bulls.
He is expressed his gratitude towards Vikas sir and the institute for helping him secure a dream job in IT networking.
According to Vishal, Network Bulls is the best CCIE training institute in India that not only imparts the best CCIE training but also grooms candidates for job interviews and prepares them for CCIE certification to crack the exam on the first attempt.

 Abhimanyu  | FORTINET | CCIE Security V6
Abhimanyu, a graduate of BCA from Mahatma Gandhi Kashi Vidyapith University, Varanasi, was introduced to networking via the internet. He discovered Network Bulls, one of India's leading IT networking institutes, through his brother who had completed a CCIE Integrated course there.
Abhimanyu enrolled in CCNA and CCNP at Network Bulls and subsequently joined the CCIE Security V6 course. During his training, he received support and guidance from the faculty, which helped him secure a decent job at Fortinet.
Abhimanyu recommends Network Bulls for those seeking a career in the best industries and praises the institute's 100% placement record.
You can check his success story here:
Rajneesh | Fortinet | CCIE Security V6
Rajneesh, who completed his BA, discovered the potential of the networking field and wanted to build a career in it.
Upon researching, he found Network Bulls to be one of the best networking institutes and decided to enroll in the CCIE Security V6 integrated course. Even before completing the course, he got placed in Fortinet with a good package.
Rajneesh expressed gratitude towards Vikas sir and the entire Network Bulls team for their guidance and support in securing the job.
Let's listen to his career story here:
International Student Review :
 Saleem Yahaya | CCIE Enterprise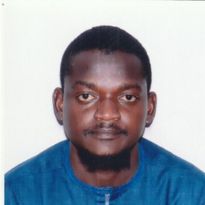 Saleem Yahaya had an excellent learning experience at Network Bulls, especially with the trainers, and specifically with Ms. Archil, who was highly skilled in her work.Archil was always available to ensure that her students understood the concepts, which was helpful and encouraging. Saleem found Archil to be an exceptional role model and hopes she knows the positive impact she had on her students.

 Ali Mufeed Ibrahim | CCIE Enterprise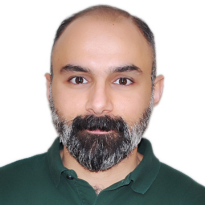 When Ali Mufeed Ibrahim was searching for a Cisco training institute online, he came across Network Bulls and was initially skeptical about the overwhelmingly positive reviews. However, after studying there for a year, he realized that the institute deserved even higher ratings. He found that the trainers were extremely professional, knowledgeable, and experienced, and the lab facilities were top-notch. 
Ali completed the CCNA, CCNP, and CCIE courses at Network Bulls and specifically praised the teachers, Archil Singh and Sukhbir Chahal, for helping him pass his Cisco certification exams. He also appreciated the assistance provided by the office staff, including Emily and Ferdaus, and thanked Vikas Kumar, the founder and MD of Network Bulls.

Aline Ourfalian | CCIE Enterprise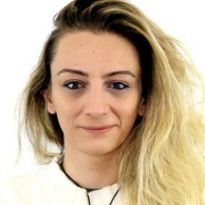 Aline Ourfalian showed gratitude towards Network Bulls for imparting extensive knowledge in networking despite coming from a finance background with no prior experience in the IT industry.
After completing the CCIE in Routing and Switching and Security courses, Aline feels confident to pursue a career in networking.
Aline acknowledges the guidance provided by the instructor, Sukhbir Chahal, and appreciates the support of the Network Bulls administration and staff for making this journey possible.

Mustapha Bako | CCIE Security V6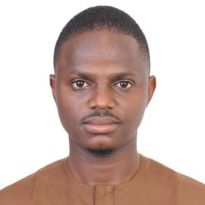 Mustapha Bako had recently completed CCIE studies with Network Bulls. He mentioned that the instructor was knowledgeable and patient, and the course materials were top-notch.
Mustapha feels much more confident in his ability to perform his job now that he has taken this training. He highly recommends Network Bulls Training to anyone looking to improve their IT skills.

About Network Bulls CCIE Programs
Network Bulls offers 100% job-guaranteed courses that provide an excellent opportunity for students to start their careers, as soon as the course completes.
If you are looking for a rewarding career in IT networking, join Network Bulls' CCIE Enterprise Integrated and CCIE Security V6 Training Course, which are the best courses for you.  
Our students placed in reputed companies like TCS, Wipro, Airtel, Zomato, Sophos, etc. 
Upon enrolling, the students will receive a 100% job guarantee letter that assures placement in a reputable firm, as soon as they successfully complete the program. 
Conclusion
At Network Bulls, students will get comprehensive theoretical and practical training using advanced networking switches and routers, along with personalized attention to enhance their skills. Graduates and postgraduates from different disciplines can enroll in our training module, which includes - theory & lab sessions, personality development, and mock interview sessions.  
Upon completing our job guarantee program, you can expect to get placed in a reputed firm with an attractive salary package of approximately 4.5-7 lakhs per annum. This is an excellent opportunity to jumpstart your career in the field of networking.
Don't let this opportunity slip away to fulfill your career aspirations. 
To know more, contact us at 1800-313-2545 or send us an email at support@networkbulls.in. 
We wish you best of luck!