Real-life Success Stories of Cisco CCIE Security Students @NetworkBulls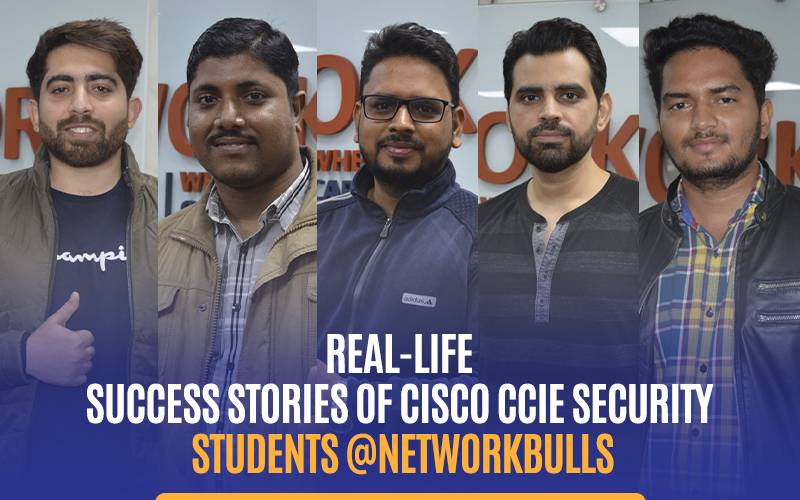 By
Networkbulls
Everybody has their own path and faces their own struggles! At Network Bulls, students come from different educational backgrounds with a completely different journey. 
However, every student here aims for the same objective and that is getting placed with a top IT MNC just after completing their Cisco CCIE Course training.  We ensure to provide the best networking training to our students and make them job-ready as per the requirement of the IT industry.
"10x Placement than any other networking training institute of India"
We have a dedicated placement team to help you get interviewed at the best IT Companies and our training model is designed in such a manner that you become a complete package for the companies. 
We have theoretical sessions followed by mandatory practical sessions which expose students to real-life implementation of the technical concepts. Not only this, but we also provide dedicated sessions on communication skills which is the biggest hurdle in cracking interviews. 
We also provide 100% Job Placement Guarantee Courses at the package of 4.5-7 Lacs INR in our CCIE Security Integrated program. Here are brief real-life success stories of our students, let's have a look - 
Ravishu | Airtel 
Mr. Ravishu was a graduate student from PCA. After graduation, Ravishu wanted to explore his opportunities in the Networking field. Thus, he started his search for the best networking institute that would help him shape his career in the networking field and found Network Bulls. After completing Cisco CCIE course training, he got placed in Airtel. 
Let's hear from Ravishu what he has to say about his experience of joining Network Bulls.
Rohit | Den Networks
Rohit came from Uttarakhand and he was eager to learn networking from his college days. He soon began finding out more information about the course, googled the best CCIE institute in India and got to know about Network Bulls.   
Rohit then visited NB, saw our world's largest Cisco labs, and got himself enrolled in CCIE Security Integrated course. Personality Development sessions helped him improve his communication skills while mock interviews gave him the confidence to tackle common interview questions. 
After his CCIE Security course, he successfully cracked three interviews and joined ISP as a network engineer. Know more about Rohit's journey
Biswajit | NBT
After Completing M.Tech, Biswajit was looking out for opportunities in the networking field. Like other aspirants, After searching on the internet and being referred to by his friends, he got to know about Network Bulls. 
Biswajit completed CCNA, CCNP, CCIE Security Course Training and got placed at NBT as a Network Engineer. Let's hear from Biswajit, how NB helped him in achieving his dream -  
Amit | CSS Corp
Amit had over six years of experience in tech support. He wanted to explore the networking field and that is when his friend recommended Network Bulls. 
Amit got in touch with our experts and got himself enrolled at NB within no time. After completing the course, our placement team gave an opportunity to get interviewed at CSS Corp. He got selected in his very first interview and was really happy to share his experience.  Hear about his journey at NB in detail:
Deepak Kumar | NBT
After doing MCA, Deepak was looking to learn Cisco Courses. Deepak got to know about Network Bulls and decided to enroll in CCIE Security Course. Our practical sessions helped him learn the real-time implementation of the networking concept while personality development sessions helped him to improve his communication skills.
Deepak Kumar successfully landed his first job as Network Engineer with NBT at quite a good salary package. Know more about his journey -
Till date, we have placed thousands of students and this number is increasing with every passing day! Our objective is to help our students live their dream of getting placed just after completing their Cisco Course Training. 
Check more placement success stories
We ensure to provide all the facilities to our students such as authentic study material, inhouse workbooks, 24*7 access to world's largest Cisco training labs, mock interview sessions, arranging placement drives and a lot more. 
So, if you are also looking for a course that can help you get a job as soon as you finish it then enroll at Network Bulls today and lay the foundation for a successful career.