Once again Network Bulls Produced Highest CCIE Certified Students in CCIE Series - (61K and 62K Series)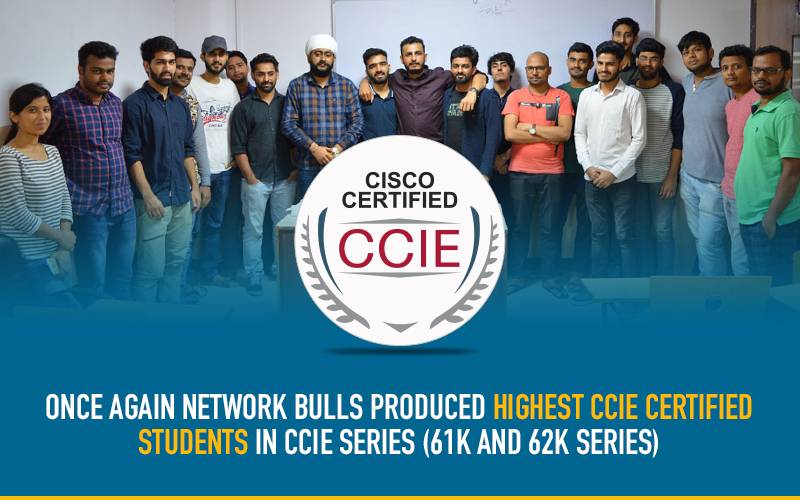 By
Networkbulls
Setting the benchmark of producing the highest number of CCIE Certified Students, Network Bulls is proud to announce that while breaking the previous record of 57K, 58K, 59K and 60K CCIE series, Network Bulls brilliant students have topped the 61K and 62K series as well. 
Network Bulls is Cisco Gold Partnered Institute that offers World's largest Cisco Labs which is 24*7 accessible, biggest pool of Cisco Certified CCIE Trainers, cutting edge technology infrastructure, fully equipped smart classrooms with projectors, CCIE certified lab instructors dedicatedly instructing every student on each track, live racks, Wi-Fi connectivity, Digital pads for best CCIE training experience and intensive training model with in-house publication of updated Practical Workbooks for each student.
Focusing on the quality of education rather than the number of hours spent on each student, Network Bulls training methodologies not only focuses on each student but creates a perfect learning environment to bring up the motivation and confidence needed to clear such a difficult examination.   
It is not only the trainers that work on the students but the students that work on themselves and achieve such high results. We believe that with the right guidance and motivation, if passionate enough, each student can reach heights and achieve their dreams as they want it. This quick tip is what has been followed meticulously at Network Bulls and turns out to be successful for a decade now.
A glimpse of a few of our students who have earned CCIE Certification in 61K Series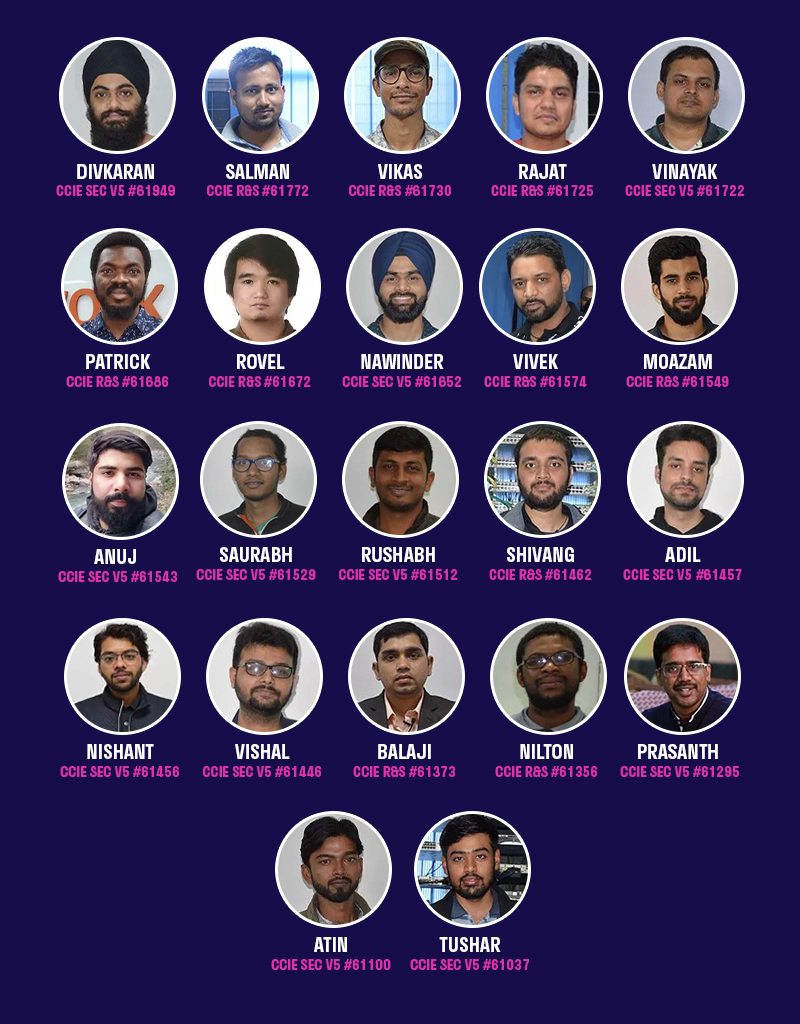 A glimpse of a few of our students who have earned CCIE R&S Certification in 62K Series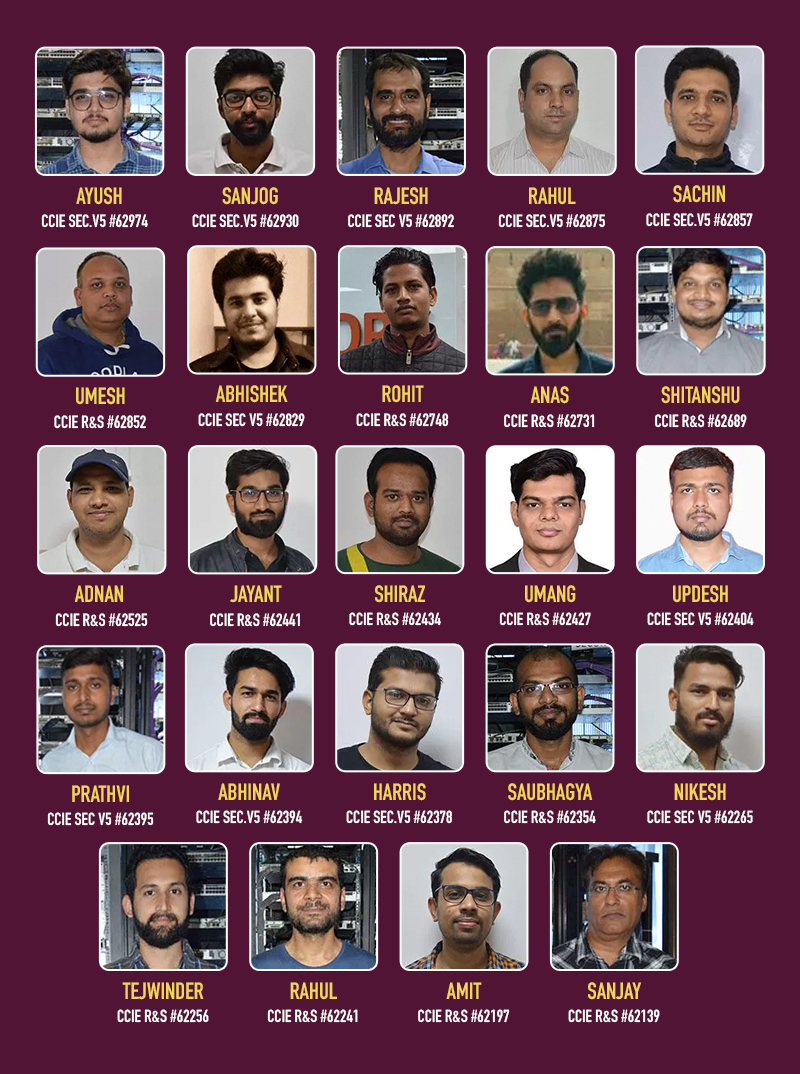 Let's hear from a few of our students about their journey at Network Bulls and how they have earned their certifications in the first attempt.
1. Nikesh - CCIE #62265
"I earned my CCIE Security Certification in 62K Series in the first attempt. Had it not been for Network Bulls experienced trainers, their teaching techniques, the 24*7 available labs and all time available lab team, this journey would have been a lot longer and difficult. Network Bulls Teams not only made my journey easier but their techniques and teaching methods have made this difficult examination friendly and comprehensible."
2. Rushabh - CCIE #61512
"I was very fascinated by Networking and how it works and I wanted to make my career in it. I joined Network Bulls as I heard this is the best place to go to get an exceptional knowledge in this space. I enrolled myself for its Cisco CCIE Routing & Switching Training Program and cleared its examination in the first attempt. Earning my CCIE number #61512 in 61K Series has been a huge accomplishment for me. All thanks to Network Bulls!"
3. Divkaran - CCIE #61949
"Looking at all the communication and networking around us, I had always aspired to become a Networking Engineer. The first step towards my goal was to lay the solid groundwork on Cisco Networking which I did by joining Network Bulls CCIE Security Training Program. Post completion of this training program, I attempted for my CCIE Security Certification in 61K Series and earned my CCIE number #61949 in the first attempt. All the way to go!"

Download PDF
Once again Network Bulls Produced Highest CCIE Certified Students in CCIE Series - (61K and 62K Series)
Network Bulls aims to offer the best services to its students; be it the latest upgraded devices or highly advanced trainers, all time available labs or the well supporting administrative team. Emphasizing on the training methodologies and keeping each student at the center of every program, Network Bulls offers regular theoretical, practical, and grooming sessions in its Intensive Training Program that also includes spoken English Classes, Personality Development Classes, Group Discussions, Presentation Skills, Mock Interview Sessions, CV Writing Classes, Technical Interview Sessions, HR Interviews Sessions and more.
NB focuses on the student's learning and growth while taking care of all the other aspects related to it resulting which, Network Bulls has given the world the highest number of CCIE Certification holders (previously in 57K, 58K, 59K and 60K CCIE Series) and now in 61K and 62K CCIE Series. 
While Network Bulls transforms the skillset of a fresher to the expert one, the networking aspirants are earning the highest level of networking certification in the latest series. 
Make your name in the world while grow your expertise and make your career fly high!