NB Lab Tour - Get Networking Training in Gurgaon at World's Largest Cisco Training Lab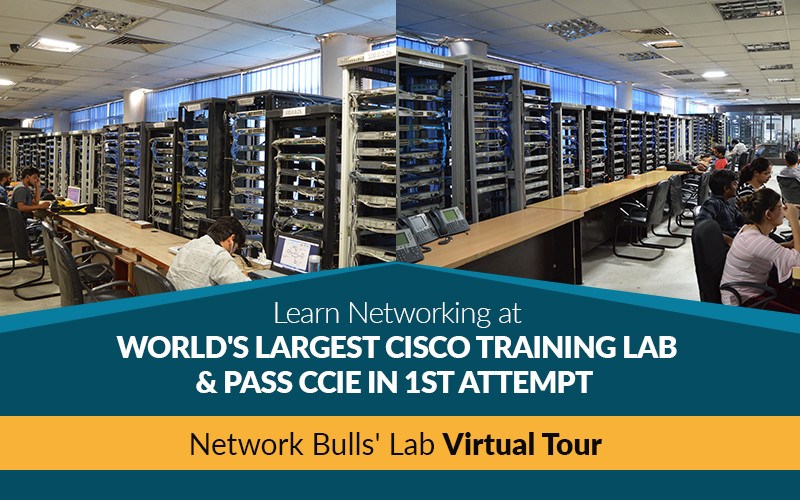 By
Network Bulls
As we all know how much important real-world knowledge or practical experience is; that is why candidates with practical expertise get priority over others in all fields. Especially in networking, it is more critical. All candidates who wish to make a career in networking and are planning to take Cisco Certifications must consider training only at the institute which offers extensive practical exposure on real devices.
How to make Career in Networking?
The answer to why practical knowledge is more critical in networking is hidden in its career path. The best way to make a successful career in networking is to pass Cisco Certifications. Cisco offers 3 levels of Certifications in multiple technology tracks like Routing & Switching, Security, Data Center, Service Provider etc. 
CCNA - Associate Level
CCNP - Professional Level
CCIE - Expert Level
Each level opens up job opportunities in Networking and as you keep passing higher certificate the chances of job and good salary package are brighter. To pass these certifications, candidates must have practical knowledge as these exams have a dedicated lab test to assess your practical skills. 
CCIE Level exam consists of written exam and 8 hours long lab exam which tests candidate's practical exposure thoroughly. So, now it is easy to understand why practical training is important in networking. 
That is why students must consider lab as a major factor while choosing a Cisco Training Partner. Today we will take you through world's largest Cisco training lab.
Recommended read: Let's Take you through Network Bulls' Virtual Tour
Network Bulls Lab - World's Largest Cisco Networking CCNA, CCNP, CCIE Training Lab
Network Bulls needs no introduction when it comes to Cisco Networking Training in India. It is one of the most trusted Cisco training institutes as it has been delivering -
Record-breaking placements, 16.500+ Students Placed Already
Over 90% First attempt CCIE Success Rate
The major reason for this astonishing performance is Network Bulls' lab.
Yes, Network Bulls lab is fully equipped with all the latest and real devices plus its lab is regarded as world's largest cisco training lab. 
Want proof??
Let's take you through Network Bulls Lab in following virtual tour -
Let's look at each section of Network Bulls' Lab - 
CCNA Lab -
On entrance, you would immediately see CCNA section in Network Bulls Lab. This section is full of real routers and switches along with desktops for the complete practical experience. CCNA makes the foundation of your networking career, solid understanding at this level will ensure your success. 
See the devices CCNA Lab has - 
CCNA R&S
Routers

1841, 2611xm series                     

Switches

2950, 2960, 3550 series
CCNA Security
Routers

1841, 2801, 2811, 2911, 3825 series

Switches

2960, 3560, 3750 series

ASA Firewalls

5510, 5512x, 5515x
Also, see the glimpse of CCNA Lab Section -CCNP Lab Section - 
When you will enter the lab on the left-hand side you would see a line of racks which represent CCNP devices. It has CCNP R&S and CCNP Security Racks which allows students to master CCNP modules thoroughly. Let's see the device list of this section -
CCNP R&S
Routers           

2801, 2811, 2911 series

Switches

3550, 3560, 3750 series
CCNP Security
Routers

1841, 2611xm, 2801, 2811, 3640, 3825, 2911, 7204 series

Switches

3550, 3560, 3750 series

ASA Firewalls

5510, 5512x, 5515x

IPS

4240, 4255

Iron Port

S170

ISE

3315
Let's have close look at this section -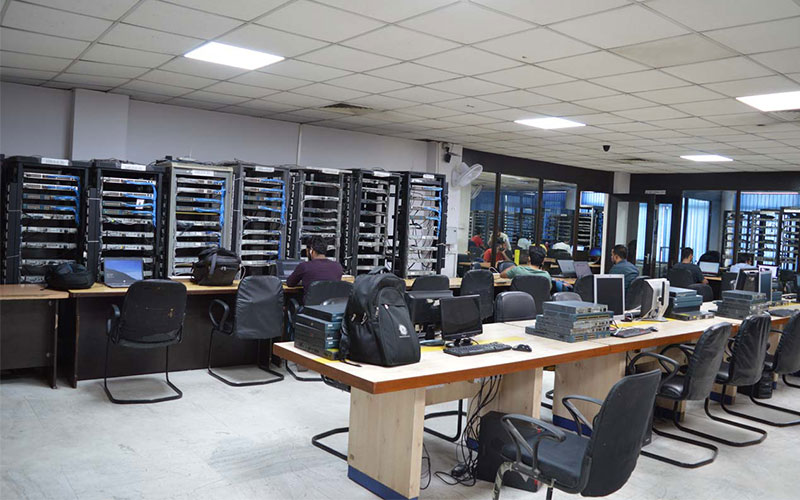 Network Bulls' CCIE Training Lab Section - 
Now the next section in NB lab is CCIE Section which entails devices of CCIE R&S Version 5, CCIE Security Version 5, and CCIE Data Center Version 2. 
In this section you would see – routers, switches, firewalls, IP Phones, Nexus, UCS and lot more. Here is the complete device list -
CCIE R&S V5
Routers          

2811, 2911, 3825 series

Switches

3750 series
CCIE Security V5
Routers

1841, 2801, 2811, 2911 and 3825

Switches

3550, 3750 and C3850-12S

ASA Firewalls

5510, 5512x, 5515x

IPS

4240, 4255

Iron Port

S170

ISE

3315

IP Phones

7965
A glimpse of CCIE R&S V5 and CCIE Security V5 Section -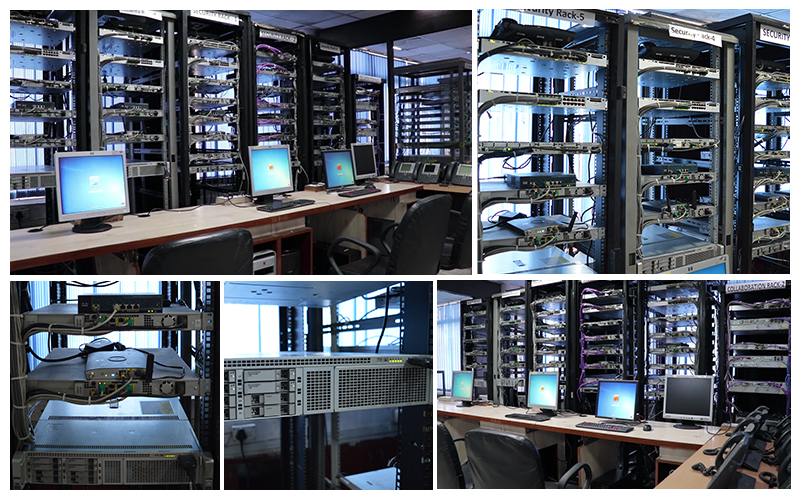 Next, to CCIE R&S and CCIE Security Section, you would see CCIE Data Center v2 section; India's first and most updated CCIE DC V2 Racks only available at Network Bulls. Check yourself -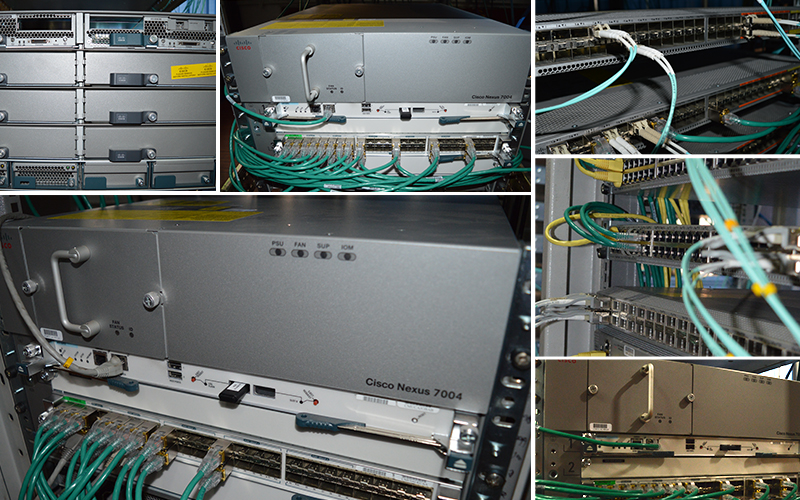 CCNP & CCIE Combined Section
Moving forward you will see one of the largest sections of the Network Bulls' lab - CCNP & CCIE Section. This section is full of so many racks and real devices for CCNP & CCIE Students. 
We allot each student a rack for practice, because of that our Students get 100% practical training and this is the reason behind our tremendous CCIE 1st attempt & Job Placement Results. Let's check this section - 
The Silent Study Zone - 
At Network Bulls we make sure that students focus on self-study and they are encouraged regularly for it. Silent study zone has been created with the same objective. Students can come, study for hours and hours without any hassle.
Have a look at silent study zone -
Additional CCNA Lab Section -
In the end, you will see one more CCNA Practical lab dedicated for CCNA students. In this section, you would see Cisco Routers & Switches, and Projector Screens for best of practical exposure. In this lab, NB's Certified trainers conduct separate CCNA Practical Classes, which you will not find at any other institute in India.
See yourself -
5 Amazing Facts about Network Bulls Lab -
Also read: 15 reasons to join Network Bulls
Conclusion -
Today, we have shown you Network Bulls Lab's every section closely and the entire lab. From pictures and virtual tour video you can easily imagine how big NB Lab is, and you can also see students practicing, learning and gaining expertise in networking. 
So, do make a visit to Network Bulls' lab and then decide. There is no bigger lab than this in India for Cisco training, many institutes promote labs but a reality check is important. We suggest each shortlisted institute yourself, experience the infrastructure and then decide. 
Why wait? Make a visit at Network Bulls today >>
To know more about Network Bulls' Training Courses Call Us on our toll-free number 1800-313-2545 or mail us at admin@networkbulls.com.