Reality Check! Network Bulls' Students Share their Reviews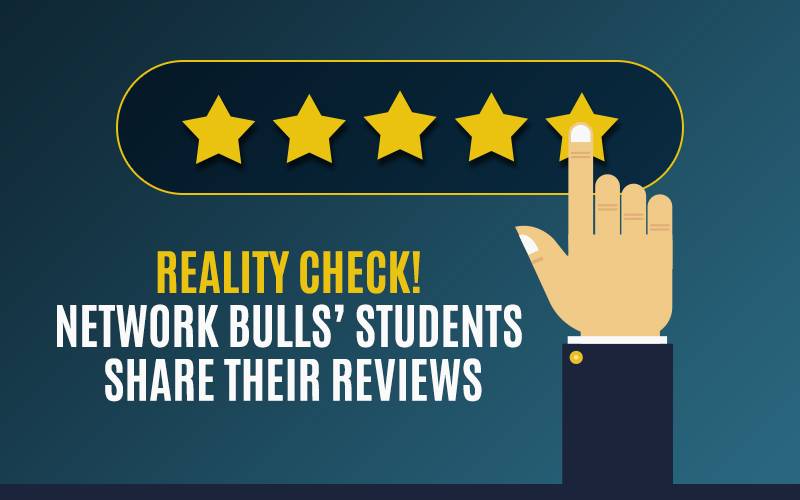 By
Networkbulls
"It's a Bliss to Receive Praise from the People you Serve"
And at Network Bulls, we feel really proud to hear so many positive feedback from our students! Just this fuel keeps us motivated to provide the best to every student enrolled with us. 
At Network Bulls', India's Premium training institute, we aim to provide world-class training to our students with out-of-the-box facilities and state-of-art infrastructure. Moreover, we put in our best efforts to make students employable by imparting in-depth technical knowledge and grooming their communication skills.
To date, we have placed thousands of students in top IT MNCs' and this number is increasing with every passing day! Not only this, but we have been rewarded multiple times for best placement in the IT training industry. 
We have a set mechanism and a dedicated placement team that leaves no stone unturned to get our students placed with the top IT Companies. 
It feels overwhelming to see thousands of students living their dream and achieving their goals. Let's know the story of students who enrolled with us around a year ago and got placed after completing their Cisco CCIE Integrated course training. Let's unveil the reviews they gave us!
SATYABRATA | RADIUS INFRATEL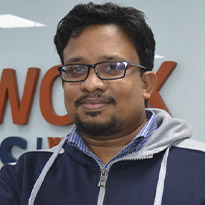 Satyabrata enrolled with us for the Cisco
CCIE Security V6 Integrated Training program
after completing his M.Sc. with the objective to build a bright future for himself! We are glad that he achieved his goal and got placed in Radius Infratel just after completing his Cisco course training with us, let's see what he has to say about his journey at Network Bulls, Gurgaon!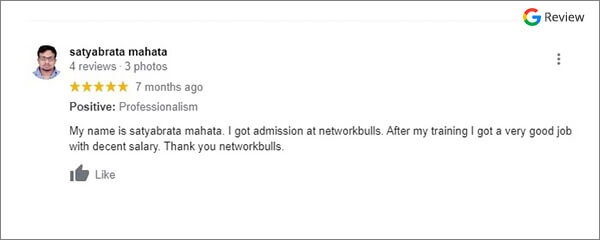 SHIVAM  | ALTRAN
Shivam enrolled in CCIE Routing and Switching/Enterprise Integrated training with an aim to give a kickstart to his career! And yes, he was able to achieve his aim by putting in consistent efforts for months. He got placed as a network engineer in Altran as soon as he finished Cisco
CCIE Enterprise Course training
with us and here is his review about his experience at NB!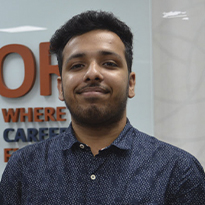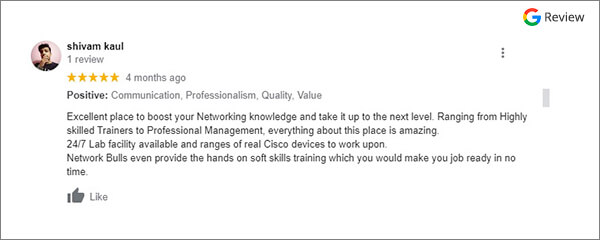 RAHUL | LOCUZ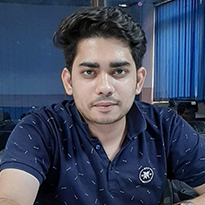 On the lookout for the best networking training institute, Rahul came to know about Network Bulls and enrolled in Cisco CCIE Security V6 Integrated Course. He was amazed by our 24*7 lab facilities and written job placement guarantee letter. 
Post completion of his Cisco course training he got placed at Locuz as a Network Engineer at quite a good salary package here is her review about our training facilities and her journey with us, let's have a look -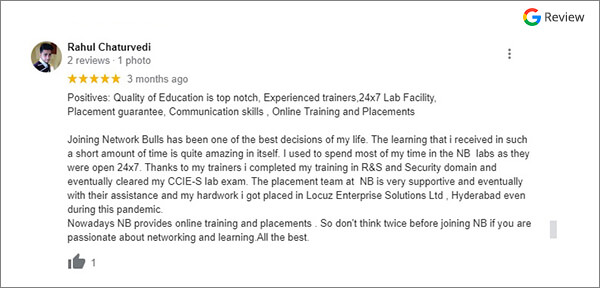 RAMAN | ALTRAN
Raman was quite ambitious about cracking a well-paying job in a top IT MNC! He enrolled at NB for Cisco CCIE Enterprise course training and achieved his dream after the continuous hard work of months.  
Raman got placed in Altran just after completing his Cisco course training. Raman had a very good experience with our placement team and has shared his review about the same. Lets' see what he has to say about his experience at Network Bulls, Gurugram -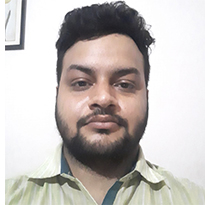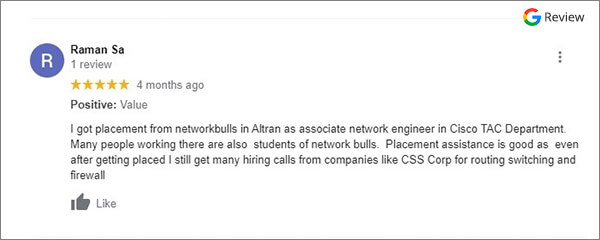 AMAN | SOPHOS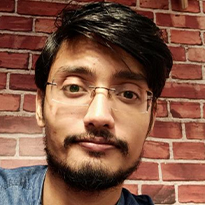 He enrolled in the Cisco CCIE Enterprise course training program at Network Bulls. He wanted to build a promising career in networking and was looking for an institute that could help him get placed just after completing his Cisco course training, so he decided to enrol with us! 
Aman got placed in Sophos as a Network Engineer after completing his training with us. Lets' take a look at Amans' feedback -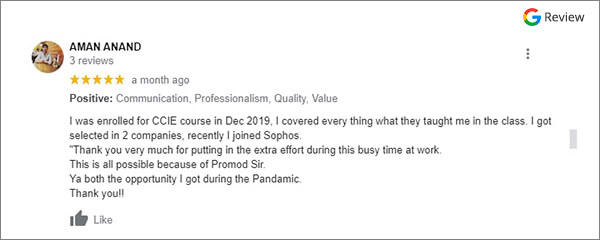 So, these were some of our champs you recently gave wings to their career after completing their Cisco CCIE Certification course training at Network Bulls. 
Likewise, if you want to kick start your career, enroll in our 100% job guarantee course today! We offer job guarantee courses in the Intensive training model, the World's most innovative and realistic CCIE Training Program.         
"Every 3rd Network Security Engineer working in Delhi NCR is a student of Network Bulls."
We make students employable under this program and also provide 100% job guarantee letter to them at the time of enrollment. In addition, we include all the major technologies under these programs and provide mandatory practical classes and personality development sessions. 
Your progress is assessed with continuous assessments and screening. We take students to the next level only after ensuring that they have a crystal clear understanding of the concepts they are taught. This helps them to gain in-depth knowledge of the networking concepts and outperform at their jobs!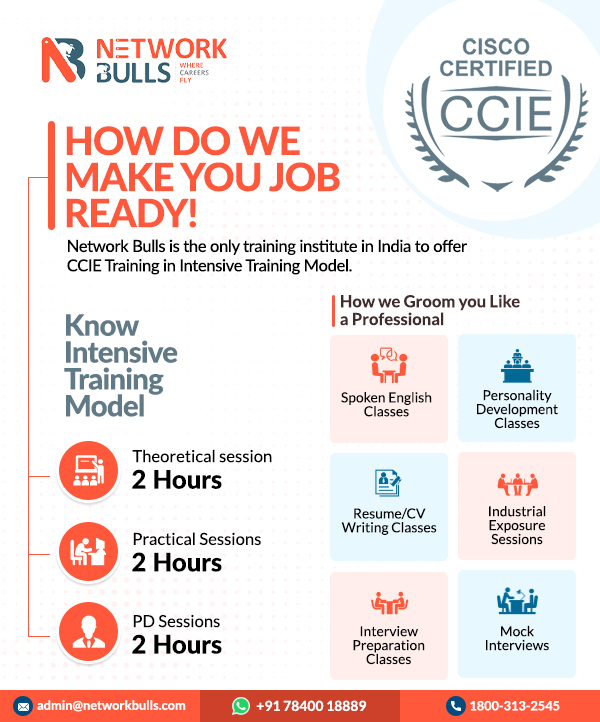 "10 times more students placed than any other Cisco training Institute in India"
In the past 11+ years, we have received more than 16+ awards for our excellent training and outstanding placements. Every member of the Network Bulls Team is dedicated to providing the best to students and making their journey with us an inspiring story. 
Check Out: Network Bulls Placement Record & Reviews | CCIE Enterprise/Security Job Placements
In case you have any questions about our facilities, training programs, team assistance, or anything, then you can search Google and read hundreds of other reviews about Network Bulls given by our students and get answers to all your questions!  
So, what are you waiting for? Reach out to our education counsellors today and get all your questions answered in just a couple of minutes. 
You can reach out to us at @1800-313-2545 or email at admin@networkbulls.com. Now, you can also reach out to us on WhatsApp at +917840018889. International students can connect with us at +91-8745885377. 
Happy Learnings!