Network Bulls Reviews - Debangshu got job placement in CSS Corp after CCNA, CCNP and CCIE Course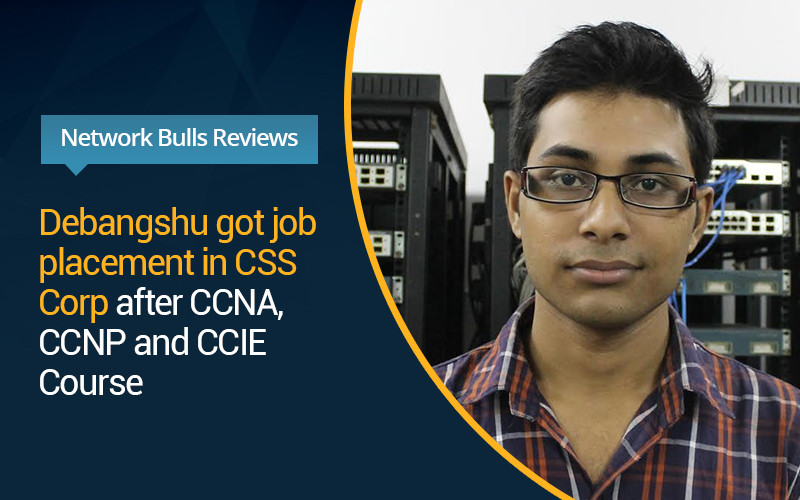 By
Network Bulls
In this video, Mr. Debangshu is sharing his reviews/feedback post completion of his training and placement from Network Bulls. Mr.  Debangshu enrolled for CCIE R&S integrated course from Network Bulls which consists of CCNA R&S, CCNP R&S and CCIE R&S certifications. Its a 100% job placement guaranteed course offered by Network Bulls. Mr. Debangshu was one of the very hard working students of his batch. Mr. Debangshu was in same first batch of intensive training model which started in january 2015 and from which over 70% of students got selected by CSS Corp in a campus recruitment drive held at Network Bulls in July 2015.
Mr. Debangshu got selected in CSS Corp as Network Engineer at very good salary package even before completion of his CCIE training. He got hired even without clearing CCIE written and lab exams.
Like i always say if you need a job in IT industry in India, its not about passing CCIE written and lab exams, its about learning the technologies and working on your communications skills. Just like Debangshu many other students of NB worked really hard on improvement of their technical and communication skills, instead of just focusing on passing the certifications and result is in front of us. They all got job placements even before completion of their CCIE and that too at minimum salary package of 4 lacs for non certified candidates and over 6.5 lacs for certified candidates, and some candidates like Sri Harsha (Another student of same batch) got over 7 lacs packages without clearing any exams. Its all about your skills, not only about certifications like i always say. If you have in-depth knowledge of CCIE course content and strong communication skills, no one can stop you in getting a job in your dream company at starting salary packages you always dreamt of.

Download PDF
Network Bulls Reviews - Debangshu got job placement in CSS Corp after CCNA, CCNP and CCIE Course
Network Bulls is Best institute for CCIE Training in India. Go through the following points to know why should you choose Network Bulls as your CCIE training partner:
Only training company in India to offer "Intensive Training Model"
World's Largest CCIE Training Infrastructure
24x7 Lab Facility with dedicated lab instructors
World's Largest team of CCIE Certified Trainers
Only CCIE training company in India with 100% authentic job placement records
Only training company in India providing written placement guarantee
Highest number of job placements (No Comparison with any training company in India).
Only training company to offer Spoken English Classes, Personality Development Classes, Group Discussion and Presentation Sessions, CV Writing classes, Mock Interviews and lot more.
"I also want to share my fee..."
I also want to share my feedback/reviews about Network Bulls. I was a student with Network Bulls and got trained on CCNA R&S and CCNP R&S certification courses during my project based summer cum industrial training in Gurgaon. It was 6 months indu