Network Bulls Produced Highest CCIE Certified Students in 60k CCIE Series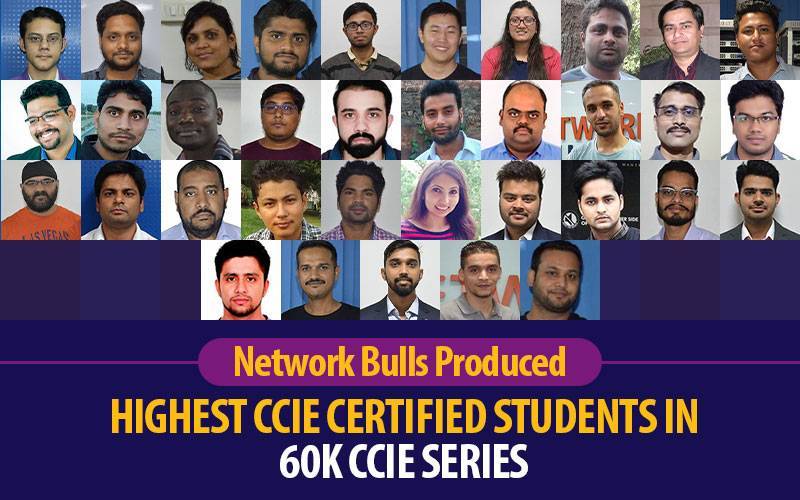 By
Networkbulls
Starting from #1024, the very first CCIE number, we are now running at #61k CCIE series. Around 60,000 network professionals have fulfilled their dream of becoming a CCIE certified Network Engineer in just 26 years.
These successful results are the proof of hard work poured by networking aspirants during their CCIE examination training and preparation.
Year after year, the Network Enthusiastic at Network Bulls has been owning their own CCIE number with their dedication, inspiration and proper guidance by dual and triple CCIE certified trainers.
The quality learning and wholehearted efforts by Network Bulls has produced the highest CCIE passing grades in the last 60k series. Even if you look closely, you will find last to the last 57k, 58k, 59k CCIE series has been topped by NBians. And with the vision of giving out quality education worldwide, we will produce maximum 61k CCIE series toppers from Network Bulls.
NBians who became CCIE R&S Certified in 60K series
NBians who became CCIE Security Certified in 60K series
Network Bulls has produced maximum CCIE passing grades in the 60k CCIE series with highest first attempt results leaving a benchmark in the history of Networking certifications.
Check more CCIE success stories- https://www.networkbulls.com/ccie-success-stories-india
Reasons, how Network Bulls has achieved this?
Obtaining successful CCIE results that too in single attempt gives a heads up to our quality of training, our trainers, our infrastructure and more. But the actual reason for our achievements is the hard work of our students and their dedication towards their training. Our incomparable facilities are a medium through which our students make us proud by making their name in the world of networking.
Here are some of our facilities helping CCIE students achieve success in a single attempt.
1. Network Bulls - A Cisco Gold Partner Institute
Network Bulls being a Cisco Gold Partner, prides itself on keeping pace with the latest in networking technologies. Our students have quicker access to every latest Cisco device before any other student at Cisco non-partner institutes which makes our CCIE students familiar with the latest networking technologies.
2. 24/7 accessible - Worlds largest Cisco labs
Network Bulls labs are not just upgraded but updated i.e our labs are loaded every single series of Cisco devices for students to practice unlimited on fully equipped labs with great availability.
The 24/7 open lab facility help our Cisco students to practice their daily practical chores whenever they want. These facilities keep them enthusiastic towards unlimited networking practice.
3. Biggest Pool of CCIE Certified Trainers
Network Bulls is the only Cisco training institute in India with a pool of CCIE certified trainers who are amongst the World's top 5 technical teams. From CCNA to CCNP and from CCNP to CCIE student get guided by CCIE certified trainers who are experts in their field with 5-15 years of training experience.
They all are the biggest reason for Network Bulls' student's success in CCIE exams and maximum 60k series results.
4. Advanced Infrastructure
The very main reason behind producing successful 60k highest passing grades is Network Bulls' advanced Infrastructure. Network Bulls has fully equipped smart classrooms with projectors, live racks, Wi-Fi connectivity, Digital pads for best CCIE training experience.
Now, if we talk about labs then Network Bulls has fully updated Cisco CCIE V5 labs with well-trained, CCIE lab certified lab instructors dedicatedly instructing every student of each track.
Likely, we have in-house publication for the timely distribution of updated Practical Workbooks to students.
5. Producing experts via Intensive Training Model
The eight hours of regular theoretical, practical, and grooming session training in the intensive track embrace the learning in students. Network Bulls' intensive training program with its upgraded labs and experienced trainers have raised the bar of the students clearing CCIE examination almost every year.
Amongst the 1000's of 60k CCIE's, the number of NBians were the highest and we will be back soon with our maximum 61k CCIE series results.