Network Bulls - Placements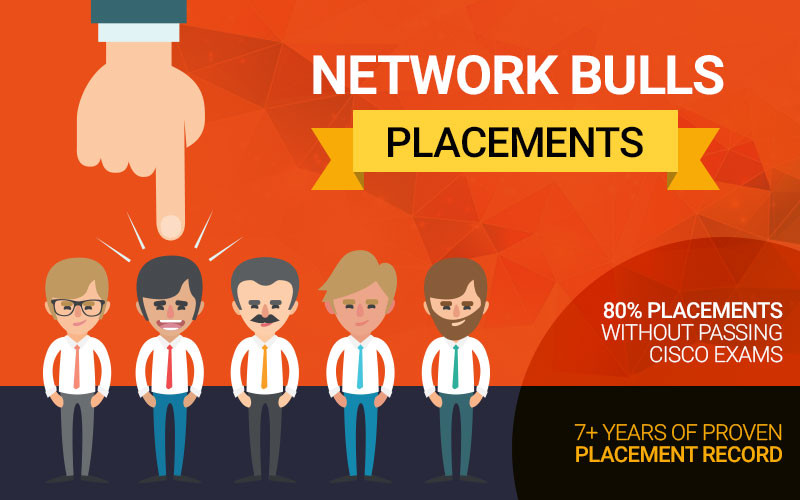 By
Mohit Bhalla
Network Bulls, a leading IT Certification training institute offers above the edge training and placement services to its Indian students. Established in 2009, Network Bulls has trained and placed more than 3000 students all over India. Giving exceptional form of technical training on various IT certifications, NB has been producing unmatched quality IT Professionals all over the world.  Network Bulls being a leading IT Training Provider Company offers training services on courses like Cisco, Microsoft, Checkpoint, Red Hat, etc. technologies.
Trainers at Network Bulls have been imparting high-end technological training to its students providing them with real time industrial exposure, making them employable and job ready at the same time. We have separate technical, placement, and management teams for handling various processes intended towards exceptional success of our students coming from all over the world.
Placement Process – Know how!!
Our placement process is such that we make our students inherit the theoretical and practical part of the course chosen, shaping up the overall personality of the students by giving them following set of classes:
1. Spoken English Classes
We provide our students with Spoken English classes to make them well-spoken and acquainted with good English understanding and speaking skills. We have introduced these classes to make our students grab great job employment opportunities as companies seek applicants with great technical and communication skills. The reason why companies wish to hire candidates who have technical knowledge and good communication skills is that these companies often take up international projects which require employees with good communication skills to be able to handle them well.
2. Personality Development Classes
Our Personality development classes aim at over all development of our students by taking aspects like kinesics, proxemics and paralanguage into closer consideration, allowing candidates to come out with flying colors during interview selection.
3. Resume writing classes
The look and presentation of your resume plays a great role while you appear for an interview. We understand the importance of good resume as it makes your first impression great while appearing for an interview. The dos and don'ts of creating a good resume are shared so that our students never stay behind in professional field of their life.
4. Group Discussion Sessions
Self-confidence, stage fright, speech anxiety, hesitation, etc. are factors which impedes students from getting great success in life. All these factors including many others are taken care of allowing our students to polish themselves and their relative skills in a manner which makes them employable and noticeable instantly. Network Bulls provides special classes to students working on their low areas making them highly polished and skilled for the companies hiring them.
5. Mock Interviews
HR part and the technical part of an interview is covered i.e. special technical sessions to calculate applicant's skills for a particular job role while making him/her familiar with type of questions are asked during HR part of the interview.
6. Technical Sessions
Mr. Mohit Bhalla (CCIE R&S #42145, CCIE SP Written and CCSI 34989) testifies candidates on their technical knowledge and skills to make sure that each and every student knows his or her strong and weak areas requiring more concentration. 
7. Doubt Sessions
Doubt sessions are conducted on regular basis for students enrolling in different courses to make sure that each and every topic is well discussed leaving no room for confusion in any concepts taught. Candidates are free to discuss their problems during or after dismissal of the class.
8. Special Industrial Exposure classes
Real time industrial knowledge is what we believe in and that is why we make sure that are students work on real time scenarios with guidance and expertise of our highly educated and experience teaching faculty who has more than 14 years of working experience in IT and training industry. These classes were introduced to allow students understand how exactly a particular technology works and operates in actual industrial environment. 
9. Screening Sessions
Special screening classes are conducted where candidates are tested on their theoretical and practical knowledge making them understand their chances of getting a job including highlighting of weaker areas to work upon.
10. Student Centric Placements
Our placement process is highly student friendly where each candidate is considered for jobs as per his/her own technical profile. We even provide placements once we have placed you i.e. our placement facility is not confined till getting you placed once, if you aren't happy with your job or work profile then we are there to find you a suitable job profile of your satisfaction.
Our in-house placement team finds the most suitable job for our students serving them till their inner levels of satisfaction are achieved. Number of times a student can avail job placements from us is unlimited i.e. one can avail this facility any number of times if one is not satisfied with the one attained. We believe in providing our students with the right kind of job suiting their expert potential and caliber even after years of completing the desired certification(s), so that highest level of personal and professional growth is achieved in one's life.
Companies our Students are Working In
Our students have been placed in reputed MNCs located all over India. Companies like Cisco Systems, Orange, Tech Mahindra, RBS, Indian Oil, Dimension Data, British Telecom, Ericsson, Dell, HCL, Aricent, Toyota, TCS, Accenture , Wipro, IBM, Infosys, Mphasis, Velocis, Network Bulls Technologies, any many more.