7 Key Rights that Every Network Bulls Student Should be Aware Of!

By
Networkbulls
"Network Bulls is a synonym of trust for hundreds of students all around the globe"
Not only from India, but students from different parts of India enroll at NB to get the best networking course training to give a kick start to their careers. 
We have built this trust over the years with top-notch training and world-class facilities. To date, we have placed the highest number of students in top IT MNC and produced hundreds of CCIEs'. 
At Network Bulls, we aim to provide state-of-art infrastructure and an unmatchable learning experience for students to help them achieve their goals.
We leave no stone unturned to provide quality training and a hassle-free training experience for our students. To ensure that they don't face any hurdle and pursue their Cisco Certification Course Training immersively, we have given some rights that every student can access at any point during their journey at NB. 
Let's have a look at the 7 fundamental rights that every Network Bulls Student gets as soon as they enroll with us-   
1. You are our family: Visit the Lab Anytime@24*7 Lab Facility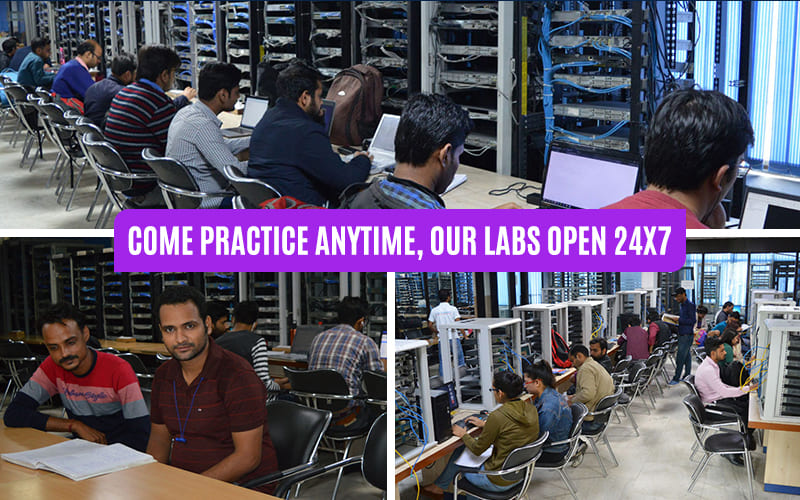 We believe that once students get under our shed, they become a part of the family; they are welcomed anytime. We have Asia's biggest Cisco training labs open 24 hours a day and seven days a week. 
You can sit in labs and perform practicals anytime, whether it's 11 p.m. or 5 a.m. We provide lifetime access to our labs, so even if you completed your training a year ago, you can come anytime, practice at NBs' lab, and brush up on your practical knowledge. 
2. Your Saviour: Backup Classes

Skipping a class is quite common as there are multiple challenges in our day-to-day life and at Network Bulls, we completely understand this. 
There are usually some parallel batches running, which you can join and quickly make up any missed sessions. This facility is available for students across courses starting right from CCNA to CCIE course training. 
So, if you skip any class for any reason, you can ask the front desk team to arrange a backup class for you. This helps our students to cover all the topics easily without much worry.
3. Didn't Gain Technical Clarity: Repeat Course 

It is one of Network Bulls' most special rights. Let's suppose you completed your CCNA or CCNP course training at Network Bulls or two months ago. However, if you still need to do some revision or are still unsure about some topics, you can go to the help desk and get yourself enrolled in the upcoming batch. 
Repetition is an important learning tool because it aids in the transition of skill from the conscious to the subconscious mind. A skill is studied and rehearsed over time by repetition, and it eventually becomes more effortless. Thus, you can take the course as many times as you like until you feel comfortable.
4. 100% Practical Training on Real Devices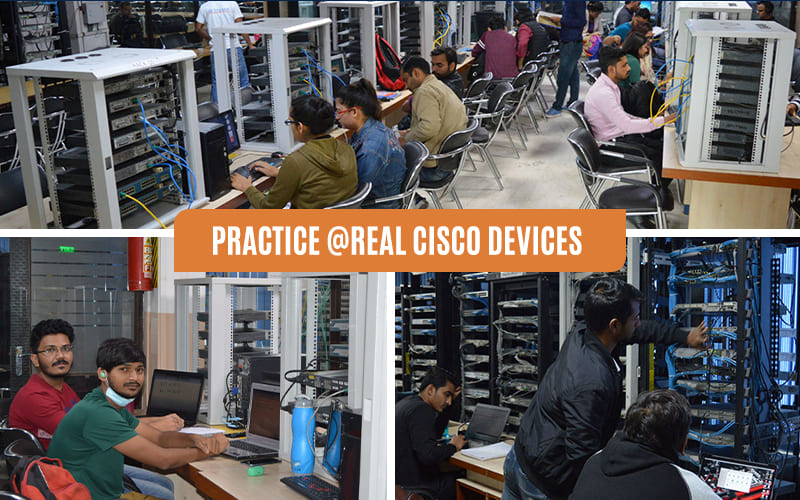 Imagine someone teaching you how to swim or operate a car inside the confines of a classroom. It's not possible!! To learn to swim, you must first enter the water, and to learn to drive, you must first be on the road. Some disciplines are practice-oriented and skill-based. Theoretical understanding of skill-based subjects must be backed up by practical experience.
At Network Bulls, we offer 100% practical training to students on our latest Cisco devices. We have separate labs for all tracks and levels, including CCNA, CCNP and CCIE. In addition, we keep on updating our labs from time to time with the latest Cisco devices and live racks.      
5. Job Guarantee Letter 

If you enroll in any of our 100% Job guarantee courses and you hold a graduate degree, then you will get a written job guarantee letter from the institute.        
If you do not get a job guarantee letter, you are most likely enrolled in the course that offers job placement assistance rather than a job placement guarantee. You will be provided opportunities to participate in interviews until you are placed.  
We ensure to get your resume shortlisted and schedule interviews for you. To build a shining career; stay focused on gaining in-depth technical knowledge, and work hard to improve your communication skills; this will help you to crack the interview like a pro.
6. Authentic Reviews and Feedbacks

Did you know that the typical person reads seven reviews before trusting an institute? But have you ever given a review or feedback yourself? 
Post completion of your networking course training at Network Bulls, you have the freedom to post your honest comments and feedback on our website, either in the form of a video or a written testimonial. In addition, you may now leave an honest review or comment straight on our website. Visit https://www.networkbulls.com to provide feedback on our website. 
7. A suggestion is always welcomed 

If you have a problem or an issue at Network Bulls, whether it is a problem with your labs, your trainer, or anything else, go to the help desk and fix it. 
If your issue is not fixed within three working days, please send an email to Mr. Vikas Kumar (MD and Founder Network Bulls) at vikas.kumar@networkbulls.com. He'll come up with a brilliant solution and will also ensure to screw up the management for the delay in providing a solution.
We also have a suggestion box which is extremely useful for not only students but the teachers. We believe in student engagement; however, if you don't want to reveal your identity, you can drop a complaint/suggestion in this suggestion box placed in labs and at stairs.
Students can provide feedback on the educational conditions, processes, HR, benefits, and teachers and supervisors. Please help us make NB a better place with your suggestions!
With these unique 7 key rights, we strive to ensure that our students get the best facilities, pursue their studies without any distraction and enjoy the open opportunity to share their thoughts! 
Our goal is to develop a crystal clear understanding of the networking concepts, making our students employable as the industry's requirement. We are the first and only networking training company to offer World's most innovative and realistic CCIE Programs.  
If you also strive to give wings to your career like thousands of our students, don't forget to reach our education counsellors for more details! 
You can reach out to us at 1800-313-2545 or contact us at admin@networkbulls.com.