Network Bulls' 1st ever FB Live Event - 7 Key Rights of a Network Bulls Student | 23rd Feb, 4 PM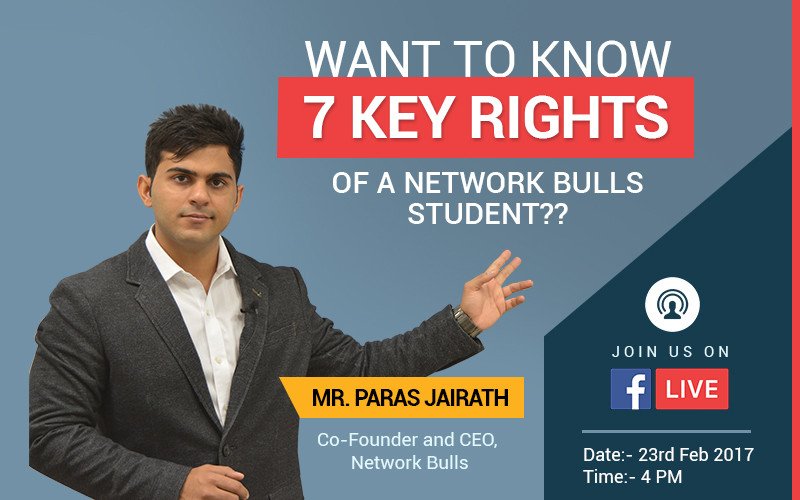 By
Network Bulls
As promised 2017 will mark the beginning of great initiatives for students at Network Bulls and here comes the first one. Team Network Bulls will be going live on Facebook to speak about 7 key rights every student gets if he or she enrolls for Cisco CCNA, CCNP or CCIE Training Courses. 
Date of FB Live Event - 23rd Feb 2017 
Time - 4 PM (IST)
Agenda of the FB Live event - 
If you are not attending this FB Live event then you will miss following -
Information on Network Bulls Facilities free for students
How mant times you can take the back up classes?
Can you repeat your course and is it free?
Will you get job guarantee letter?
Your rights of Network Bulls lab usage and access 
About your reviews, complaints, suggestions & much more
Speaker at the event -
Mr. Paras Jairath
CEO & Co-founder, Network Bulls
How to join this FB Live event?
It's damn easy, you just need to follow below mentioned easy steps. 
Step 1 - Login to your Facebook account & Like the Network Bulls Fan Page (if you have not liked it yet)
Here is the direct link of our official Fan page - https://www.facebook.com/networkbullsindia
Step 2 -  Be present on our Fan page through mobile or laptop or desktop, whichever device you prefer. You will also get a notification whenever we will start the event.
That's it. We will see you on 23rd Feb, 4 PM.
In case you still have any queries, please feel free to leave them in our comment section below. We will come back to you shortly. 

Download PDF
Network Bulls' 1st ever FB Live Event - 7 Key Rights of a Network Bulls Student | 23rd Feb, 4 PM
You missed the session?
Don't worry, we have the recording for you. Watch it below and don't forget to like, comment and share.