Motivation From Women Who Secured IT Networking Jobs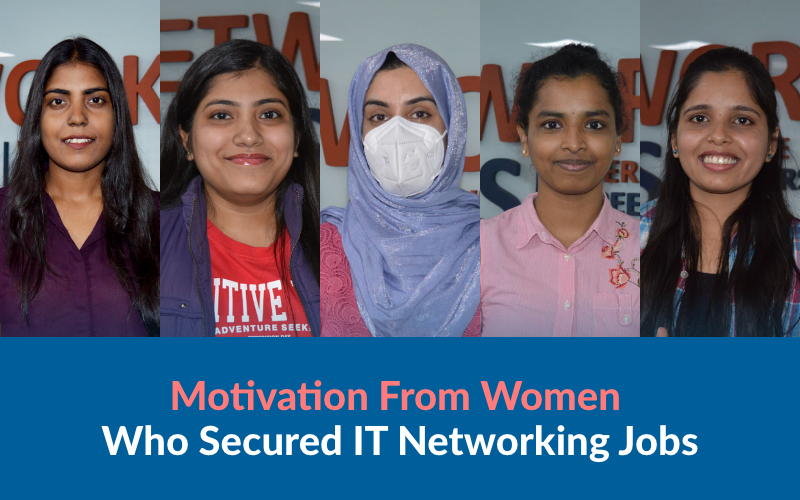 By
Networkbulls
Networking is not a male-dominated industry and there are many successful women in the field.
A recent study reported that over 19% of IT Networking jobs are held by women and rising rapidly.
Despite these odds, many women have been successful in securing jobs in IT Networking and Network Security.
In this blog post, we'll take a look at the success stories of some of the inspiring women at Network Bulls and learn what motivated them to pursue careers in IT Networking. 
 Chetna - CCIE Security V6 | L3 Harris
 I chose with CCIE security program because I was interested to make a career in the IT networking field. The opportunity to gain knowledge and experience in the sector was very valuable and appealing. The support given by Network Bulls to aspirants seeking placements including practicals, mock tests, interviews, CV workshops etc is highly beneficial. My placement at L3 Harris strengthened my interest in the networking field.

Farheen - CCIE Security V6 | Tech Mahindra
 My Placement at Tech Mahindra provided me with a strong foundation to achieve my career goals. I was able to use my theoretical and practical skills learned at Network Bulls to crack the interview. I gained so much insight into the networking sector after joining the CCIE Security course and understood that it is the sector I want to make my career.
Santoshi - CCIE Security V6 | Aruba
I was very excited when I managed to achieve my placement at Aruba in a lucrative package. The skills gained at Network Bulls helped me a lot in achieving my dreams. The placement team helped me throughout and I would encourage everyone to join the CCIE Security V6 Integrated program at Network Bulls - as it is highly value-added.  

Vidhi  - CCIE Enterprise | Redington
 It has been a great experience to be a part of Network Bulls. I am thankful to all the trainers and placement team for guiding me through the toughest certifications and interviews. My placement at Redington is itself a great experience for me as it gave me real insights into advanced concepts. Whether it is preparing with mock tests, interviews or hands-on experience on real Cisco devices - I am grateful to Network Bulls for assisting me throughout my networking journey.
Taniya - CCIE Security V6 | Ciena
I strongly believe that joining the CCIE Security V6 Integrated course at Network Bulls is one of the best decisions of my life. With constant support from the trainers, instructors and placement cell, I got placement in Ciena on a high package, which I never thought of. Network Bulls offers exposure to students through various programs that help them make bright careers. 
Priya - CCIE Enterprise | Capgemini
Being part of Network Bulls has been a truly beneficial experience for me. My placement at Capgemini itself was extraordinary, giving me deep insight into more advanced concepts that have helped me throughout my networking journey. I am extremely thankful for the assistance of Network Bulls in aiding my preparation with mock tests as well as hands-on training on actual Cisco devices. Without their assistance, I wouldn't have been able to successfully gain my position today.
So whether you're already working in IT networking or are thinking about making a career switch, keep reading for some inspiring words from women who have made it happen. You might just find the motivation you need to take your career to the next level!
CCIE Enterprise Integrated Program - 100% Job Guarantee Program

The CCIE Enterprise Integrated Program by Network Bulls is a lab-intensive certification course designed to provide network professionals with an advanced certification in networking. It is focused on understanding and mastering the critical technologies used in enterprise networks such as programming, automation, network security, and network management.
This program also covers important topics such as network design and troubleshooting through practicals on Cisco devices. With this program, you have everything you need for success when it comes to earning your CCIE Enterprise certification.
CCIE Security Integrated Program - 100% Job Guarantee Program

Network Bulls has made it possible to equip network administrators and network engineers with the best training experience in network security technology.
With their CCIE Security integrated course, they provide hands-on experience with Cisco network devices in a lab environment setting.
Network Bulls' certified experts guide them to utilize Cisco network devices efficiently, thus enabling aspirants to build a better tomorrow for their career growth. Not only will the certification boost an individual's knowledge and skill set, but it will also provide an edge to one's resume within the competitive job market.
About Network Bulls
Network Bulls is an industry-leading IT network training institute that offers training and certifications courses including CCNA, CCNP, and CCIE. The institute is well-renowned for its cutting-edge technologies combined with a team of certified network professionals to guide students through every course. Furthermore, Network Bulls provides even more network knowledge than the regular courses by allowing students to gain hands-on experience through simulation lab tests, practice sessions and mock interviews.