Missed Our Recent Webinar on Cisco CCIE Training ?? Catch the Recorded Session.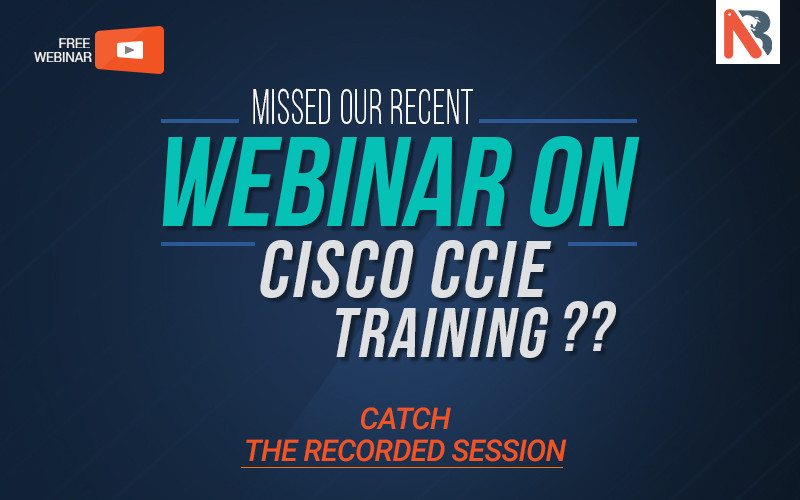 By
Network Bulls
Network Bulls comes with yet another exciting session on Cisco CCNA, CCNP & CCIE Training given by none other than Mr. Vikas Kumar. Webinar took place on 29th April and Indian Students interacted with Vikas to resolve their Cisco Training & Career related queries.
Webinar Introduction -
To make students aware about Cisco CCNA, CCNP & CCIE Certifications, its training path, scope and career options after the course from Network Bulls this webinar was organized. As we all know that Cisco certifications play a crucial role in success of any IT networking professional. Having any Cisco Certification in your resume makes you stand out from others especially CCIE level certification. The demand of CCIE engineers has grown 10 fold across all countries, whereas availability is less that 5% of demand. That's why CCIE is one of most sought Certification in networking industry nowadays.
Agenda of Webinar Was - 
CCIE as a Career – World's Most Prestigious & Highly Paid IT Certification
Cisco Certification Tracks
World's Most demanded CCIE Tracks
The Audience Response -
Students' response for the webinar was overwhelming, more than 400 students registered for the webinar and out of which most of the students attended the session. In Q&A session students interacted with Mr. Vikas Kumar (Triple CCIE #30078, Founder & MD Network Bulls) and got answers of their career as well as Cisco Training related queries. Here are few questions and its answers from Q&A Session -
Q. - Hi sir.. I'm B.tech final year student in ECE , I'm placed in IT company but I want to work in Telecom industry & I want to do your summer training program of 2 months. I want to ask you 1 simple question that after completing this training program what is chance to placed in telecom industry?
Ans. The chances after 2 Month Summer Training from Network Bulls will definitely be high but we recommend you to target CCIE Level Certification. Because after CCIE level certification there are 100% chances that you will get entry into Telecom Industry with a great package. Many of our students have got placed with Airtel recently after their CCIE training. Check the placements >>
Q. - Hi..How many CCIE professionals we have in India out of 40000?
Ans. Approx 7000.
Q. Can i take online training if I am joining from outside India?
Ans. Yes, if you are outside India then you can opt for online training.
The Webinar Feedback -
Many of webinar attendees shared their feedback after the webinar which was great to see. Everyone liked the session and shared good reviews. Here are few -
"Very knowledgeable Session, Will attend again" - Mahesh Patel
"Good Session and more such information would be better" - Pankaj Chugh, Genpact
"Very knowledgeable Session, will join next one too" - Rith Nath
Team Network Bulls would like to thank all of you for such a great response, we will be coming with next series on May 19th 2016. But this time Network Bulls goes big and has tied up with Techgig - A Division of Times Internet Company for its next webinar.