Lingaya's University Industrial Visit to Network Bulls, Best Cisco CCIE Training Institute in India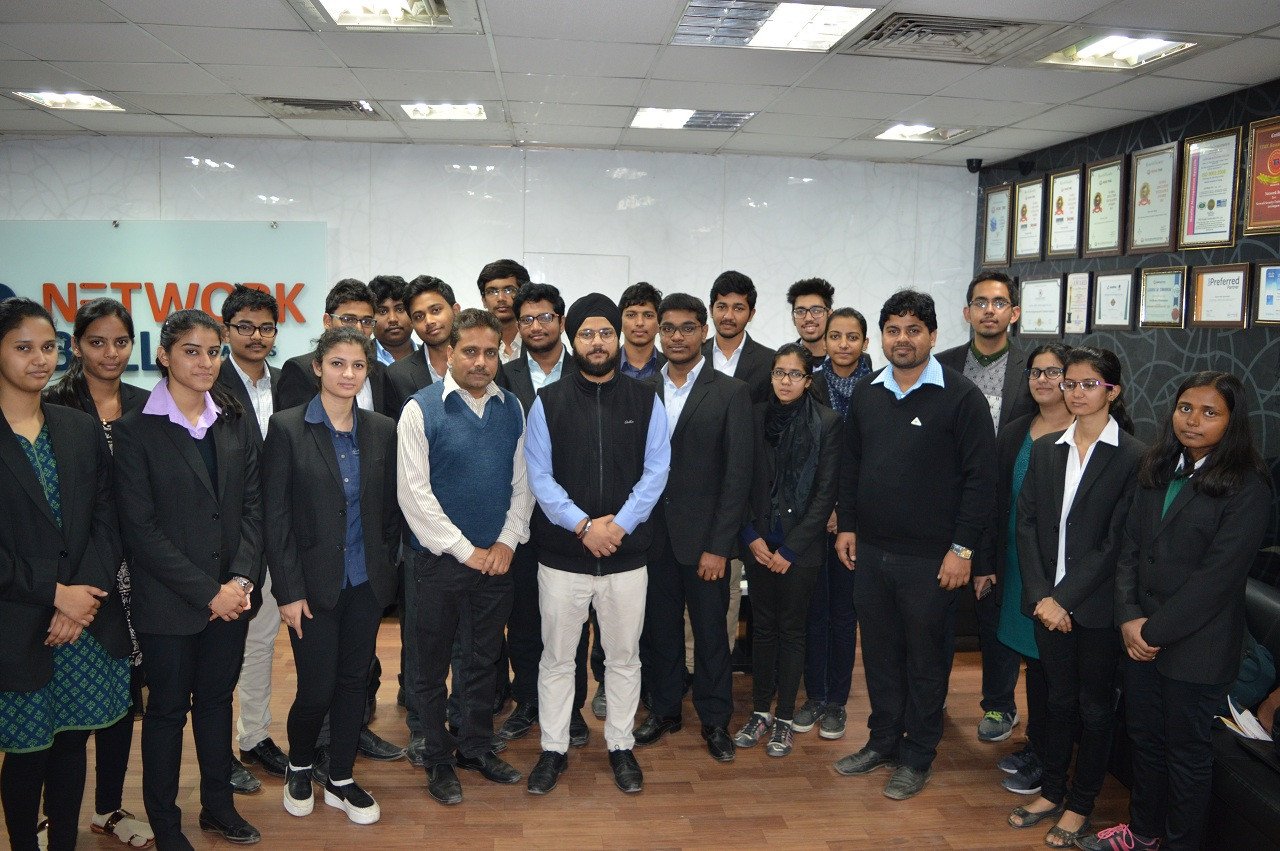 By
Network Bulls
Industrial visits are very critical for students who are persuiing B-Tech or any other professional course. These visits open up students' mind sent and provide them necessary real life exposure. Keeping same in the mind, Industrial visits are organized on regular basis by Network Bulls for imparting practical knowledge and helping them to plan their career ahead.
We were delighted to welcome students of Lingaya's University along with the assisting faculty. Around 20 students along with 2 faculty members visited Network Bulls in Gurgaon with the aim of learning the basics of networking.
What is the purpose of Industrial Visit at Network Bulls?
The major purpose of Industrial training sessions at Network Bulls is to provide a practical understanding of Networking. Students know each and every technology theoretically but they lack practical understanding which is quite important in today's time. Industrial training sessions at Network Bulls introduces candidates to the practical aspects of networking.
Recommended reads –
We have World's biggest Cisco training labs which are well-equipped with the ultramodern Cisco training devices. Students are taken to the labs for introducing to real Cisco devices and explaining the practical aspects of networking.
Students of Lingaya's University Speak about industrial training at Network Bulls, Gurgaon
Post completion of industrial training at Network Bulls, students of Lingaya's University provided us thier feedback.
"It was a mind-altering industrial visit at Network Bulls campus in Gurgaon. The Industrial training session was conducted by a CCIE certified trainer at Network Bulls, Mr. Baljot Singh. The trainer helped in understanding more about Networking and its scope. The session was divided into 2 parts i.e. a theory and a lab session.
The talk, in general, was very encouraging and an eye opener. It was a very educational and encouraging visit. It helped to build our interest in the networking field and also told us about the scope of networking."
Sessions conducted during the Industrial Training
Industrial training @ Network Bulls is divided into two sessions –
Theoretical Session
Practical Session
Topics covered in theoretical cum technical session
The Theoretical session is conducted to introduce students to the basic concepts of networking. In addition, to introduce them to scope of networking in today's technologically driven era. Below listed are topics covered in the theoretical session –
A brief introduction to Networking – what is networking, Why we need Networking, Scope of Networking etc.
Types of Network i.e., Local Area Network (LAN), Metropolitan Area Network (MAN), Wide Area Network (WAN) etc.
Different modes of data transmission such as unicasting, multicasting, and broadcasting.
OSI model and its layers - details about each and every layer of the OSI model one by one along with the services provided by each layer.
Students were also briefed about the different Cisco certifications that can help them to get into networking with the base being CCNA in R&S (Routing & Switching). Simultaneously, a Question & Answer round was also going on to make them understand more about the concept.
Topics covered in practical sessions
After the theoretical session, it was time to practically implement a network. Students were taken to the World's biggest Cisco training labs where Mr. Baljot gave a presentation about routers and switches. At first, the students were told about the basic difference between the routers and the switches and then they were shown those devices.
In addition, they were shown three different types of cables for making the connections in a network such as cross-over cable, straight cable, and roll-over cable (or console cable). They were also shown the differences between all these cables and which one is used for which type of connection. They also got to know about the different pin configurations in these cables. Other topics covered in practical session are –

Download PDF
Lingaya's University Industrial Visit to Network Bulls, Best Cisco CCIE Training Institute in India
How to configure a router on Cisco Packet Tracer.
The three modes of a router i.e., user mode (or default mode), privilege mode, and global configuration mode.
How to first enable a router & configure a terminal.
How to provide a password for enabling the router in future to protect any third party influence.
How to provide a secret key if anyone want the given password to be shown in encrypted format so it won't be understood by anyone else.
The lab session also ended with a Q&A round to clear our doubts. A real-time example of networking really helped them understand and sharpen their concepts.
If you are interested in Cisco Courses offered by Network Bulls then Contact Us on 1800-313-2545 or email us at admin@networkbulls.com. Students from outside India can connect with us over +91-8745885377.