"Joining Network Bulls & Getting job with British Telecom were life changing moments"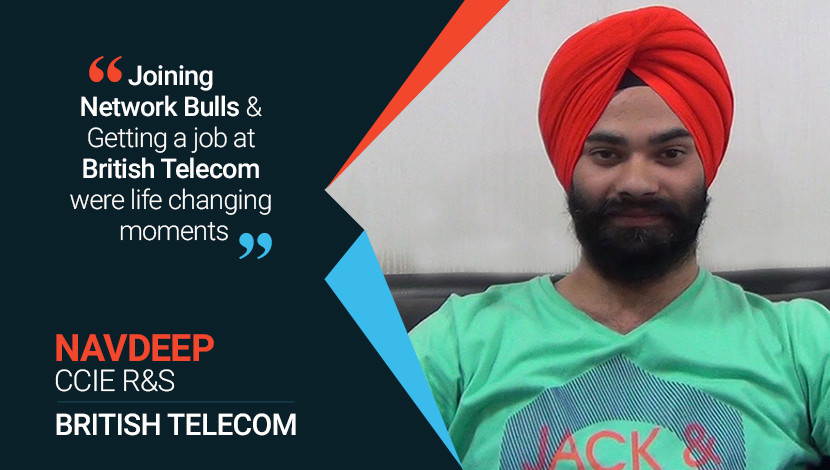 By
Network Bulls
Millions of students pass out from engineering and commerce colleges in India every year and 80% of them without a good job offer. This is the story of every 3rd Indian student at this stage and it becomes really hard to find a way to bright career after then. Navdeep was one of the students who faced the same crisis in his career and was looking for right career guidance. Let's go through his inspiring success story:
"Hello friends, I Navdeep and I am from Amritsar. Like any other student after passing out from college I dreamt of having a great job with an MNC like Wipro, Infosys, and British Telecom. But it seemed an impossible feat with no great support from my college. It's more difficult to get a right opportunity for a student from city like Amritsar.
I looked forward for help from my peers and they did come with an answer, couple of my college seniors suggested to go for networking certifications of cisco with Network bulls. I was surprised as both of them suggested Network Bulls with so confidence. Then I got the reason, Network Bulls was the institute from where they got the placements. Without any delay I decided to move to Delhi/NCR for certifications training with Network Bulls.
My first experience with Network Bulls convinced me that I am at right place. I enrolled for CCIE R&S training and started my journey. Trainers started to teach the concepts from scratch and slowly training picked up the pace. During my end of training I was also given personality development and interview preparation sessions. This boosted confidence level of mine and I was ready to face the market. And immediately after completion of my CCIE R&S training got placed with British Telecom, a company that I was eying. Big thanks to team NB, it was a life changing moment when I decided to join Network Bulls. If you are looking for job guarantee courses, be here."
Like Navdeep 150+ students got their dream job offers from companies like Airtel, HCL, British Telecom, Tech Mahindra, Aricent etc. More names of students who got the placements are –
Kamal Kumar, CCIE Security, HCL
Vikram Ambasta, CCIE R&S, British Telecom
Bhavika, CCIE Security, Airtel
Monica, CCIE R&S, Airtel
Nitesh Yadav, CCIE R&S, HCL
Anish Mittal, CCIE R&S, Concentrix
Amandeep Singh, CCIE R&S, Airtel
Honey Sharma, CCIE R&S, Catalyst
Salman, CCIE R&S, Nipun Net Solutions
Navneet Yadav, CCIE R&S, Airtel
Full list would be out soon, Keep your fingers crossed. If you are also looking forward to change your career fortunes then what are you waiting for? Call us on our toll free number 1800-313-2545 for more details or drop us a query.