"I got placed @ British Telecom, after CCIE Security Training - Thanks NB" Shashank from Hyderabad Shares his journey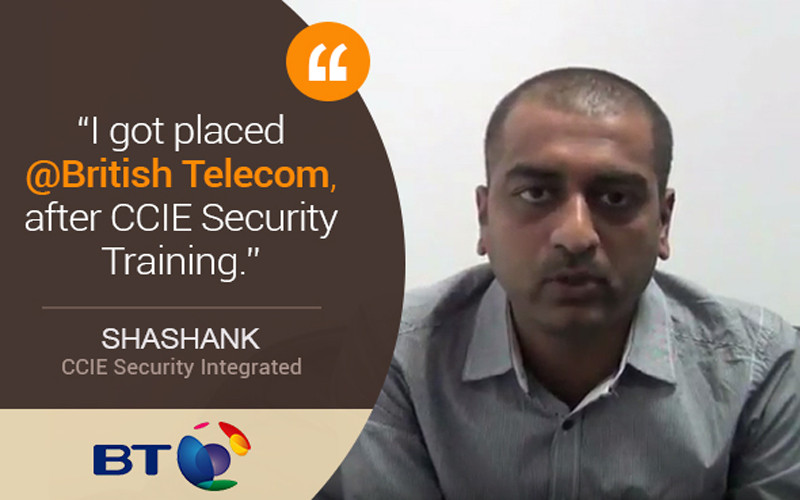 By
Network Bulls
"An Interview with Mr. Shashank, Recently hired by British Telecom and Network Bulls Alumni"
Shashank came to Network Bulls with a dream and that has come true finally. His hard work, Network Bulls' CCIE Training and placement team delivered the magic results once again. Our representative had a conversation with him about his successful journey. Let's catch up with him -
Q1. Hi Shashank, greetings & congratulation for your job placement @ BT. At first, we would like to know your educational qualification so that our readers can know about your educational background?
Ans. Thank you so much. I had a background of Networking and I completed my Post graduation in the field of Networking. I have also worked with two renowned companies namely Sitel and IBM.
Q2.Shashank, why did you decided to make your career in the field of networking?
Ans. After working in the companies like IBM and Siltel, I got to know about the scope of networking in India. Networking as a field always attracted me, so I decided to make my career in Networking. For pursuing Networking training at Network Bulls I left my job and home city (Hyderabad). Thus, it was a big decision of my life.
Q3. How you came to know about Network Bulls, Gurgaon?
Ans. For getting trained in the field of Networking, I enquired about the best training institute in India and got to know about Network Bulls. I came to know about Network Bulls via numerous other sources as well and the best part was I got a positive feedback from everywhere. Thus, I decided to join Network Bulls – No.1 CCNA, CCNP, and CCIE training institute. 
Q4. How was your training experience at Network Bulls, Gurgaon?
Ans. My training experience at NB was really good. My CCNA R&S trainer was Apoorv and he was really helpful. He explained the concepts right from the basics so I didn't have any trouble in understanding the concepts. In addition, the lab trainer Mr. Aman Soni was also very helpful, he also taught the networking concepts from the very basics so that we do not face any issue.
Every trainer had a different way of teaching but the teaching pattern of every trainer was same and in the end, we were able to understand the concepts. Then I was taught by Ajay pay and Piyush Kataria sir who are CCIE certified trainers. Every trainer at NB is very helpful and co-operative.
Also Read -  15 Reasons to Join Network Bulls
Q5. With how many companies you got the opportunities to appear for the interview?
Ans. I gave the interview with two companies Innodata and British Telecom. At first, I gave the interview with Innodata and then with British Telecom which came for placement drive at Network Bulls, Gurgaon campus. The best part was that I got placed @ British Telecom with a handsome package.
Q6. How it feels after getting placed with Top IT company just after the completion of your Cisco CCIE training?
Ans. I knew about British Telecom and was known that it is a very big company. When I came to know that British Telecom is coming I was very desperate to give the interview and made my mind to crack the interview. I successfully got placed with British Telecom and I am really happy as this will surely help me to grow in my career in networking.
Q7. What message you will like to give to your fellow mates who are starting their career in the field of Networking?
Ans. Anyone who wants to build his/her career in the field of networking should come to Network Bulls as my experience here was really very good. I am from Hyderabad and for making my career in networking I left my job and home city (Hyderabad). I was quite unsure that how will I manage, but once I came here and went through the training and labs at NB, I was really happy.
I had a lot of time to practice on the real Cisco devices. I suggest them to join NB as it will be really helpful for them.
Q8. Can you please brief the interview procedure to help our readers have a basic idea about placements at NB?
The first round of Interview with British Telecom was a communication round. BT being an international company has clients all over the world. Thus, for strong communication with clients, BT checks basic communication skills of the candidates. We have personality development sessions at NB which helps students in building their confidence and enhancing their communication skills.

Download PDF
"I got placed @ British Telecom, after CCIE Security Training - Thanks NB" Shashank from Hyderabad Shares his journey
The second round was technical round in which they enquired about the technical concepts and the third was HR round. The third round was a general round and it was basically about Salary negotiation etc.
Q9. What is your feedback on trainers and lab facilities at NB? How supportive the management team, placement team and the trainers are at NB?
When it comes to training there are so many devices and labs here at NB. They have world's biggest labs so I got a lot of time to practice on the real devices. It is like working in the real networking environment.
When it comes to training all the trainers at NB are CCIE certified and they are all very much skilled. They are always ready to help you not only in training session but also if you are in lab practicing any scenario and you come across any trainer and ask about any issue they will help you.
When it comes to management and the placement team, they have always notified me about the openings and the update that I need to make my resume. Both the teams are really very helpful and supportive. Everyone was helpful and that is how I was able to achieve success.
Thanks Shashank for your valuable time and it was great having a conversation with you. Your journey will inspire millions of students.
Shashank was a CCIE Security Integrated Course Student of Network Bulls in 2016. So if you wish to make your career fly like Shashank then Contact Us on 1800-313-2545 or email at admin@networkbulls.com. Students from outside India can connect with us over +91-8745885377.