"I got a dream Job Only because Of Network Bulls"- Mr. Shrey Shares Network Bulls CCIE Training & Job Placement Reviews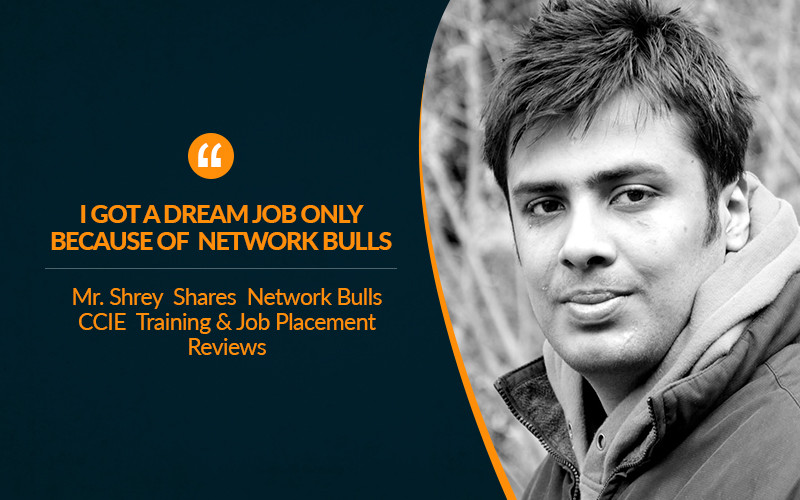 By
Network Bulls
Accomplishing dream job is everybody's ultimate career goal just like Shrey who also dreamt of achieving his goals. After struggling to get the best opportunity in IT industry, Shrey got established with the renowned IT giant with his desired salary package.
Mr. Shrey, a Network Bulls' passed-out student who worked hard and achieved his dream job, he got placed immediately after CCIE Routing & Switching Integrated Course. Our team spoke to him recently and here is his career journey so far.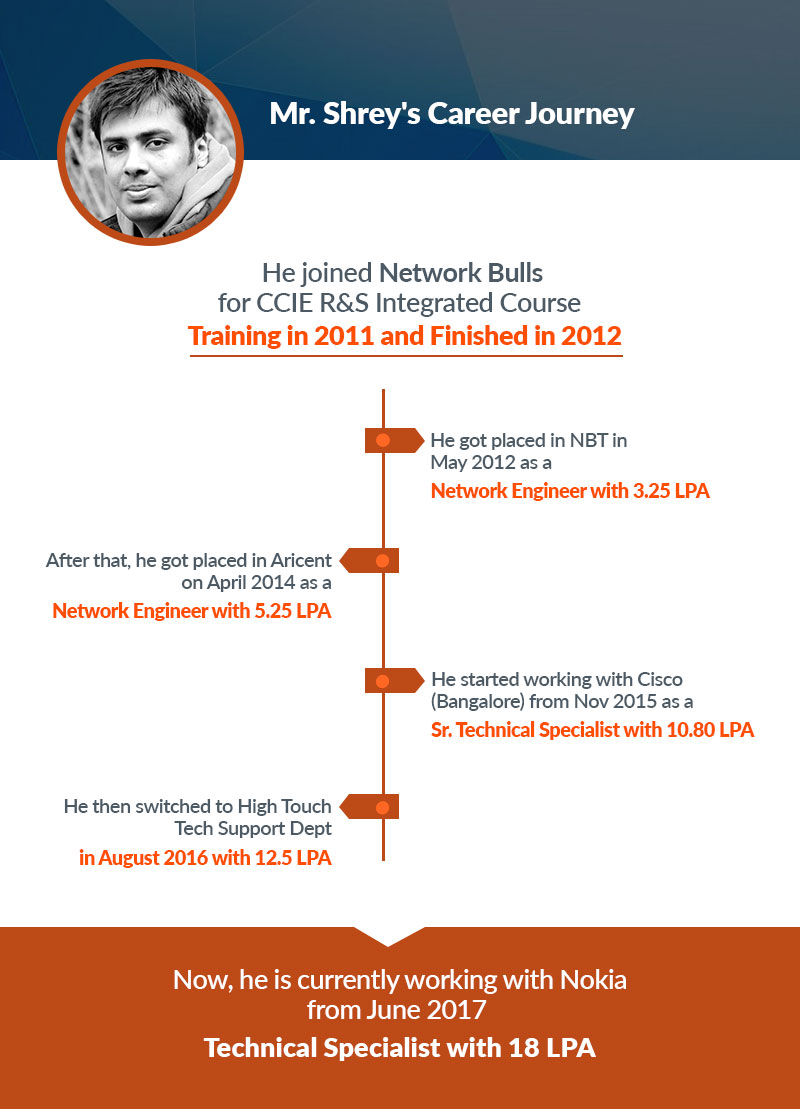 Now Let's take you through Mr. Shrey's Interview Session - 
Q.1 Hi Shrey, First of all, congratulations on job placement and Thanks for your time. Please share your background?
Ans. Hi, I'm a B.Com graduate from PGDAV College, Delhi. After pursuing graduation, I went to study M.Com from MMH Ghaziabad. Then I made my mind to switch over networking and I opted for Cisco CCIE course training at Network Bulls.
Right after my networking training, I got job placement in NBT as a Network Engineer. I have also worked with many renowned IT Companies like- Aricent, Cisco with the desired salary packages. Currently, I'm working in Nokia as a Technical Specialist.
Q.2 Why did you go for CCIE Certification?
Ans. I always wanted a career opportunity with responsibility, growth and job satisfaction along with good package which CCIE offers. This certification is the most demanded and highest-paid IT certification offered by the Cisco Systems around the globe.
Q.3 How you came to know about Network Bulls, Gurugram?
Ans. I once visited another institute after referring to an advertisement in Newspaper but I couldn't find any such great lab training. I then visited Network Bulls which had a better training environment and faculty. The NB management team was also very supportive.
Q.4 What factors made you choose Network Bulls over other Cisco training institutes?
Ans. The motivating team, the nurturing environment, and wonderful trainers.
Q.5 Which course you joined at Network Bulls and when?
Ans. I enrolled in Cisco CCIE Routing and Switching Integrated in January 2011 at Network Bulls and completed my course by Early 2012.
Meanwhile, Check Network Bulls' CCIE R&S Course>
Q.6 Which training facilities appealed you to join Network Bulls?
Ans. I met with Mr. Vikas Kumar first time, his motivation and facilities of Network bulls left me no option but to choose this for my career path. Major facilities which appealed to me were -
Network Bulls' amazing Labs
24x7 Lab facility
CCIE Certified & Amazingly supportive Training Team
Q.7 How was your CCIE learning experience?
Ans. During the course training, I met with a tragic event that occurred in my family. I went back home but Paras Jairath, the CEO of the training institute called me back and motivated me to return & continue my CCIE R&S training.
This was the turning point of my career and life. I pursued my course training under the guidance of Vikas Kumar, MD, and founder of the Network Bulls.
Mr. Vikas himself is a triple CCIE Certified trainer and training under his guidance was the best I could have asked for. Also, Network Bulls has CCIE Certified Lab instructors which make your practical sessions a great learning experience. So all in all, my learning experience was brilliant. 
Q.8 Did you find Network Bulls' placement supportive?
Ans. I found Network Bulls' placement team very supportive, proactive and dedicated all through my training tenure. They helped me in getting many job opportunities till I got placed. 
Q. 9 How did you prepare for placement on your part?
Ans. I attended my classes regularly followed by self-study and practical sessions. This helped in building a strong knowledge base, I also worked on personality development as guided by trainers. 
Though, I was not able to clear the CCIE exam in the first attempt but, I got a job offer to work for NBT as Network Engineer, respectively. I would say knowledge backed up by strong practical skills got me job placement. 
Q.10 How training from Network Bulls is beneficial to you in your job?
Ans. I was just an M.Com passed-out and had very less knowledge of Networking. At NB I learned from the scratch and went expert in the same. Here I started from CCNA level, followed by CCNP Level and then was trained on expert level i.e. CCIE. 
The training given by NB trainers made it possible to learn so much about Cisco Networking. The training methodology adopted by Network Bulls is also very effective. 
Q.11 Where are you working now and how Network Bulls training is helping you?
Ans. Currently, I am working with Nokia in Service Providing Domain with 18 LPA. As I said, the knowledge along with practical skills matters the most. The knowledge and skills gained during Network Bulls training period are still with me and I try to learn that way. 
Q.12 How much you'll rate Network Bulls on its training?
Ans. If rated on 5, I would rate NB as 5 and no less. Exceptional training style, great environment, and supportive management team make it the BEST Cisco training institute in all dimensions.
Q.13 Your message to CCIE aspirants?
Ans. "Work hard and fall in love with technology, technology will love you back in the form of Money"
Q.14 NB in one line…
Ans. The best Cisco institute in all aspect.
Thanks, Shrey! It was wonderful talking to you. For your great achievements, the entire NB team is proud of you and wishes you all the very best in your future endeavors.
How you can get Jobs after CCIE Courses like Shrey?
Just like Mr. Shrey who joined Network Bulls for CCIE Integrated Courses you can also achieve the dream of having a great job after CCIE. Network Bulls has 100% job guaranteed CCIE Integrated courses especially conceptualized for fresher students. 

Download PDF
"I got a dream Job Only because Of Network Bulls"- Mr. Shrey Shares Network Bulls CCIE Training & Job Placement Reviews
Network Bulls' 100% Job Guaranteed CCIE Courses are -
CCIE R&S Integrated
CCIE Security Integrated
Above courses is the reason of happiness for 16,500+ Network Bulls Students who are happily certified and placed today. Check Network Bulls Job Placement Reviews >
Can anyone join Network Bulls 100% Job Guarantee Courses?
Anyone who has interest in networking and has graduation degree is eligible for Network Bulls' 100% job guarantee courses. So, whether you are from B-Tech, BCA/MCA, B.Com/M.Com, Arts or any other background but you are ready to put hard work and have graduation degree, go for it. 
See More about - Network Bulls 100% Job Guarantee Courses
Conclusion
Making a successful career depends on decisions you make and training partners you choose. In Networking, it is most important to get training from Best Cisco CCNA, CCNP, CCIE Training Institute. As you can see from Mr. Shrey's interview, he researched and finally came to Network Bulls. 
Training facilities, labs, trainers, training methods, learning environment, past CCIE results, placement results; all matter a lot when it comes to choosing the training institute. So, visit every option yourself and then decide. 
For more details call us at our toll-free number 1800-313-2545. International students can contact us on +91-8745885377.