How Swatantra cleared CCIE Exam in the 1st Attempt? Know Tips to Pass CCIE, Jobs, Salary Packages & Growth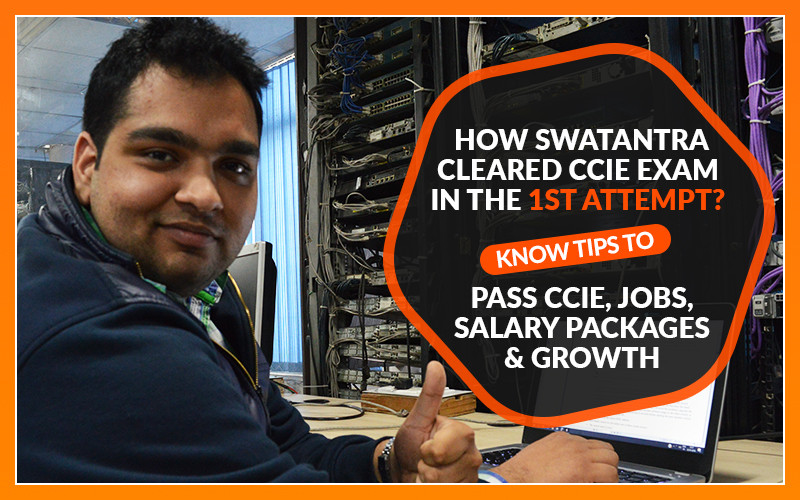 By
Network Bulls
The right guidance, true dedication, and consistency are the major things which play a huge role in accomplishing the success.If you'll put efforts in your study, it'll pay off one day. 
Cracking the Cisco CCIE examination in a first attempt is every networking aspirant's dream. And Swatantra (A Network Bulls Student) cracked the same on the first attempt! Let's know him better. 
More about Mr. Swatantra Background 
Swatantra, from Jhajjar, Haryana, pursued graduation in B.Tech (CSE) with an ambition to achieve his dream job! He was passionate about routers and switches thus, he searched for the best Cisco training institutes in Delhi/NCR.
Since Swatantra was a fresher, he looked for an ideal Cisco training company where trainers are certified, the CCIE success rate is highest and placements are guaranteed. He had many doubts in mind like?
How to pass or clear CCIE Lab exam?
How to become a CCIE?
Can a fresher do CCIE?
How much time it takes to clear CCIE lab exam?
Will I get placements after CCIE?
And many more questions were in his mind when he came for counseling at Network Bulls. NB's counseling team answered all his queries, taken him to the labs, classrooms and that is how he got convinced about enrolling at Network Bulls.
Recommended read: Know About The Scope of CCIE in India: Salary Packages and CCIE Routing & Switching V/s CCIE Security
Swatantra's Cisco Training Journey at Network Bulls
Swatantra enrolled for CCIE R&S Integrated course program in February 2017 and his training started with CCNA Routing & Switching course. Under CCIE R&S Integrated Course he was trained up to CCIE level by Network Bulls trainers. 
After the training, Mr. Swatantra cleared CCIE Routing & Switching lab exam in the very 1st attempt. 
Truly an inspirational feat achieved by him. He used to devote 18 hours in lab preparation, This is what it takes to clear CCIE Routing & Switching lab exam. 
When we interviewed him after his CCIE success & placement, he shared a lot of good tips on "How to Pass CCIE Lab Exam" and his reasons for joining Network Bulls. Let's look at them - 
Tips from Swatantra on How to Clear CCIE Lab Exam in 1st Attempt
Get CCIE training under the guidance of CCIE certified trainers,
You must do rigorous lab training before attempting for CCIE,
You must have in-depth technical knowledge,
Join Cisco training institute that can provide Real Cisco devices,
Study hard and practice effectively to master networking skills,
Have faith in your trainers.
Reasons for Joining Network Bulls 
Counseling team's unbiased and comprehensive guidance
Network Bulls world-class training infrastructure
It's vastly experienced and CCIE Certified training team
Over 90% CCIE 1st attempt Success Rate 
And record-breaking placement results
Now let's look at doubts that Swatantra had initially and every one of you would have?
Can a Fresher do CCIE?
Absolutely yes!!
95% Network Bulls students are freshers and get enrolled in CCIE Integrated courses for achieving CCIE number or for job placement.
Network Bulls' CCIE integrated courses are designed in such a way that fresher can not only learn but also can master networking by the end of course. Our integrated courses include CCNA, CCNP & CCIE Certifications training along with personality development classes to make students job ready. NB's CCIE Integrated Courses are -
How much time it takes to clear CCIE lab exam?
The time taken to clear a CCIE lab exam would highly depend upon your current preparation level. If you are planning to begin then it would be highly critical to choose your track wisely.
Pursuing CCIE starts with CCNA training (associate level), CCNP (professional level) and then heading to CCIE (expert level) to become a complete IT package. So, it would take 7-8 months to clear CCIE lab exam.
Scope and Growth of CCIE for Freshers in India
CCIE certified professionals are in high demand both in India as well abroad. The scope of CCIE is incomparable especially in India as job opportunities for CCIEs are endless and growth is exponential.
Growth Chart of CCIE R&S Engineers in next 10 years -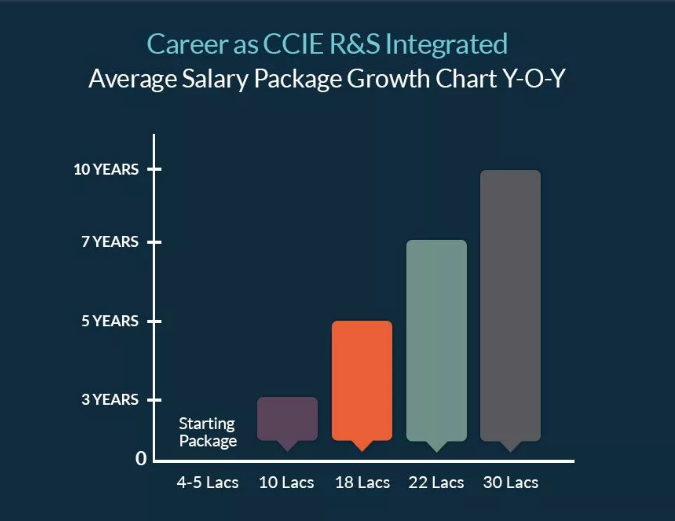 Above is a CCIE R&S engineer's growth chart. Now you can easily see your Career as CCIE R&S Engineer for next 10 years. If a CCIE R&S certified candidate has 10+ years of experience in networking, the net salary would be more than 30-40 LPA.
Jobs of CCIE R&S Engineers in Delhi/NCR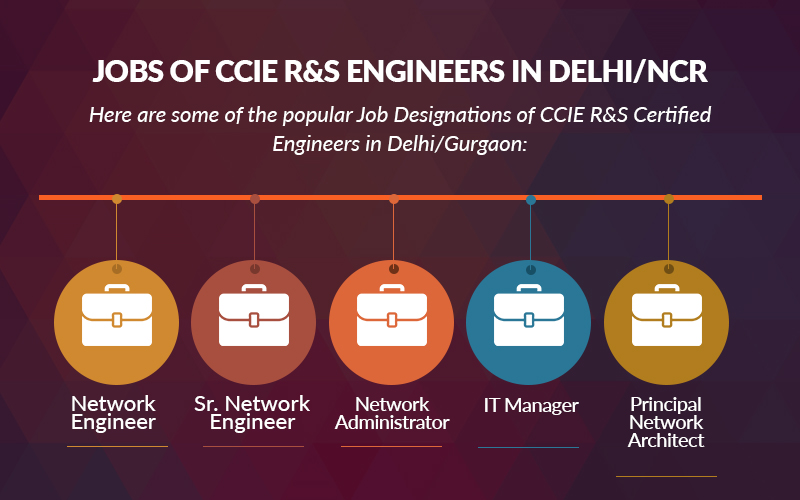 Salary Packages of CCIE in India– 2018
As we have mentioned earlier as well, CCIE R&S engineers are always in a high demand in India and abroad as well. Many networking aspirants search for a career as CCIE R&S Engineer. Here's a break up of Salary packages that CCIE Certified or Non CCIE Certified Engineers get in India. Salary Packages of CCIE in India depends upon various factors like Company, Profile, Technical Skills, Number of years of experience, Communication skills and lot more.
While studying at Network Bulls, if a candidate has cleared CCIE R&S Written + Lab exam, the minimum salary he/she can draw would be 4-5 LPA. Whereas, if a candidate hasn't cleared the exam but have communication & technical skills, the salary package would be 2-3 LPA. But we have seen candidates getting 4 lacs salary package without even passing any CCIE exam.
CCIE Routing & Switching Salary Packages for Freshers
Technical Skills
Communication Skills
CCIE Certification
Starting Package
 
 
 
 
Good
Good
With CCIE Cert
4.5 - 5.5 Lacs
Good
Good
Without CCIE Cert
3-4.5 Lacs
Average
Average
Without CCIE Cert
2-3 Lacs
Poor
Poor
Without CCIE Cert
1.8 Lacs or even Lower
Those who have past experience in networking domain and pursue CCIE course, there would be 60-70% hike in their salary packages after the course.
Also read: Network Bulls Breaking Its Own Placement Record - Check Out January 2018 CCIE R&S and CCIE Security Placement Results
Conclusion -
Clearing CCIE in the 1st attempt is really a daunting task but at Network Bulls, it is very regular. Swatantra made the entire NB team proud because of his achievement by clearing the world's toughest CCIE R&S Lab exam in the first attempt! Becoming a CCIE certified is everyone's dream and Swatantra made it happen.

Download PDF
How Swatantra cleared CCIE Exam in the 1st Attempt? Know Tips to Pass CCIE, Jobs, Salary Packages & Growth
So if becoming a CCIE is your dream or job placement is your aim? 
Contact Us at our toll-free number 1800-313-2545 or email us at admin@networkbulls.com. International students can Contact on +91-9540774889, 8745885377.