How Network Bulls is Best Institute for Cisco CCIE Certification Training in India?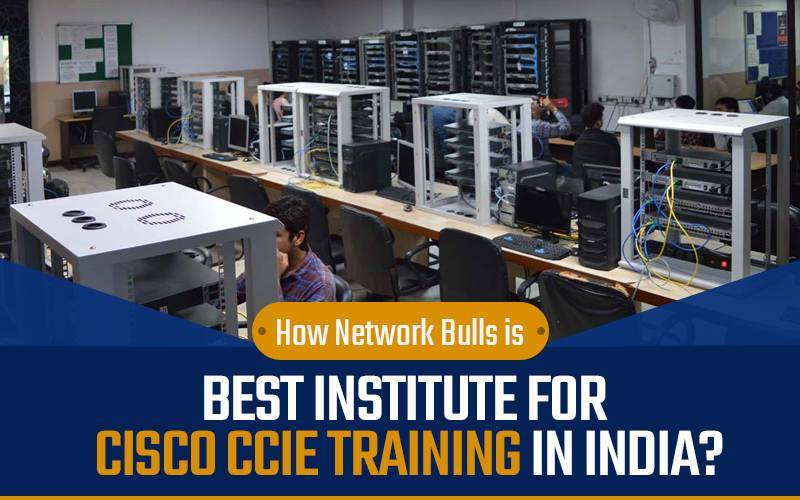 By
Networkbulls
With the change in the technological landscape all over the world, the Cisco Networking has created a paradigm shift to the networking industry. By developing, manufacturing and selling advanced generation networking devices and creating a line of Networking Certification, Cisco Systems Inc. has become a giant in the Networking Industry.
Network Bulls, based in Gurugram, India, provides training on these prestigious and worldwide accepted Cisco Certifications. These certifications start from the beginner's level, that is, CCNA (Cisco Certified Network Associate), moves onto the intermediate level, that is, CCNP (Cisco Certified Network Professional) and ends at expert level certification, that is, CCIE (Cisco Certified Internetwork Expert).
Network Bulls trains its students on these certifications on all its domains and anyone aspiring to be a network engineer, networking analyst, network security engineer, network architect, network voice engineer, network administrator or more should do these certifications from NB and add a star to their resume.
Network Bulls – A common name for any networking aspirant
Network Bulls provides remarkable training in Cisco routing & switching, security, data center, wireless, service provider and voice/ collaboration producing high results than any other Institute in India. Adding to the credits, Network Bulls is a Gold Training Partner of Cisco Systems and is Best Institute for CCIE Training in India.
What makes Network Bulls best?
The remarkable Cisco courses training provided by Network Bulls in Routing & Switching and Security track produces the highest CCIE results and 10x times better placements than any other Cisco training Institutes in India. Facilities like 24/7 labs and Intensive training model embrace learning in students.
Find more reasons here,
# World's Highest CCIE Pass Outs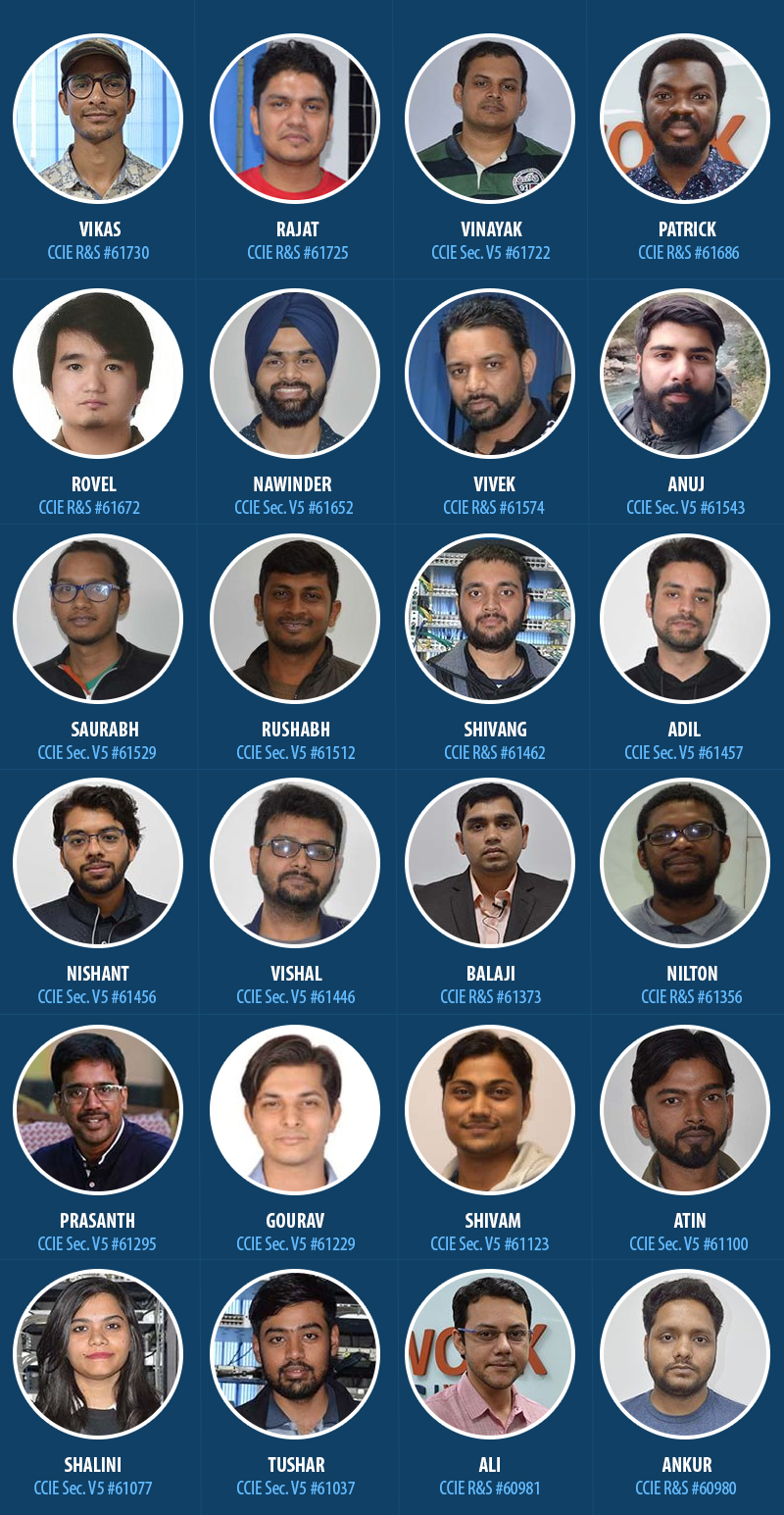 Check more CCIE success stories- https://www.networkbulls.com/ccie-success-stories-india
World's highest number of CCIE Pass Outs are produced by Network Bulls in which 94% earned their CCIE Certification successfully on their first attempt. The intensive training programs of Network Bulls are designed to get 100% results and enhance the student in every aspect.
While providing the world class infrastructure, experienced trainers and cutting edge equipments, it the hard work and dedication of our students and trainers that provide such results.
# 1st Institute in India to produce CCIE Security V5 Result
In the year 2016, when Cisco launched CCIE Security latest version 5.0, Network Bulls was the first institute to provide its students with the latest version multiple racks without halting their training and wasting any time. This resulted in the highest CCIE Security V5 pass outs by Network Bulls in all over the world.
NB became the only Institute in India to provide multiple Cisco Security V5 Racks when other institutes were still struggling for the experienced trainers.
# World's Largest Cisco Training Labs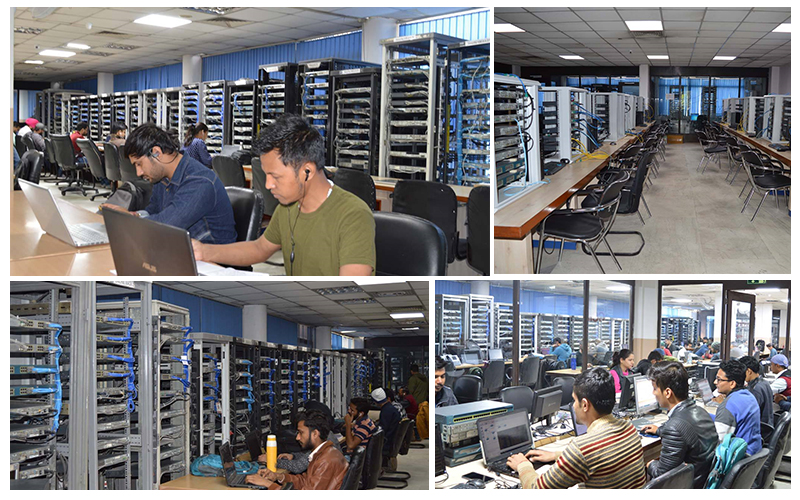 Network Bulls has the world's largest Cisco Networking Training Labs. Any student coming into the labs for the first time gets awestruck by its size and the devices available. There are plenty of devices in the labs so that each student can work on his/ her dedicated rack without waiting for anyone else to be done with.
Moreover, Network Bulls has separate labs for CCNA, CCNP and CCIE creating an effective learning environment and conversations between the students.
# 24*7 availability of Labs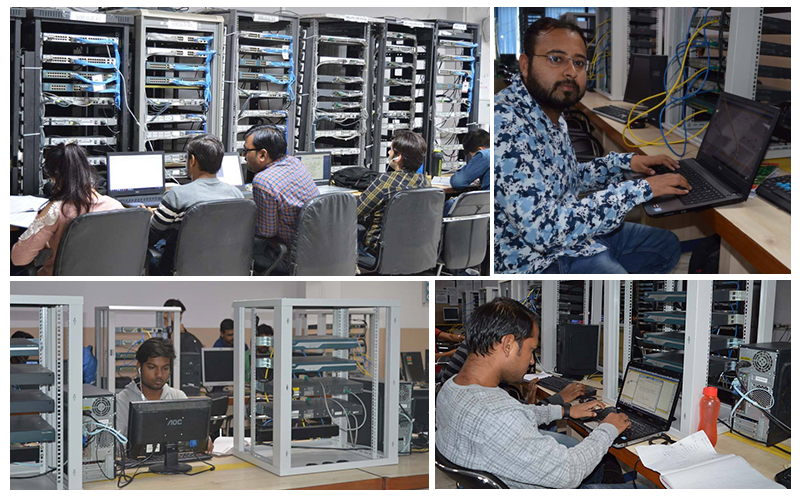 The Network Bulls remarkable labs are open for 24*7 for its students giving the full exposure to its students. We understand the importance of late night studies, hectic work hours and especially the dedication that our students put in to earn their certifications. Hence we keep our labs open all day and all night for them.
Also, there is always a team of trainers available in the labs should any student get stuck anytime. Without wasting any time, these experienced trainers help them through and teach them the tricks of the trade.
# 100% Authentic Job Placement Record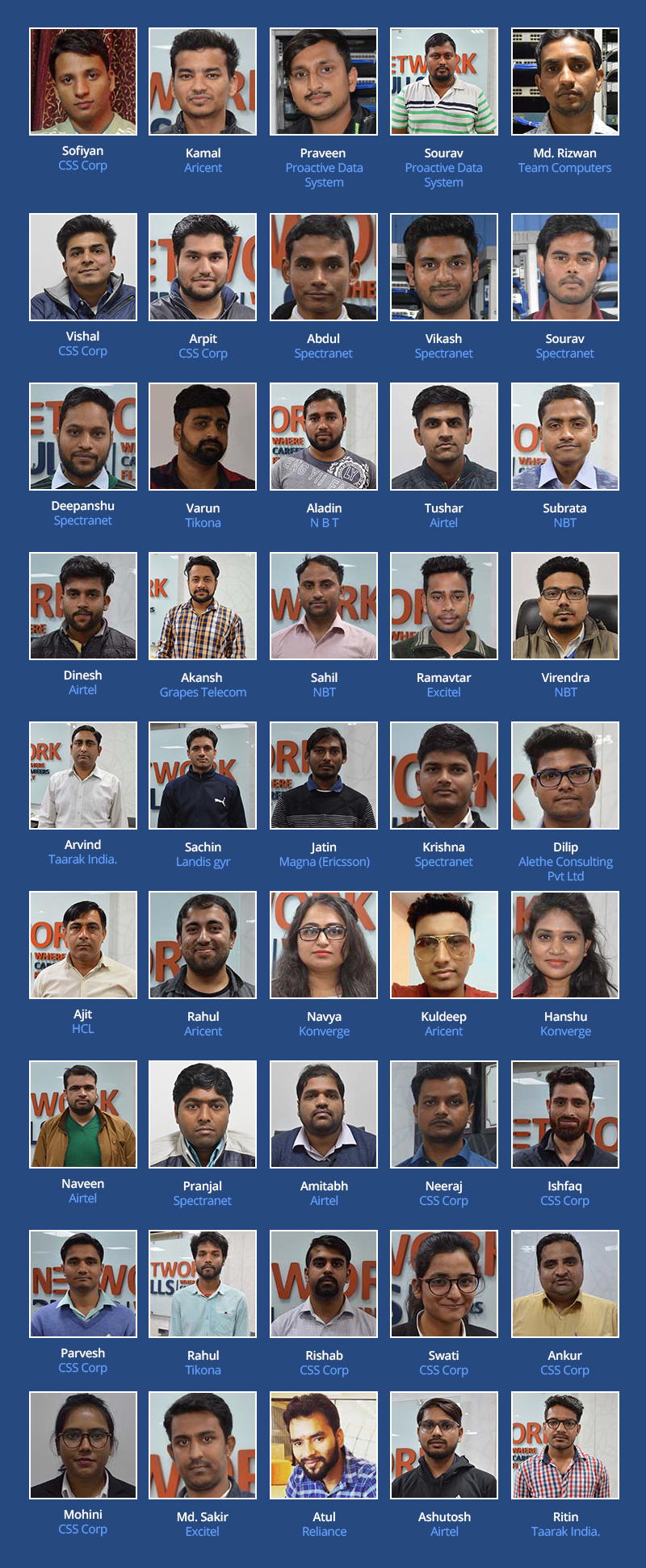 Check more placement success stories- https://www.networkbulls.com/placement-success-stories
With many institutes putting up random numbers on their website to get the better footfall and leads for the training programs, Network Bulls offers 100% Authentic Job Placement Record because the results are really 100%. We have produced 10 times more Placements than any other Cisco Networking Training Institute in India.
Network Bulls is the only institute to put the real placement record online on its website in the form of Pictures and Video Testimonials. Also, its Placement Record Page gets updated in every 15 days.
# Intensive Training Model
As discussed above, Network Bulls Training Programs is exclusively designed by a panel of Network Experts aiming to get 100% results out of it. The intensive training program grooms the student's technical skills and enhances its personality.
This innovative and effective CCIE Training model includes rigorous theoretical training, practical sessions, spoken English classes, personality development classes, resume sessions, mock interviews, presentation skills, HR interview sessions, group discussions and many more other aspects.
# Best Technical Team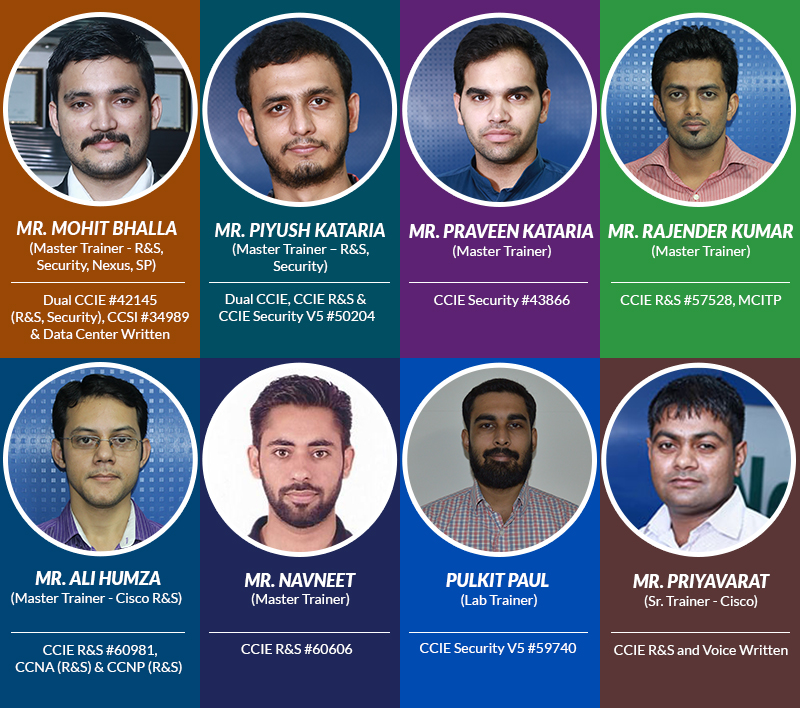 Network Bulls has the best in the class pool of trainers. All our trainers are Cisco Certified CCIE Experts having both training and industrial experiences. With decades of teaching experience, they know the right path to clear CCIE. They have been through it and many have followed them. They know the tips and the tricks and have produced 100% results.
Plus, the Network Bulls trainers have different training methodologies. They understand the basics of networking so much that they train these to students very easily. Also keeping the patience and keeping up with each student's learning capabilities is of utmost importance.
# Placement Process and Team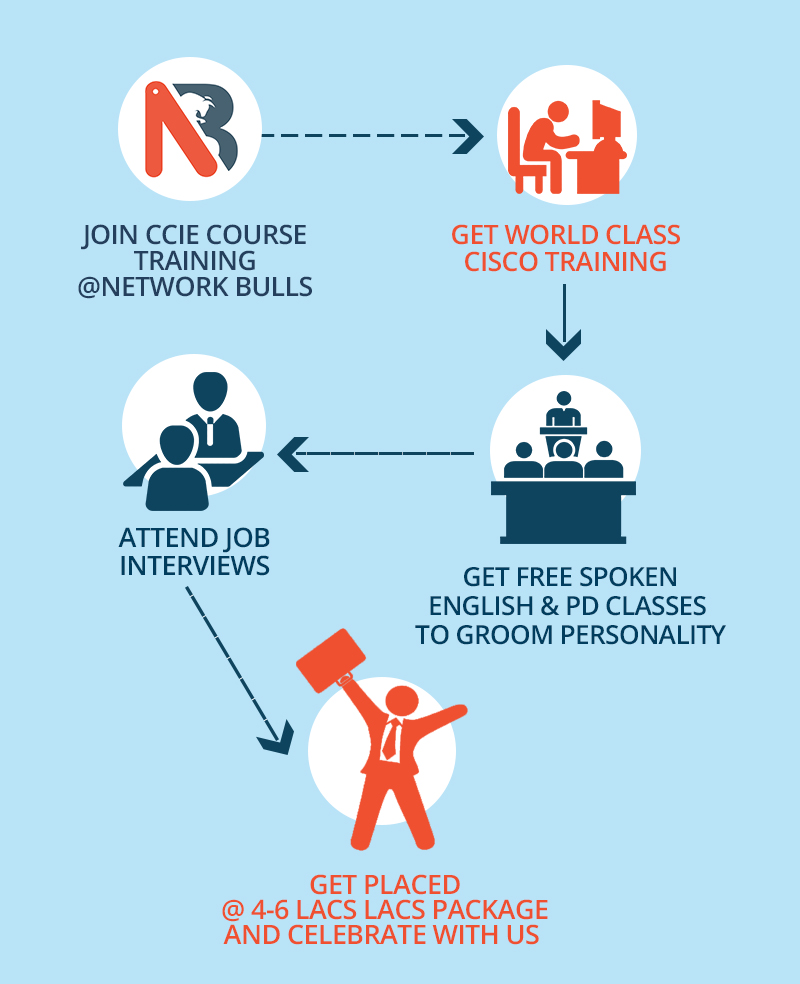 Network Bulls also offers 100% Job Guaranteed Training Programs by combining many Cisco Certification Training making a complete package to get placed. These training programs are aimed to bridge the gap between industry requirement and candidate's knowledge and make him/ her perfectly eligible for its job profile.
Network Bulls placement team follows this process of training, development and placements. They have placed thousands of students on great pay grade at top-notch multinational companies.
Recommended read- Network Bulls - World Leader in CCIE Security V5 Results in 2018
Along with these, there are many more reasons that make Network Bulls the best Cisco Networking Training Institute in India. Visit our campus once and you will get the feeling of a friendly environment, exemplary learning and great success.