How can CCIE Data Center Certification give wings to current Network Engineers of India?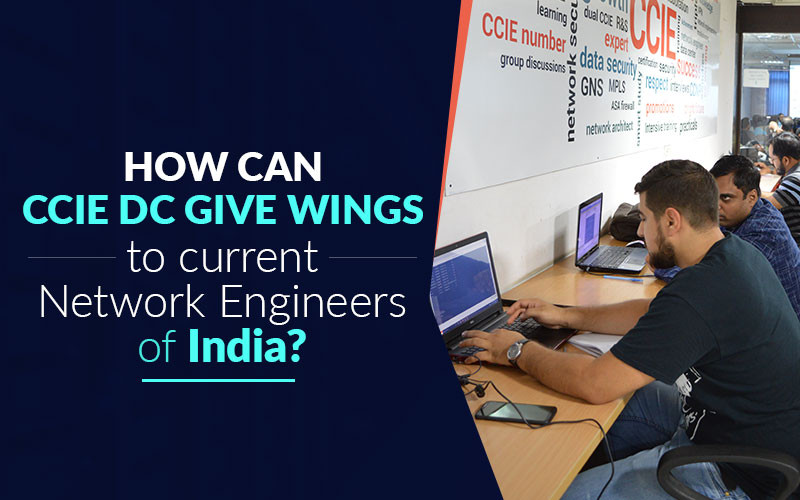 By
Network Bulls
Cisco CCIE Data Center Certification recognizes practitioners with the skillset and provison to plan, design, implement, support and manage complex data centers of the organizations. They are qualified for expert roles who can manage the advanced data center environments on cutting-edge technologies.
CCIE Data Center Certification is one of the most distinguished and renowned certifications for data center domain. Experts with CCIE DC Certification are in the technical leadership role having expertise in a wide scope of latest technologies and industry's finest practices.
Data Center is the Future!
With the million tons of data being uploaded every day, the need of data centers is profound, creating more jobs and requiring all the more CCIE Data Center experts to manage them. The shift of documents to online platforms has radically increased the number of data centers extremely, expanding the Scope of CCIE Data Center Specialists.
The scope of CCIE DC in India
With evolving technology and demand for paperless offices, there has been a vast requirement of CCIE Data Center experts in India creating an immense scope of CCIE Data Center in India.
By the constant increase in the demand for Data Center Jobs, CCIE Certifications has become a benchmark for hiring candidates in the companies. CCIE DC Certifications gives you the entry to the door of your dream company, plus increases your salary exponentially. Following are the few use cases.
 

Before

After

Certification

None

CCNA + CCNP + CCIE Data Center Training

Experience

2 Years

3 Years

5 Years

Salary

3 LPA

7-8 LPA

18-22 LPA

 

Certification

CCIE (other domain)

CCNA + CCNP + CCIE Data Center Training

Experience

2-3 Years

3 Years

5 Years

Salary

3 LPA

11-12 LPA

22-28 LPA
A Network Engineer of 2 years of experience will be earning around 3 LPA. Doing CCNA, CCNP and CCIE Data Center Certification with one more year of experience will increase his/ her salary to 7-8 LPA. Further, after 5 years, his/ her salary will be 18-22 LPA.
A CCIE Certified Network Engineer with 2-3 years of experience with salary 3 LPA can increase his salary exponentially to 11-12 LPA within a year after his CCNA, CCNP and CCIE Data Center Certification. Further 5 years in line, his/ her salary will rise to 22-28 LPA.
CCIE Data Center Certification Job Profiles:
Solution Architect
Network Architect
Network Solution Specialist
Sr. Network Engineer L4
Network Designing & Implementation Engineer
Infrastructure Lead
Lead Network Engineer
Network Support Engineer
Data Center Network Analyst
Reimagine your Career!
Reimagine your career with CCIE Data Center and give a kick-start to it. Start with CCIE Data Center Course, an attempt for its examination and earn the certification.
CCIE Data Center Certification
To earn CCIE Data Center Certification, you need to qualify CCIE DC Examinations. There are two examinations for this certification.
CCIE DC Written Examination: This is a 2 hours long examination which recognizes the knowledge of the candidate in the concepts and equipment commands of complex data centers.
CCIE DC Lab Examination: This examination is divided into 2 parts, that is, a Diagnostic module of 1 hour and Configuration & Troubleshooting module of 7 hours.
Recertification
Every CCIE Expert needs to recertify their certification in every 2 years to maintain their active status by clearing any CCIE Written Examination or CCIE Lab Examination or CCDE Written Exam or current CCDE Practical Exam or, CCAr interview and the CCAr board review.
Learn and Earn!
As above said, earning the certification is not a piece of cake and requires you to do CCIE Data Center Course to qualify for its examinations.
Being the highest level of Data Center Certification, CCIE Data Center V2 Training is one of the most challenging training of Cisco Certifications and demands a lot of your time and efforts. It is recommended to do your CCIE DC Training from the best CCIE data center institute there is.
Network Bulls is one of the best CCIE Data Center Institute of India for the following reasons:
CCIE Data Center is the connotation of success right now as the demand is enormous and availability of experts is less. It is the right time to strike while the iron is hot; start your preparation and let us know if you have any queries.

Download PDF
How can CCIE Data Center Certification give wings to current Network Engineers of India?
To know more about Network Bulls' Training Courses Call Us on our toll-free number 1800-313-2545 or mail us at admin@networkbulls.com.