Get Inspired - Ayush Speaks about Network Bulls Job Placement, CCIE Security Training Reviews & More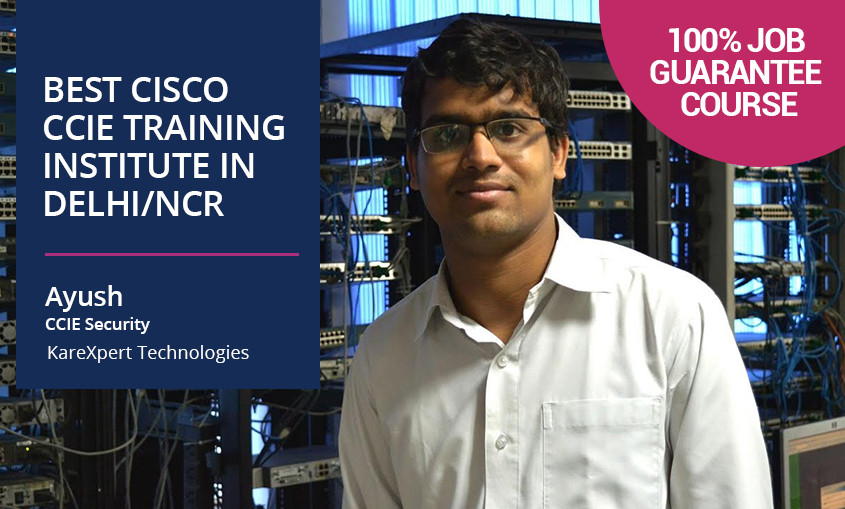 By
Network Bulls
Millions of job opportunities are available in the field of networking but for reaping these opportunities one needs to have sound networking knowledge, skills & credentials to validate the same. Nothing validates a candidate's skills & knowledge better than Cisco CCNA, CCNP, CCIE Certifications.
In fact, Cisco CCIE Certifications are world's most demanded and highly paid IT certifications, plus they are accepted worldwide. To get Cisco certifications training students need to join - A Cisco authorized Best Cisco CCNA, CCNP, CCIE Training Institute in India.
Ayush Joined Network Bulls - Best Cisco CCIE Training Institute in Delhi/NCR
Ayush made a right move in his career and opted for Cisco certification course. He searched on the web for best networking institute in India and found Network Bulls. After researching more on its credentials, listening to student's Network Bulls reviews & testimonials enrolled for Cisco CCIE Security Integrated Course.
And then his CCIE Security Training in Gurgaon, Network Bulls started under the guidance of CCIE Certified Trainers. Let's listen to his CCIE Security Training reviews and Job Placement Story.
Started CCIE Training under NB 100% Job Guarantee Course Program
"I joined Network Bulls for my CCIE Security Course in July 2015. It has been almost a year at Network Bulls. I really had a fantastic year at Network Bulls, completing my CCIE Security training and developing my skills. There is a lot to admire about Network Bulls & its CCIE Training. At top of the list is technical training which is very good and you get to learn a lot about different technologies such as Routers, Switches, Firewalls etc. and can develop your skills."
NB Facilities - CCIE Trainers | World's Largest Cisco Training Labs | 24x7 Lab Access
For a successful training, great mentors are must and Network Bulls has biggest pool of CCIE Certified trainers for students. Labs infrastructure has world class facilities. In fact, NB labs are among top 5 Cisco training labs in the world.  NB labs are fully equipped with latest & real Cisco devices and racks
We have 24x7 access to labs. So, you can come here at any hour of the day and can complete your practical training. Lab instructors are always available in the lab, so you can easily take their help for completing your practical and can learn more.
How I got job placement with help of Network Bulls?
"Recently I got job placement with KareXpert technologies – a cloud-based healthcare platform. As promised in the beginning Network Bulls stood by its commitments of 100% job guarantee course program.
Under this program, Network Bulls keep organizing Campus placement drives at its Gurgaon center and I participated in one. You might be amazed to know that I am placed with KareXpert technologies even before the completion of my CCIE Security course.
I would like to thank the placement team of Network Bulls. I got job Offer from not only KareXpert  but also from three to four other IT companies.  I finally decided to join KareXpert technologies. I am really thankful to Network Bulls for helping me to grow in my career."

Download PDF
Get Inspired - Ayush Speaks about Network Bulls Job Placement, CCIE Security Training Reviews & More
You are the Next - Be @ Best Cisco CCIE Security Training Institute in India
Ayush is one of the thousands Network Bulls students, who have achieved their career dreams from here. you can also gain excellence in networking and can get placed with Big MNC even before the completion of your Cisco CCIE course.  In last one year, 3000+ students have got job placements after CCIE Training from Network Bulls.
If your core objective of learning Networking is to get placed with a renowned IT company, then 100% job guarantee course of Network Bulls is just the right option for you.  The Written job guarantee is provided to students enrolling in 100% job guarantee courses.
Contact Us Now or Call us at 1800-313-2545 or email us at admin@networkbulls.com