Cisco Unleashes new CCNP Certifications with advanced capabilities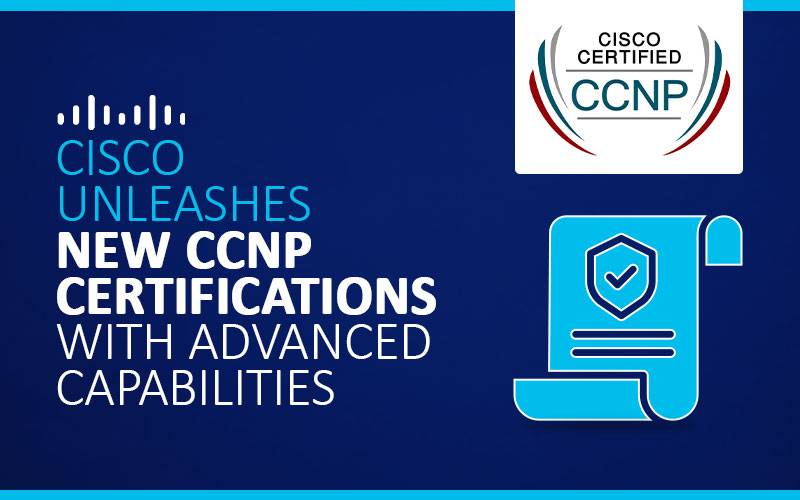 By
Networkbulls
Cisco Inc, the Giant of Networking, has taken over the world with its trainings and certifications. Also, the fact that its trainings are continuously evolving over years with the always changing technology is what makes it content and compliant by large and medium enterprises. With trainings on technologies like Cloud, Collaboration, Routing & Switching, Cyber Ops, Data Center, Industrial, Security, Wireless and Service Provider  divided into three levels Associate (CCNA – Cisco Certified Network Associate), Professional (CCNP - Cisco Certified Network Professional) and Expert (CCIE – Cisco Certified Internetwork Expert), Cisco has defined the knowledge of its certifiers and has given them the proclamation they deserve.
Why the need to change training Programs and Certifications?
IT being one of the fastest growing industry, Cisco has to keep up with its pace and swift upgradations. The technologies are evolving and the need for upgraded knowledge and skills at the companies is growing. Cisco Certifications are agile, renowned and admired for its significant training programs and excellent reputation on the cutting edge technology enhancements.
Recently, Cisco Inc announced one of the greatest shift in its certification and training programs. Introducing new certifications programs and revamping the old ones, its holistic training structure of Cisco Examinations has been changed completely.
Recommended read- Know How to Get CCNA, CCNP and CCIE Certifications | New Exams and Exam Codes
The New CCNP Certification
CCNP – Cisco Certified Network Professionals are the professionals level Certifications of Cisco. A level up from the networking fundamentals, CCNA – Associate level Certifications takes a deeper dive into the concepts of networking.
The new CCNP Certifications recognizes skills for enterprise networking solutions. CCNP is a two level examination model now. This certification training program trains on networking technologies at a professional level. Focusing on automation and programmability to help you scale your networking infrastructure, it validates the core knowledge of any technology. It is one of the most respectable networking certifications.
How to earn the new CCNP Certification?
There are different CCNP Certifications that validates advanced networking knowledge and skills in different technologies of networking. To earn any CCNP Certification, one needs to clear the two given examinations.
1. Core Exam:
Core Examinations test the knowledge and skills related to the core networking technologies. It tests the foundation of the technology that candidates needed to specialize in. There are respective core examinations for Enterprise, Collaboration, Security, Data Center and Service Provider each.
2. Concentration Exam:
In the latest announcement, Cisco has introduced the concentrations exams. Concentration Examinations are basically optional examinations required to take to earn CCNP Certifications. Cisco Aspirants need to do one of the two exams to earn professional-level certification (CCNP). These are the technology specific examinations that can be chosen as per the area of interests, job profile and more. After the respective core examination for each CCNP Certification, concentration exams take a deeper dive into a relevant and related technology to the core, allowing the candidate to choose a topic that is either of interest or related to his or her chosen technology area of focus.
Also read- Know New CCNA, CCNP Enterprise and CCIE Certifications | Exams, Syllabus, Re-certification and more
Introduction of Cisco Specialist Examinations:
The Introduction of the Cisco Specialist Examinations has been the key changer of Cisco Certification hierarchy. The Cisco Specialist Examinations are the Core Examinations post which the networking aspirant can opt for CCNP or CCIE Certifications.
For example, any candidate can take 300 - 401 ENCOR examination and clear it. Post this examination, he or she can either take 300 - 410 ENARSI examination to earn CCNP Enterprise Certification or take CCIE Enterprise Infrastructure v1.0 (Lab) to earn CCIE Enterprise Infrastructure Certification. These Streamlined Cisco Certifications validate engineering professionals meticulously.
Here are the next level Cisco professional, specialist and expert level certifications.
Certification

Specialist Exam

Certifications

Concentration exams (choose one)

Training

300 - 401 ENCOR

Implementing and Operating Cisco Enterprise Network Core Technologies

CCNP Enterprise

300 - 410 ENARSI

Implementing Cisco Enterprise Advanced Routing and Services 

300 - 415 ENSDWI

Implementing Cisco SD-WAN Solutions

300 - 420 ENSLD

Designing Cisco Enterprise Networks

300 - 425 ENWLSD

Designing Cisco Enterprise Wireless Networks

300 - 430 ENWLSI

Implementing Cisco Enterprise Wireless Networks

300 - 435 ENAUTO

Automating and Programming Cisco Enterprise Solutions

CCIE Enterprise Infrastructure

CCIE Enterprise Infrastructure v1.0 (Lab)

CCIE Enterprise Wireless

CCIE Enterprise Wireless v1.0 (Lab)

300 - 801 CLCOR

Implementing and Operating Cisco Collaboration Core Technologies

CCNP Collaboration

300 - 810 CLICA

Implementing Cisco Collaboration Applications

300 - 815 CLACCM

Implementing Cisco Advanced Call Control and Mobility Services

300 - 820 CLCEI

Implementing Cisco Collaboration Cloud and Edge Solutions

300 - 835 CLAUTO

Automating Cisco Collaboration Solutions

CCIE Collaboration

CCIE Collaboration v3.0 (Lab)

300 - 601 DCCOR

Implementing and Operating Cisco Data Center Core Technologies

CCNP Data Center

300 - 610 DCID

Designing Cisco Data Center Infrastructure

300 - 615 DCIT

Troubleshooting Cisco Data Center Infrastructure

300 - 620 DCACI

Implementing Cisco Application Centric Infrastructure

300 - 625 DCSAN

Implementing Cisco Storage Area Networking

300 - 635 DCAUTO

Automating and Programming Cisco Data Center Solutions

CCIE Data Center

CCIE Data Center v3.0 (Lab)

300 - 701 SCOR

Implementing and Operating Cisco Security Core Technologies

CCNP Security

300 - 710 SNCF

Securing Networks with Cisco Firepower

300 - 715 SISE

Implementing and Configuring Cisco Identity Services Engine

300 - 720 SESA

Securing Email with Cisco Email Security Appliance

300 - 725 SWSA

Securing the Web with Cisco Web Security Appliance

300-730 SVPN

Implementing Secure Solutions with Virtual Private Networks

300-735 SAUTO

Automating and Programming Cisco Security Solutions 

CCIE Security

CCIE Security v6.0 (Lab)

300 - 501 SPCOR

Implementing and Operating Cisco Service Provider Network Core Technologies

CCNP Service Provider

300-510 SPRI

Implementing Cisco Service Provider Advanced Routing Solutions

300-515 SPVI

Implementing Cisco Service Provider VPN Services

300-535 SPAUTO

Automating and Programming Cisco Service Provider Solutions

CCIE Service Provider

CCIE Service Provider v5.0 (Lab)

No Prerequisites for CCNP Certifications
With the aim to bring flexibility and choice to student's learning process, Cisco has removed the prerequisites for CCNP Certification. Previously one needed to have a CCNA Certification in order to attempt for the respective CCNP Certification.
The new CCNP doesn't need any prerequisites now. The candidates can attempt this certification anytime. One needs to clear core examination and concentration examination for the respective certification.
Nevertheless, it is highly advised to have five to seven years of experience in the corresponding technology before attempting the exam.
Conclusion
Though the biggest change in the Cisco Certifications are done at CCNP level, this new hierarchy has streamlined the process of skills and knowledge validation further. Any networking aspirant can now opt for the desired certification and put his or her talent and brain to work as needed.
These new certifications will go live on February 24, 2020. The students currently studying for CCNP Certifications have plenty of time to attempt its examination and the new networking aspirants can start their training on the updated Cisco Next Level Certifications.