#Breaking News - Cisco Announces Changes in Exam Fee of CCNA, CCNP & CCIE Written Certifications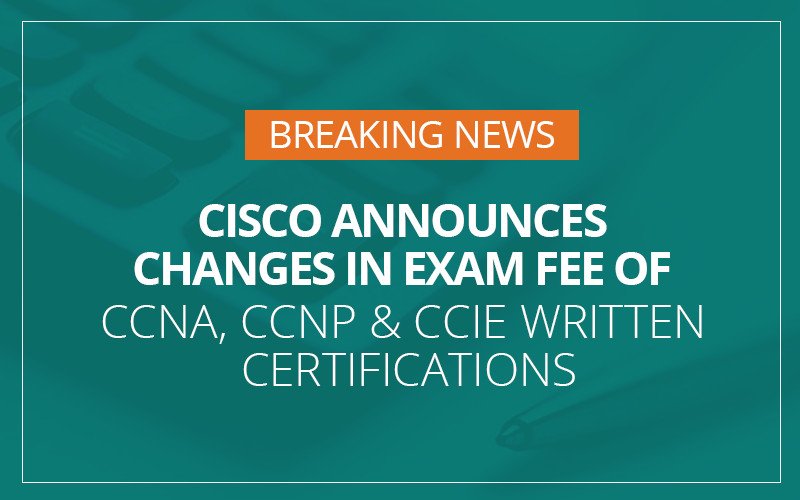 By
Network Bulls
If you are a Cisco aspirant or Networking professional willing to go for Cisco CCNA, CCNP or CCIE Certifications in near future then this is an important news for you. Cisco recently made a big announcement, mentioning the revision in various professional, specialist and expert level certifications. As always Network Bulls has come up with detailed information about this big announcement. 
Changes in Exam Fee of CCNA, CCNP and CCIE Certification exams by Cisco Systems -
Associate Level i.e. CCNA Exam Fee Changes
Exam fee for CCNA Routing and Switching Certification exam 200-125 has been increased to USD 325 from USD 295. If you want to earn your CCNA Certification by appearing for ICND1 100-105 and ICND2 200-105 Exams, then it will cost you 330 USD, as each module of ICND will cost you 165 USD. 
For CCNA Data Center modules 200-150 DCICN and 200-155 DCICT, USD 165 for each module  will be charged as exam fee from now on.
Exam fee for all advanced technology exams like CCNA Security 210-260 IINS, CCNA Industrial 200-601 IMINS2, CCNA Wireless 200-355 WIFUND and CCDA 200-310 will be USD 300.
Whereas Latest exam fee of these Certifications will cost you 600 USD each - CCNA Cloud, CCNA Collaboration, CCNA Service Provider and CCNA Cyber Ops. Each of these certifications have 2 exams and exam fee of each module is 300 USD.
Recommended read: Cisco launches a new version of CCNA, know the changes!
Changes in professional level Certification Exam Fee i.e. CCNP Exam Fee Changes
Apart from CCNA level exam fee changes, Cisco has also announced exam fee changes for professional level i.e. CCNP Certifications. Here are the details -
Exam fee for each module of CCNP Routing & Switching has been increased to USD 300 from USD 250, moving forward same amount will be charged by Cisco as exam fee for CCNP Security and CCNP Collaboration as well. 
As CCNP R&S Certification has 3 Exams - CCNP Route 300-101, CCNP Switch 300-115 and CCNP Tshoot 300-135, so new exam fee for all these three modules will be 300x3 = 900 USD in total. So Exam Fee for CCNP R&S Certification will cost you 900 USD.
Likewise CCNP Security has 4 modules (SENSS 300-206, SISAS 300-208, SIMOS 300-209 and SITCS v1.5 300-210) and as each module will cost you 300 USD, so total latest Exam fee for CCNP Security will be 300x4 = 1200 USD.
CCNP Data Center, CCNP Collaboration & CCNP Service provider exam fee for each module has also been increased to USD 300. In fact as per Cisco's latest announcements all 300-xxx Professional Level exams will have exam fee of USD 300.
Exam fee of CCNP Data Centre Certification: There are 5 Modules in CCNP Data Center Certification. So if you are preparing for CCNP Data Center Certification, you need to pass these 5 online exams 300-175 DCUCI, 300-165 DCII, 300-170 DCVAI, 300-160 DCID and 300-180 DCIT. Each exam will cost you 300 USD, so total latest exam fee of CCNP DC Certification will be 1500 USD (300x5).
Exam fee of CCNP Collaboration, CCNP Cloud, CCNP Wireless and CCNP Service provide Certifications: As all these 4 Certifications has 4 Modules each. So if you want to take any one certification out of these four, you have to pay 1200 USD, as each module will cost you 300 USD.

Exam Fee Changes for CCIE - Expert Level i.e. CCIE Written Online exams
Exam Fee of all expert level written exams has been revised too. As per Cisco's announcements, any 400-xxx CCIE Written Exam and 352-001 CCDE Expert Level Written exams fee would be USD 450 compared to earlier exam fees of USD 400.
This change in CCIE Written exam fee would impact CCIE R&S Written, CCIE Security Written, CCIE Collaboration Written, CCIE Data Center Written and CCIE Service Provider Written exams including other expert level written exams. So now if you are preparing for your CCIE Certification, CCIE written exam will cost you 450 USD and Lab exam fee is 1600 USD, so total CCIE Exam fee will be 2050 USD.
Also read: Top 5 reasons Why you should be a Cisco CCIE Certified Professional in India
Effective Date & more about changes in Exam Fee:
All the changes in exam fee mentioned above have already been applied. If anyone has enrolled himself or herself for the exam before this date then increased exam fee would not be applicable for him or her. Student can also get the registration date and time changed without any extra charges. 
But if student cancels his/her registration and re-registers himself/herself then revsied exam fee would be applicable..
Full List of Exam Fee Changes announced by Cisco -
Exams
Currency
Price
Unproctored Exams
650-xxx IBT Online exams
USD
65
700-xxx Sales Readiness exams
USD
80
Proctored Exams
010-xxx Certified Technician exams
USD
125
100-xxx & 200-105 ICND exams
USD
165
200-xxx Associate Level exams (excludes 200-105/125)
USD
300
200-125 CCNA Routing and Switching exam
USD
325
210-xxx Associate Level - Advanced Technology exams
USD
300
300-xxx Professional Level exams
USD
300
352-011 CCDE Practical exam
USD
1,600
400-xxx CCIE and 352-001 CCDE Expert Level Written exams
USD
450
500-xxx Technical Program exams
USD
300
600-xxx Specialist Certification exams
USD
300
640-xxx AT exams (excludes 640-692/792 exams)
USD
300
640-692/792 CCT exams
USD
125
642-xxx Professional Level exams
USD
300
644-xxx Specialization exams
USD
300
646-xxx Channel Sales exams
USD
80
648-xxx Channel ATP exams
USD
300
810-xxx Business Specialist Written Level 1 exams
USD
150
820-xxx Business Specialist Written Level 2 exams
USD
250
830-xxx Business Specialist Practical exams
USD
350
840-xxx Business Value Practitioner exams
USD
350
Source - Pearson VUE

Download PDF
#Breaking News - Cisco Announces Changes in Exam Fee of CCNA, CCNP & CCIE Written Certifications
If you still have any confusion then post your queries below in leave your comment section and our experts will get back shortly. If you are interested in Cisco Courses offered by Network Bulls then Contact Us on 1800-313-2545 or email us at admin@networkbulls.com. Students from outside India can connect with us over +91-8745885377.