Record Breaking Placements Continue - Check Out Our December CCIE R&S and CCIE Security Placement Results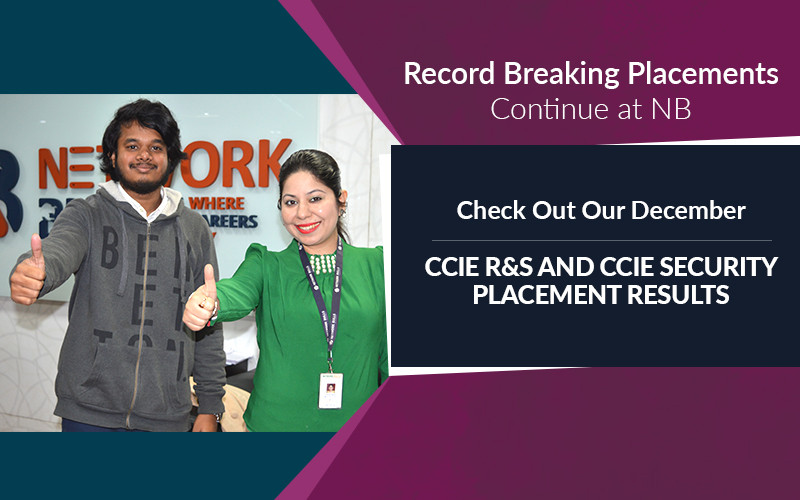 By
Network Bulls
It has been a long journey for Network Bulls since 2009 and each month has been a milestone. With every passing day Network Bulls has been setting new records of placements for its CCIE Integrated Course Students. And Dec 2017 was no different, in this post we will go through placement results delivered by NB in December.
Amazing Facts About NB's Job Placement After CCIE Training -
95% students get Job Placement without passing CCIE Exams
Over 60% students get placed before completion of their course
Over 60% students get placed within first 2-3 interviews they face
99% of our students are freshers
Our CCIE Students reach over 30 Lacs Packages within 10 years.
Every 3rd Network Engineer in Delhi NCR is or was student of Network Bulls.
More than 30% of 5 years old students are working abroad today.
Network Bulls' December 2017 Placement Results
In December 2017, we have continued breaking our own job placement records. NB has achieved the great milestone by placing more than 180 students successfully with top IT Giants at high salary packages.
Almost 99% of our CCIE Integrated batch students are fresher. Our dedicated placement team makes sure that they get best of CCIE R&S Fresher Jobs and CCIE Security Fresher Jobs.
NB provides the written letter of 100% job guarantee to its students who get enrolled in job-oriented courses.
Here are some of the reviews shared by NB student who got placed in December -
Neeraj Got CCIE Certified and Job Placement after Pursuing CCIE R&S Integrated Training -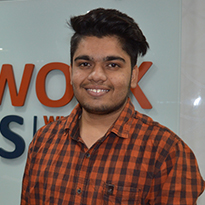 "Hi, I'm Neeraj Rawal, a graduate of B.Tech. I did CCIE R&S Integrated course training from Network Bulls, one of the best Cisco training institutes providing world-class Cisco labs and expert CCIE trainers.
After my training completion, I went for the placements and CCIE lab training. I got placed in Ciena as a Network Engineer and also cleared my CCIE Lab exam #57401. All credit goes to NB team for their wonderful support."
Nitin Got His Dream Job after Completing His MVTE Training -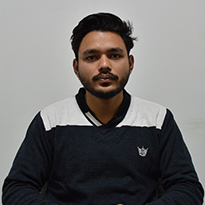 "Hi friends, I did my graduation from Dehradun. After completing my graduation, I was looking to start a career in networking and I found Network Bulls. One of my friends told me about Network Bulls, Gurugram. I got enrolled in MVTE training program.
I must say that trainers here are very good and provide the best training in networking domain. Also, the management and placement team over here are very dedicated. They make sure that their candidates get placed with the big IT giants. I got job placement in Ciena and I thank NB for giving wings to my career."
CCIE R&S Integrated Course Training Experience Shared By Mukesh Tiwari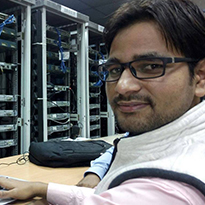 "Hi, this is Mukesh, a CCIE Routing & Switching Integrated course student. In my quest to find the best Cisco training institute, I came to know about Network Bulls, Gurugram. It's been a great journey here, gaining adequate skills and knowledge about how the server works. NB guided me to step forward in my career. I got placed in CSS Corp with the decent salary package and I thank NB to make it happened."
Vinay Found Network Bulls, The Best Cisco Training Center in India -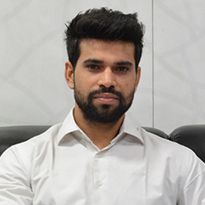 "Hello, I'm Vinay and I joined Network Bulls for pursuing CCIE R&S Integrated training to build my career in networking. It's been a knowledgeable and fabulous experience at NB. Professionalism, good ethics, and dedication towards work are their basic pillars.
It's been a superb journey ever since I came to NB. I was provided proper training guidance by CCIE certified trainers. Their 24x7 lab accessibility facility made me more technically-skilled and hence, I got placed in CSS Corp as a Network Engineer and I must say I'm proud to be an NBian."
Basant Got Placed In Accenture-Google -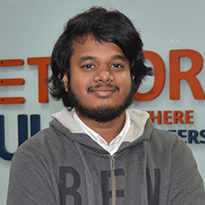 "Hi friends, I joined Network Bulls to pursue CCIE Security integrated course training. I have successfully done my course and right after I got selected as a Network Engineer in Accenture-Google with the handsome salary package. All credit goes to NB who made it happened! Proud to be an NBian."
Saurabh Shares His CCIE Security Integrated Training -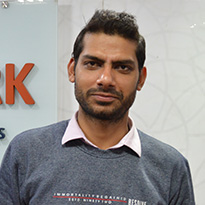 "Hi, I'm Saurabh and I joined Network Bulls, Gurugram, for pursuing Cisco training. I got enrolled in CCIE Security Integrated course and I must say, this institute is the best institute for Cisco training in the entire Delhi/NCR with its world-class training facilities and infrastructure.
The labs are fully equipped with latest Cisco devices, technologies and are 24x7 accessible. I have done my course and got job placement at I2K2 as a Network Engineer."
Have a look at the list of some more students who cracked the interviews like a boss!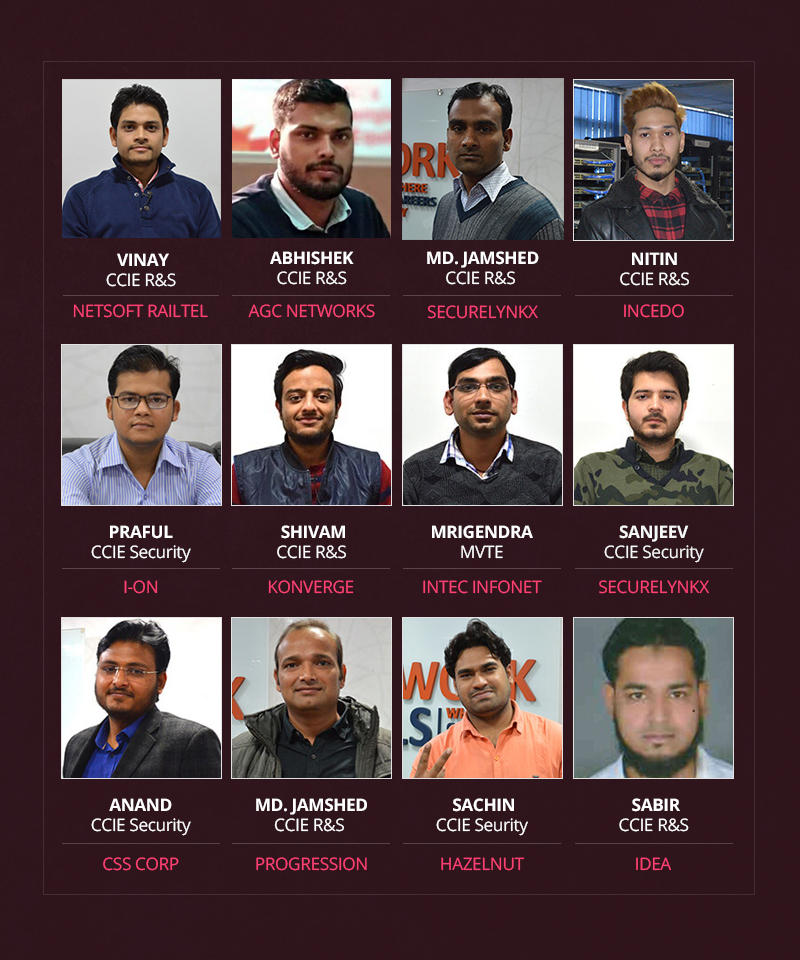 So are you looking for CCIE R&S and CCIE Security Job Placements as Fresher then Network Bulls is the place to be? See more reviews - https://www.networkbulls.com/placement-records
What is CCIE?
Nowadays, many B-Tech/ BCA/ BE or even non-technical background students are looking to make their career in networking. And its major cause is ever increasing Scope of CCIE plus the tremendous career growth this field offers.
So if you're just about to start your career in networking, we recommend you to pursue CCIE (Cisco Certified Internetwork Expert) certification course because it is the world's most highest-paid, demanded and reputed IT certification. CCIE is Highest level of Cisco Certification and is offered by Cisco Systems in 6 different tracks, i.e. R&S, Security, Collaboration, Data Center, Wireless and Service Provider. To become a CCIE Certified professional, you need to pass 2 major Cisco CCIE Exams, CCIE Written and CCIE Lab exam respectively. Once you pass your CCIE Written and Lab exams, you get a 5 digit unique CCIE number which is your identity as a CCIE. There are over 3 Million Networking professionals in this world whereas only 50,000 are CCIE's among them. CCIE's are rare and highly respected Network Professionals.
Scope of CCIE
So now we know what to aim for in case you are interested in making a career in networking. But why the career as a CCIE Certified professional is so rewarding?
Let's explore -
"You'll get amazed to know that there are only 55,000 CCIE Certified professionals in the entire world whereas, IT Industry needs more 500,000 CCIE's only in India"
The scope of CCIE in India is also growing exponentially as a result of ever-growing technology. Because if being a global certification, CCIE has same value all across the globe and IT Hub countries like- USA, China, India, etc. are demanding more of CCIE certified professionals.
IT giants like Cisco, TCS, Orange, HCL, Tech Mahindra, HP, Wipro, Infosys, Accenture, IBM, and etc. welcome CCIE certified professionals with open arms.
CCIE certifications can also be your visa to the foreign countries
Now, it is very well explained why CCIE Certifications should be your aim for a career in networking.
Choose a Right Cisco Training Partner?
Once you are sure for making a career in networking then comes the most important step – Choosing the best Cisco CCNA, CCNP, CCIE Training Institute in India.
If you search over the internet or ask your peers, one name would pop up very often – Network Bulls. But Why Network Bulls so recommended for CCIE R&S and CCIE Security Job Placements as Fresher?
To find out exactly, we highly recommend you to visit Network Bulls' website or training center situated in Gurugram.
Network Bulls is authorized by Cisco and offers world-class training for CCNA, CCNP, and CCIE certification course programs. This institute provides networking training to Indian as well as to International students. Network Bulls has customized CCIE Integrated Courses suited to fresher students or anyone who wish to start a career in networking from scratch.
Reasons why Network Bulls is trusted Cisco Training Institute -
100% Job Guarantee CCIE Integrated Courses
World-class Cisco training labs, well-equipped with latest Cisco devices
Triple & Dual CCIE Certified Trainers
24x7 Lab Facility
Record-Breaking Placement & CCIE Results since 2009
How Network Bulls' CCIE Integrated Course Transform your Career?
1. The Integrated Course –
Network Bulls' Cisco Integrated Courses start from the associate level i.e. CCNA and cover Cisco Certifications up to CCIE level which is the expert level. This custom program makes sure participants learn each and everything.
2. The Placements –
Getting every CCIE Integrated Course student a dream job placement is the most special part of this program. Every month one CCIE Integrated batch gets passed out from Network Bulls, and our placement team helps them to get their dream job as a Network Engineer or Network Security Engineer in Delhi, Gurgaon or Pan India after completion of their CCIE course.
We have our own dedicated placement team cell headed by Mrs. Shivani, The team consists of 4 members.  The team organizes campus placement drives regularly which are thoroughly dedicated towards the success of CCIE students.
The training center has bagged 14+ prestigious awards in job placement since its establishment.
3. You become a complete candidate –
Industry demands a fully prepared candidate for the job and that is what we make you – a complete job-ready candidate.
Network Bulls training team works on your personality development as well during the course. Extra classes are provided to strengthen your communication, presentation, interview, and group discussion skills. 
Network Bulls has been associated with 100+ MNCs to help students to get their dream jobs. Some of the prominent names are- CSS Corp, British telecom, Aricent, and others visit NB for the job placement. However, if a company requires CCIE R&S or CCIE Security fresher in India, Network Bulls is their first choice, doubtlessly!

Download PDF
Record Breaking Placements Continue - Check Out Our December CCIE R&S and CCIE Security Placement Results
Job Roles Offered to CCIE Engineers-
For those who have just started their career in networking, here is the job roles offered to CCIE R&S passed-out and CCIE Security passed-out candidates.
Jobs of CCIE Security Engineers -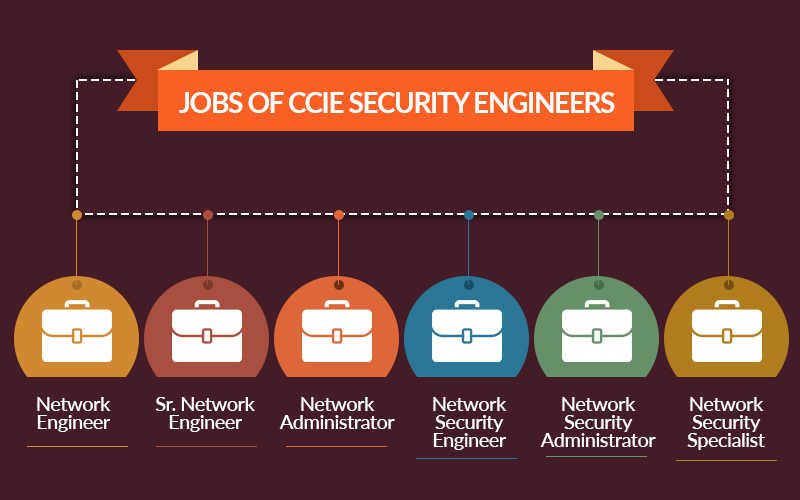 Jobs of CCIE R&S Engineers -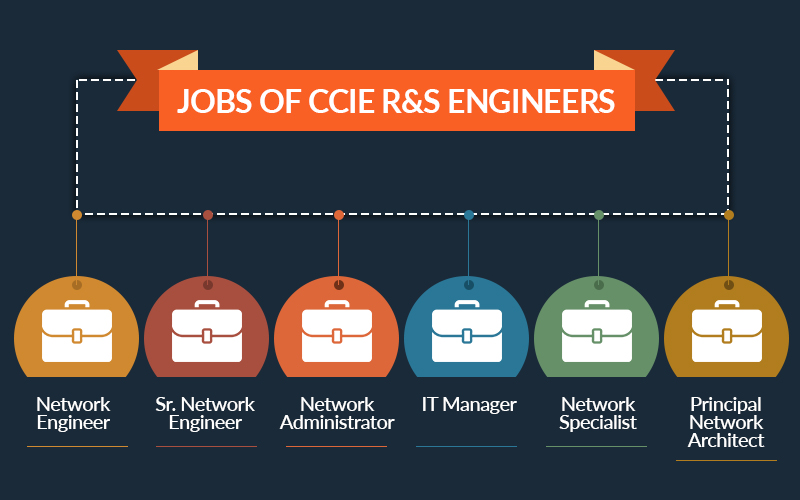 Companies Hiring CCIE R&S and Security Engineers in Delhi NCR/Bangalore/Chennai -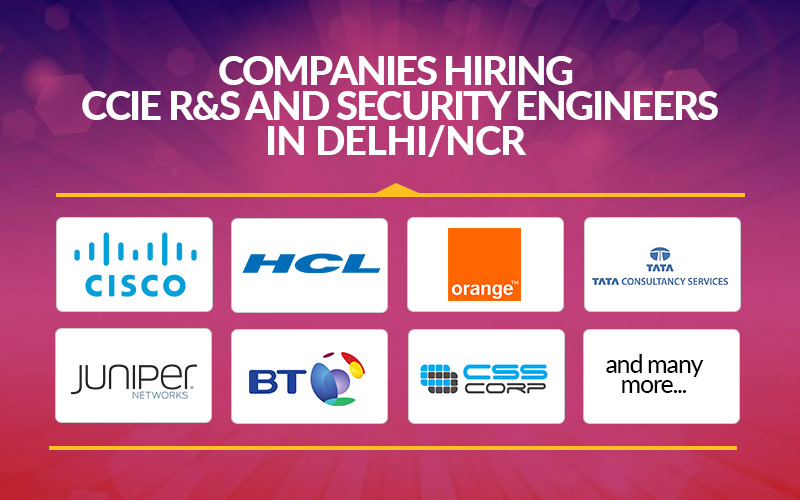 Apart from above listed companies, there are over 3000 companies in India hiring for CCIE Certified and non-certified CCIE engineers, majorly in Delhi, Gurgaon, Noida, Bangalore, Chennai and Hyderabad. Companies like HCL, Tech Mahindra, TCS, Orange, Accenture, Religare, Wipro, Airtel, Vodafone, Idea, Cable & Wireless, Navisite, 3i-infotech, NBT etc hires most of the Network Engineers in India.
Salary Packages of CCIE in India - 2018
CCIE Salary in India has definitely shown great growth signs compared to 2017 and will continue to rise. Here are packages CCIE R&S fresher and CCIE Security Fresher can expect.
CCIE R&S starting package- 4-5 LPA. If you have 5 years of experience in the networking industry, the salary package would be- 18 LPA or more depending upon your skills.
CCIE Security starting package- 6 LPA. If you have 5 years of experience in networking industry, the salary package would be- 20 LPA or even more if employed outside India and depending upon your skills.
The Scope and Growth of CCIE freshers in India are really wonderful. Even if you compare the growth of a CCIE Certified professional with other fields like Programming, Software Engineering etc.; the difference is major.
So don't wait for the opportunity to arrive! Visit Network Bulls and enroll in your desired networking certification course to make your careers fly!!