MVTE - Next Generation CCIE Training Course with 100% Job placement Guarantee at salary package of 8 Lacs per annum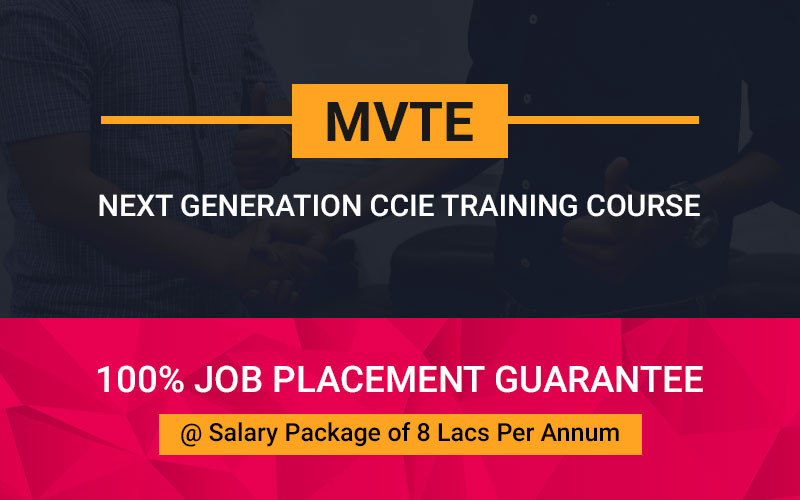 By
Network Bulls

Networks out there in companies are not just limited to Cisco, Then why should your knowledge be?
Idea behind this program is very simple. To offer whatever is most demanded in the industry. Our Placement Team played a major role in designing of this program, as they met hundreds of Managers from HR and Talent Acquisition departments  in various IT companies and asked them a simple question - What all skills you think an engineer should carry in order to make you feel like it is going to be your dream hiring?
Answers we got were really very interesting. Different companies had different set of requirements but most of the demands were common in all.
1. Security Engineers were very poor in R&S and DC technologies. Security Engineers working in Service Provider or Data Center environment had poor knowledge on Advanced Routing Switching,  Load Balancers and Nexus technologies. So we decided to include CCIE R&S, Advanced BGP, Advanced MPLS, F5  Load Balancers and Nexus technologies in this program covering major parts of R&S, DC and SP tracks, making engineer expert in multiple technologies, not only in Security. As someone rightly said, "If you can not implement a network, you cannot secure it too".
2. Security Engineers available in market were experts in Cisco ASA Firewalls only. And those who had knowledge of Cisco ASA Firewalls, Juniper Netscreen Firewalls, Checkpoint Firewalls, they were very very expensive. Companies were left with no other choice but either to train their in-house Cisco engineers on all these technologies or to hire those expensive engineers who already had knowledge on multiple vendors. Irony was, if they train their in-house resources, they switch their jobs after 6-12 months to get more lucrative salary packages. So we decided to include Juniper Netscreen and Checkpoint Firewalls along with Cisco ASA. We included VPN because this is the most demanded technology used in industry. After completion of this phase, candidates will be able to implement Cisco, Juniper and Checkpoint Firewalls and deploy VPN in Multi-Vendor environment. Just after completion of this phase, candidates will be more skilled than Network Security Engineers working in industry from last 2-3 years.
3. Another problem was, candidates were skilled but unaware of company process, and moreover Network Monitoring and Ticketing Tools used in industry. Network Monitoring and Ticketing Tools are used in each and every company. It was a big problem for company that after hiring freshers from institutes, they had to train them on daily process and general tools used in their company. That is the reason we included Network Monitoring and Ticketing tools in our curriculum. Apart from training on these tools, we included Industrial Training sessions from our experienced trainers and guest lectures from experts working in industry, and also decided to invite our old students to share their experience with our students, making them understand daily problems they face in companies.

Download PDF
MVTE - Next Generation CCIE Training Course with 100% Job placement Guarantee at salary package of 8 Lacs per annum
A Network Security Engineer with sound knowledge of R&S, Security, SP and Data Center technologies. A Network Security Engineer with knowledge of not only Cisco ASA Firewalls, but also capable of configuring and troubleshooting Checkpoint and Juniper Netscreen Firewalls.
Network Bulls offer this course with 100% Job Placement guarantee for fresher students in India. Click here to Know more about this Next generation CCIE course.