British Telecom visits Network Bulls - India's No. 1 CCIE institute, for Placement Drive & Hire Network Engineers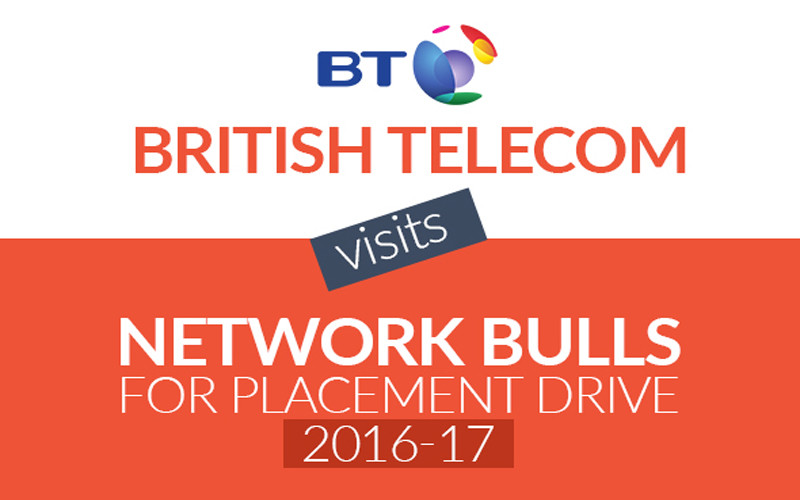 By
Network Bulls
Every Cisco aspirant expects to get placed with top IT MNC after the completion of his/her CCIE certification training and we at Network Bulls strive hard to fulfill the expectation of our students. Placement drives are conducted on regular basis for placing students with big corporate giants in IT networking industry. Recently British Telecom – a UK based Telecommunication Company visited Network Bulls for the recruitment of network and network security engineer.
Appearing for the interview in such a prestigious organization was very pleasing for our students. CCIE trainers at Network Bulls along with placement and management team owe the credit for such a great placement drive. Of Course, not to forget student's hard work and dedication towards CCIE certification training played a vital role in making their career fly.
British Telecom Placement Drive - An Overview 
British Telecom visited Network Bulls, Gurgaon campus on 5th October 2016 for job placement drive 2016-17. The company came with a total of eight openings for the designation of Network Engineer and Network Security Engineer. After getting acquainted with the requirements in detail, placement team shortlisted the resume of 25 interested candidates and forwarded the same.
Also Read - AIT Delhi, Students visit to NB – One of Top 5 Institutes for Industrial Training in India
The total number of positions offered were 8 and Job location was Gurgaon. British Telecom visited Network Bulls – India's best CCIE institute, There were three rounds of screening,
Communication Skills Test
Technical Assesment
HR round
Our students were fabulous in all the three rounds; hence secured job positions is the company. Below is the brief of three screening rounds conducted by British Telecom at Network Bulls, India -
> Communication Skills Test
It was the very first round and students were asked to give a brief intro about themselves on one to one basis. In addition, they were also questioned from their resume. Our personality development classes proved to be a perfect cup of tea for the candidates and they were able to withstand the expectation of the recruiters with ease.
> Technical round
This was the second and the toughest round of the whole screening process. In this round student's knowledge and practical skills in their respective domain were evaluated. Jury covered all the basic and the important topics of networking in this round to finalize the best deserving candidates. Intensive theoretical and practical training along with mock interview sessions with triple CCIE Trainer Mr. Vikas Kumar helped students to crack the technical round with aplomb.
> HR Round
Last but not the least was the HR round which consisted of general HR questions, salary negotiations, employee expectations etc. Our students also faced this round quite easily and comfortably as our personality development sessions include mock interview sessions which give a deep insight into general HR questions.
Job Placement Results
Network Bulls has been delivering outstanding job placements results for CCIEs since 2009 and that is because of such placement drives, training quality and student's hard work. Same happened in this British Telecom placement drive as well, our students cracked interviews with flying colors. Few names of successful students are Gaurav Makhijani and Shashank. You can also make your career a successful one like 13000+ Network Bulls students with 100% Job Guarantee CCIE Courses.

Download PDF
British Telecom visits Network Bulls - India's No. 1 CCIE institute, for Placement Drive & Hire Network Engineers
100% Job Placement Cisco CCIE Courses by Network Bulls
If you also want to start your career with the top IT Company, then enroll in courses with guaranteed jobs @ Network Bulls. Network Bulls provide for best placement in Delhi, Check here. Network Bulls placement record, have been outstanding, and in fact, NB owns the award for best placement training institute to its credit. Network Bulls holds 12+ awards to its credit.
Job guarantee courses are provided in the intensive model which includes theoretical, practical sessions and personality development classes. NB provides Personality development sessions as an additional benefit just for transforming students into complete professionals.
Contact us for more details on courses, training batches, CCIE jobs & more. Indian students can call us on 1800-313-2545 or email at admin@networkbulls.com. Students from outside India can connect with us over +91-8745885377.