Step-by-Step Guide to Become a Network Architect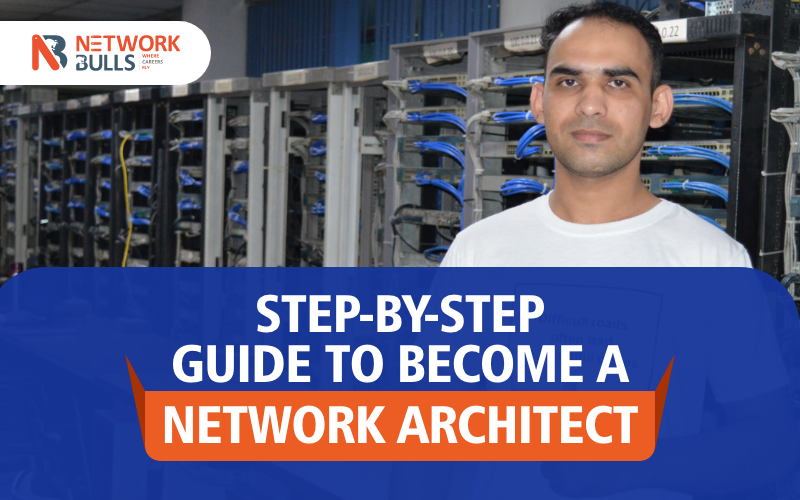 By
Networkbulls
In today's digital age, networks are the backbone of every organization's communication and information exchange.
As businesses rely more and more on technology, the role of network architects becomes increasingly important.
A network architect is responsible for designing and implementing complex network systems that keep businesses running smoothly.
They are the masterminds behind the technology that connects people, devices, and data. 
If you're interested in pursuing a career as a network architect, this step-by-step guide will take you through the essential skills, education, and experience you'll need to succeed in this exciting field.
Let's get started!
Who is a Network Architect?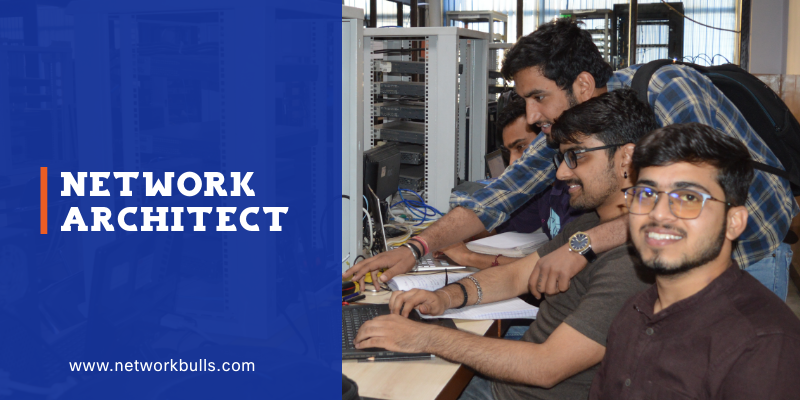 A network architect is a highly skilled IT professional who creates and maintains an organization's communication infrastructure, including its local area networks (LANs), wide area networks (WANs), and other networked systems.
Network architects are also responsible for ensuring that their organization's network is secure, reliable, and scalable enough to handle its current and future needs.
They work closely with other IT professionals, such as network engineers and systems administrators, to ensure that the network is functioning properly and meeting the organization's goals and objectives.
They play a critical role in ensuring that an organization's technology infrastructure is designed and managed effectively.
Steps to Become a Network Architect
Becoming a network architect typically requires a combination of education, technical skills, and work experience. Here are the steps you can follow to become a network architect:
Earn a bachelor's degree 
Employers in the field of network architecture often require candidates to hold at least a bachelor's degree.
This educational prerequisite is primarily due to the comprehensive instruction and training offered in most computer science programs.
These programs equip aspiring network architects with a solid foundation in both fundamental and advanced concepts necessary for success in the field, including network construction techniques and proficiency in computer programming languages.
While computer science tends to be the favored major for aspiring network architects, individuals can also opt for closely related disciplines like engineering or mathematics and complement their degree by enrolling in computer science courses.
Obtain Cisco certification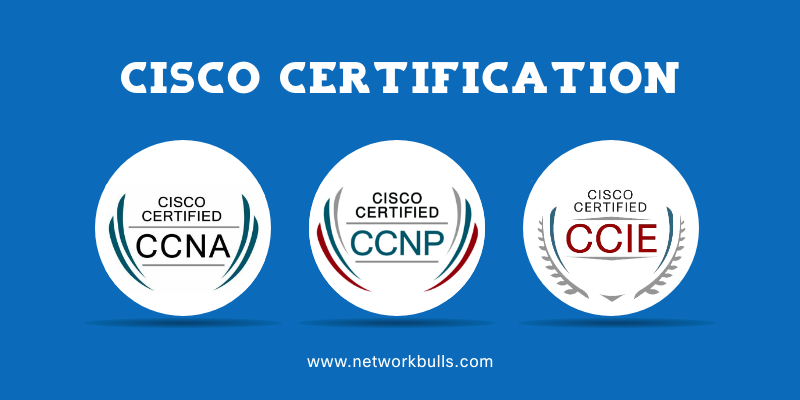 Cisco is one of the leading providers of networking equipment and services, so obtaining a Cisco certification is a valuable asset in the job market.
The Cisco Certified Network Associate (CCNA) certification is a good place to start. From there, you can work your way up to the Cisco Certified Internetwork Expert (CCIE) certification, which is highly respected in the industry. 
You can prepare for exams by attending training courses offered by Cisco or other training providers.
You can also study on your own using Cisco's online resources or other study materials.
Some of the courses you can choose are - the CCIE course, CCIE security course, and CCIE security v6 Course. 
Gain professional experience
Network architects typically have several years of experience in networking or a related field.
You can gain experience by working as a network administrator, network engineer, or another networking role.
This will provide you with practical, hands-on experience that will help you understand the complexities of networking.
You can also gain experience by volunteering to work on networking projects, such as setting up a local area network (LAN) for a non-profit organization.  
Apply for jobs as a network architect
Once you have the necessary education, certification, and experience, you can start applying for jobs as a network architect.
Network architects typically work for large organizations, such as corporations or government agencies, that have complex networking needs. 
Look for network architect job postings on job boards, company websites, and professional networking sites
Bonus Tip: Join 100% job-guaranteed CCIE course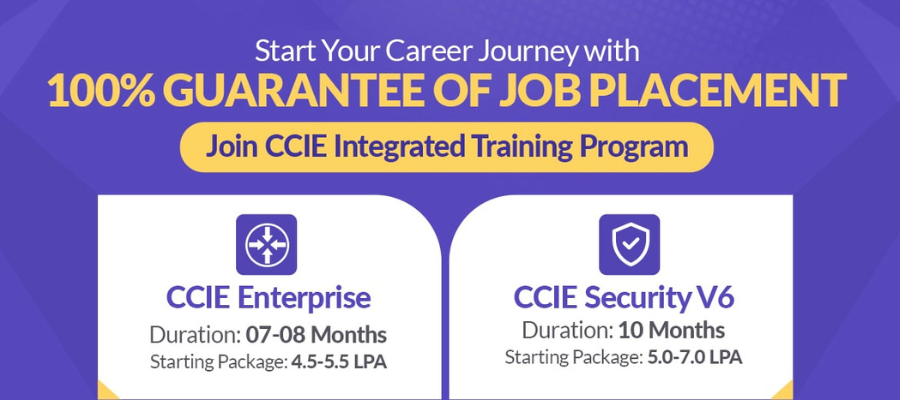 There are various CCIE courses available that claim a 100% job guarantee in India.
You can enroll in one of these courses to gain more knowledge and hands-on experience in networking. However, it's important to do your research and choose a reputable course provider.  
The CCIE course at Network Bulls is designed to provide students with the knowledge and skills needed to become certified Cisco network experts.
The course covers a wide range of networking topics, including routing and switching, security, collaboration, data centre, and service provider technologies. Students learn through a combination of hands-on labs, instructor-led training, and online resources.
The CCIE course at Network Bulls is taught by certified instructors with years of industry experience.
They use a combination of lectures, lab exercises, and real-world scenarios to help students understand complex networking concepts.
The labs are equipped with the latest networking equipment, including Cisco routers, switches, firewalls, and other devices.  
In addition to technical skills, the CCIE course at Network Bulls also focuses on developing professional skills.
Students learn how to communicate effectively, work in teams, and manage projects.
They also receive career guidance and support to help them find the right job after completing the course.
 One of the biggest advantages of the CCIE course at Network Bulls is its 100% job guarantee. 
So, look no further! Upgrade your skills with Cisco certifications and become a network architect.