Back to Back Job Placement Drives of CSS Corp organized by Network Bulls in Sep 2017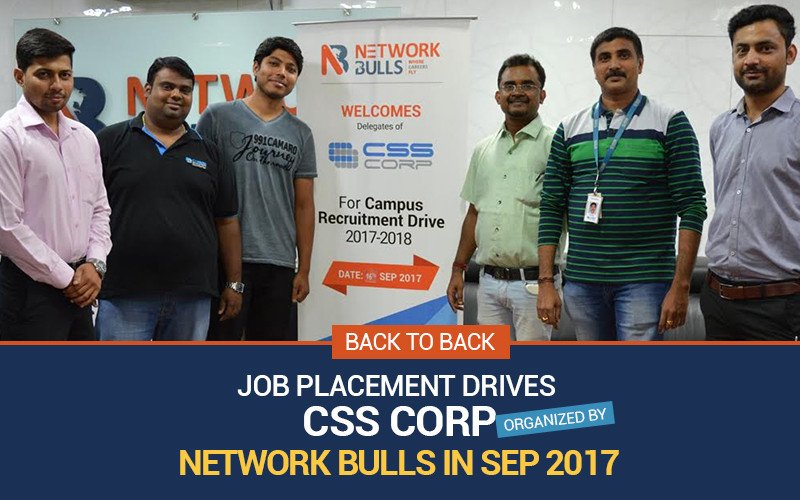 By
Network Bulls
September 2017 witnessed great milestones related to job placements at Network Bulls. And the biggest news in the campus was CSS Corp Job Placement Drives.
CSS Corp visited Network Bulls for placement drive back to back on 9th Sep and 16th Sep 2017 respectively.  
Yes, that is a big compliment to the Network Bulls' Cisco Training in India and quality networking skills we impart to our students. 
Placement Drives are quite common at Network Bulls and held too often for placing students in huge number in just one shot. And such placement drives by BIG IT companies are always a tremendous opportunity for Network Bulls Students. 
Recommended read: How Network Bulls Students Clear CCIE in 1st Attempt Mostly, Over 95% CCIE 1st attempt Success Rate in 2017
CSS Corp's Job Placement Drives for NB CCIE Course Students
Recently, two placement Drives were held at NB's Campus. Both the placement drives were held for CSS Corp but for two different processes –
Palo Alto
Juniper
Aruba
1. Network Engineer's Position Hiring for Palo Alto Process -
At first, CSS Corp visited Network Bulls for placement drive on 9th of September for Palo Alto process. The vacancy was for the designation of Network Engineers and students who were trained in Cisco Routing and Switching + Cisco Security domain could attend this drive.
For Palo Alto Process, there were three rounds of interview which were –
Telephonic Round
Technical Round I 
Technical Round II
2. CSS Corp Hiring for Juniper Process
Secondly, CSS Corp visited on 16th of September for Juniper process for the designation of Network Security Engineer. So, students having knowledge of Security domain were able to reap this opportunity.  
For Juniper Process, there were three rounds of interview which were –
Communication Round
Technical Round I
Technical Round II
3. CSS Corp Hiring for Aruba Process
CSS Corp visited on 4th of November for Aruba process for the designation of Network Engineer. Students having knowledge of network domain were able to grab this opportunity.  
For Aruba Process, there were two rounds of interview which were –
  Telephonic Communication Round
  Technical Round 
               i) Telephonic Technical Round L1
               ii)Technical Round L2 (Skype ) 
All the technical rounds were held at the World's biggest training labs at NB. At NB, along with Cisco certification courses, we also provide training on numerous advanced technologies for making students job ready as per the latest requirement of the technology.
These technologies include – Advanced BGP, Advance MPLS, Nexus, Juniper SRX Firewall, Checkpoint Firewall, Palo Alto, Next Gen. Firewalls etc. Our Intensive Training Model served a long way in cracking the interview as it also includes personality development sessions.
Let's hear from Students who got Job Placement from Drives at NB
Yogesh got placed after CCIE Security integrated Training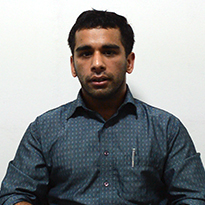 "Hi Guys, my name is Yogesh and I enrolled at NB for CCIE Security Integrated Course. I wanted to get placed just after completing my networking training and had high expectations from NB and team. I am pleased to say that all my expectations were completely met and I recently got placed in CSS Corp.
NB has the best trainers, best labs, and the placement team. They make every possible effort for getting students placed. But, you also need to work hard as every company looks for a technically sound candidate. Enroll at NB, work hard, gain in-depth knowledge of networking and give wings to your career."
Reshma's Job Placement after CCIE Security integrated Training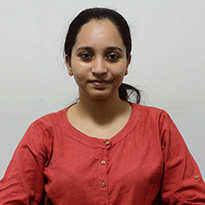 "Hi everyone, I am Reshma and I had a great interest in Network Security domain. Thus, I searched for the best network security institute and enrolled at NB's CCIE Security Integrated Course. A Placement Drive for CSS Corp was recently held at Network Bulls' Campus and along with me, many students got placed.
Trainers here are very supportive and take every possible step for imparting in-depth knowledge of the technology. Placement team is also very active, they keep on arranging placement Drives and placing students in top IT MNCs. Thanks, NB and team for making my career fly."
Mayank Shares his Reviews about CCIE Security integrated Training & Job Placement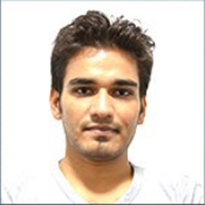 "Hello friends, my name is Mayank and I was looking for the best networking training institute for building my career in networking. I searched the web, asked my peers and came to the conclusion that Network Bulls is the best.
I enrolled at NB for CCIE Security Integrated course which is a 100% Job guarantee course and got placed in CSS Corp.
During my training, I learned the real-time utility of the technology on latest Cisco devices. I got the guidance from the CCIE certified trainers. NB has the world's biggest Cisco training labs and provides 24*7 lab facility. Thus, you can come and practice as and when you want. It is the best institute and I would recommend it to every networking aspirant."

These are just a few students from the list of shortlisted candidates, final results will be out soon and we will keep you posted. 
Also read: Network Bulls announces dates for Next CCNA, CCNP & CCIE Data Center Course Batches
In The End –
We congratulate each and every student placed in this drive and wish them good luck who are still in the queue. It is the moment of proud for entire Network Bulls' team and wishes a bright future for every student getting trained at NB.
Today, IT companies aim at hiring the technically skilled candidates. Hence, Network Bulls' students never fail to reap the opportunity as we aim at imparting the best technical training to students for making them an expert in the IT industry.  
80% students at NB gets placed even without appearing for the Cisco CCIE examination. Thus, at Network Bulls, we celebrate.
Triumph of knowledge over Certification
Meanwhile, if you are interested in networking Courses at NB then visit our Campus at Gurugram or call us on our toll-free number 1800-313-2545. International students can connect with us on Whatsapp over +91-8745885377 or +91- 9540774889.