Study Material for CCNA | Best CCNA Book | Video tutorials | CCNA Devices #NB Tech A04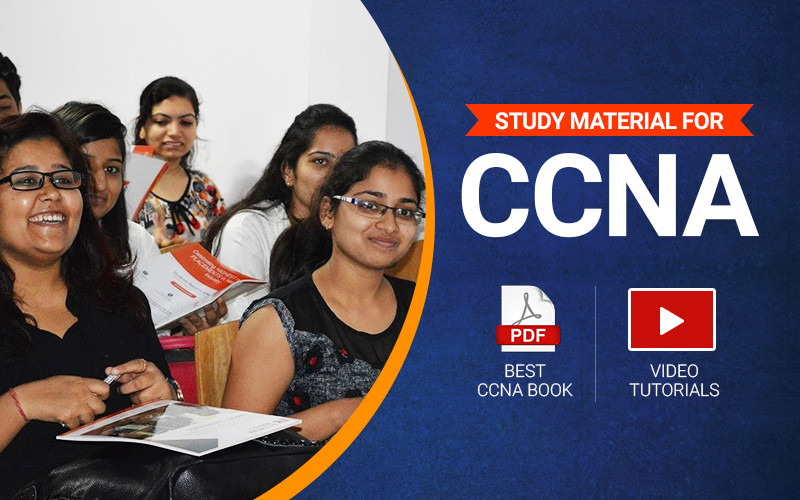 By
Mohit Bhalla
With rising technological advancements in IT Industry of the world, numerous information technology firms expanded and improved themselves over time. While software developing firms experienced a major downfall during recession, Networking based companies and organizations remained unaffected producing more jobs for IT aspirants all over the world. Software developing industry experienced severe repercussions in terms of non-availability of jobs, already employed developers in various companies began to lose their jobs, even if software developers were hired- they were paid less and exploited much, such factors led to huge set back to software industry and its concerned certifications.
Networking industry has been that part of IT industry whose value remains evergreen in fact grows with time just like that of gold. Various certifications like CCNP, CCIE, etc. offer exceptional scope and growth opportunities surpassing all the other certifications existing. With a never ending scope and value, these certifications to great extent have changed lives of many people. However these Cisco introduced certifications require a strong niche to be created before aspirants can try their hands on expert level certification like CCIE – Cisco Certified Internetwork Expert.
Cisco Certified Network Associate also known as CCNA serves as a prerequisite to professional or expert level certifications like CCNP, CCIE, CCAr, etc. Preparing for CCNA may seem an easy task but if in reality is not. Aspirants need to concentrate and invest their time, money and efforts in best way possible. Great CCNA course material must be taken into consideration as it helps in proper yet amazing preparation of your course's exam. This article will help solve your queries related to study materials required to refer while preparing for your CCNA online exam. All the details related to CCNA course materials can be found in this article.
Do you want to know about best study material or Best book to prepare for CCNA exam? If yes keep on reading!
Best Book to prepare for CCNA Online Exam
Many books by various authors and publications are available in the market which can be purchased while preparing for your CCNA Online exam. Out of the many available, we have selected few books that are best amongst the lot.
1. CCNA Routing & Switching Study Guide" by the author Todd Lammle by Sybex publications. This book is considered to be a living god for CCNA aspirants worldwide. Along with this book, aspirants get a CD which allows students to practice topologies specified in syllabus of the course. In precise words, the CD contains a simulator software which helps practicing CCNA scenarios virtually. Apart from the simulator software, students get MicroNuggets videos by CBT Nuggets ideal while preparing for CCNA online exam.
2. CCNA Study Guide published by Cisco Press is another great book available for preparation of CCNA Online exam. This book serves as a guide for aspirants preparing for ICND1 and ICND2 certification exams. Even this book consists of simulator software essential for virtual practice of course scenarios.
3. Cisco Certified Network Associate Study Guide by Richard Deal, yet another good book which can be referred by CCNA online exam aspirants. This book also serves as a guide and includes all the information required to prepare for the exam exceptionally well.
Out of the three mentioned books, we highly recommend the "CCNA Routing & Switching Study Guide" by the author Todd Lammle as this book has all the material required to prepare for CCNA Online Exam.
Video Tutorials for CCNA
Video tutorials today acts as a savior when it comes to preparing for CCNA Online Exam. The tutorials by CBT Nuggets are quite useful. Some CCNA video tutorials are also available for free by CBT Nuggets so that aspirants get an idea about certain basics of the course. Few videos are also available online, free of cost.
There is a person named Jaswinder Thind who makes and provides free CCNA tutorials online for CCNA aspirants. You can find these videos on YouTube by typing free CCNA videos by Jaswinder Thind. These basic video tutorials are of great value as they help aspirants learn a lot by just sitting online.
Many companies exist which distribute such CCNA video tutorials free of cost for various courses but take money for CCNP, CCIE, etc. video tutorials. These tutorials are a good source of learning.
Many of our students have made tutorial videos voluntarily which have been uploaded on our company's YouTube channel – Network Bulls channel. We have even distributed these videos for free of cost to our students to help our students solve practical scenarios step by step. Video tutorials by CBT Nuggets from Germany are the best if you want to prepare for CCNA online exam nicely.
However classroom training is much better for aspirants if they want to prepare for CCNA certification and learn technologies but not everyone can join a regular course due to time constraints. Online CCNA Training and video learning is a good option for them. This link might help if you are looking for CCNA training institute in India.
Devices to prepare for CCNA Online Exam
Devices play an important role while preparing for CCNA Online exam. Devices must be real which directly effects the clarity of theoretical and practical concepts of the CCNA exam. If availability of real Cisco devices cannot be possible then simulator tools are there for rescue. Few simulator tools are available which help aspirants in practicing the real time scenarios virtually onscreen. Many simulators are available which can be used for practicing the CCNA concepts but out the many available Cisco packet tracer and GNS3 are the best. However, using GNS3 requires highly configured laptop/computer and real Cisco IOS images whereas Cisco packet tracer requires nothing of that sort. It is very light and can work easily on not so highly configured laptops and computer systems. Apart from these two Boson's simulator is also available which is also nice to use.
Routers used in CCNA training are: 2611 x m series, 1841 or higher series. 2500 series of router won't work.
Switches used in CCNA training are: 2950, 2960 and 3550 series.