AIT Delhi, Students visit to NB - One of Top 5 Institutes for Industrial Training in India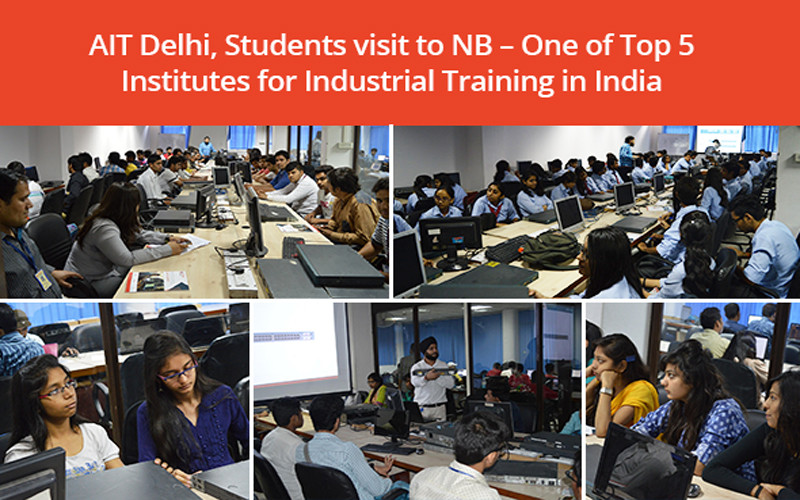 By
Network Bulls
Completing Graduation in IT field is not enough to get a great job placement nowadays, one has to do high-end IT certification courses for building a bright career ahead. With the passage of the time, the scope of Networking is increasing manifold. Thus, Network Bulls – India's No. 1 Cisco CCIE Training Institute keeps organizing workshops and industrial visits for students. This time, NB did it got students of Aditya Institute of Technology, Delhi.
"Network Bulls conducted a working on networking for AIT, Delhi Students at their campus on 20th Aug which was followed by Industrial visit to NB campus on 25th & 26th Aug."  
Why Network Bulls Cisco Training Workshops & Industrial Visits matter big?
The sole purpose of these Cisco training workshops and industrial visit is to educate students about basics of Networking and its ever growing scope. Network Bulls' CCIE Certified Trainers cover all basics to make students familiar with IT Networking domain. Click here to know:  Network Bulls 6 Months Industrial Training Program
Cisco Networking Basic Topics covered in workshops -
Basics and Fundamentals of Networking
Types of Networks
IP Addressing
Subnetting
OSI model of networking
AIT Industrial Visit @ NB Campus - Best Industrial Training Institute,  Delhi/Gurgaon
After conducting the workshop, an industrial visit of students was conducted at Network Bulls' Gurgaon Cisco training center. The industrial visit had two major sessions –
1. Theoretical session
A theoretical session was conducted by Network Bull's trainer in which next level of basics of networking, fundamentals, techniques etc. were covered. To make students revise the stuff taught in the workshop and develop a better understanding of the topics. This theoretical session also prepared them for the practical session.
2. Practical session @ World's Largest Cisco Training Labs of Network Bulls –
Post completion of the theoretical session, Students visited Network Bulls' world's largest Cisco training labs where they saw real Cisco devices and live racks. After making them familiar with the devices a demonstration was given on the real Cisco devices. Students were shown how to access Routers and Switches, how to set a password on Routers and Switches, how to use Cisco devices in the real scenarios and much more.
In addition, the trainer also conducted a discussion in which he suggested the software students can use such as Putty, Cisco Packet Tracer, GNS 3 etc. Students were excited with the experience they got and shared very positive feedbacks with us after the visit.
  Why to Choose Network Bulls for Industrial Training in India?
Network Bulls has established itself as one of the best Industrial training institutes in last 6 years not only in Delhi/NCR but in India also. Network Bulls offers wide range of training courses under its industrial training programs. Major ones are -
4 Months CCNA R&S + CCNP R&S Industrial Training in Gurgaon
4 Months CCNA R&S + CCNA Security + Ethical Security Training in Delhi/NCR
Above courses are for regular batches  which include weekdays. For weekend batches same programs turn into 6 months industrial training programs in Delhi/NCR. After these industrial training from Network Bulls an attendee can also look for jobs in industry.

Download PDF
AIT Delhi, Students visit to NB - One of Top 5 Institutes for Industrial Training in India
Apart from these Network Bulls also offers CCNA Industrial training, CCIE R&S Integrated, CCIE Security Integrated Industrial Training programs. For CCIE Integrated Industrial training courses Network Bulls also assures 100% job placement guarantee.
You might want to find out: Project Based Summer/industrial CCNA, CCNP training
Enroll with Network Bulls today and make your career fly. Contact Us Now or Call us at 1800-313-2545 or email us at admin@networkbulls.com
"I'm from maharashtra, i wan..."
I'm from maharashtra, i want to know about hostel facilities what type of facilities you provide to us like wifi, tv, ac, food etc. Can you please mail me this details? And i want to know if i come up there can i get hostel on same day with admission in