How Network Bulls Delivers 10 times more Placement than any other Cisco Training Institute in India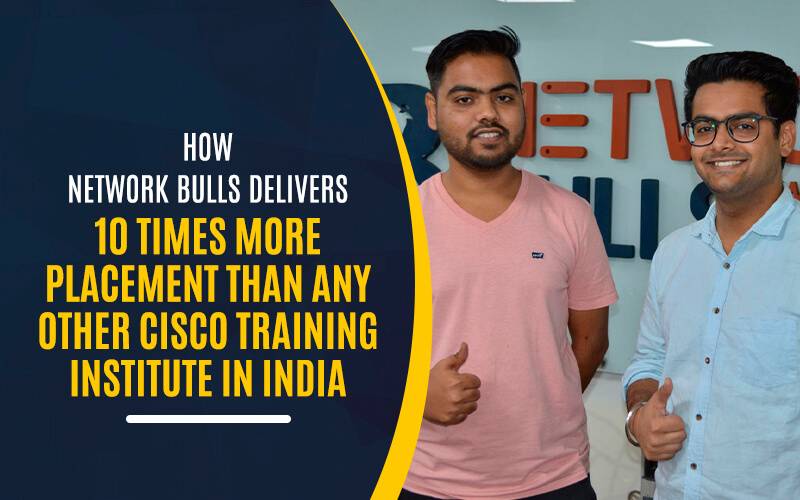 By
Networkbulls
Want to take advantage of the best opportunities in the networking field?
Today, computer networking is a fast-growing field with a great job scope and employment opportunities. The global networking field is expected to grow significantly in the coming years, with increasing demand for network professionals.
To make a career in the networking field,
Cisco certifications are globally recognized and provide plenty of job opportunities in the field of networking.
There is a huge scope of IT networking certifications in Middle East, South Asia and European countries. 
If you are looking for a Cisco networking training institute in India, Network Bulls can be the best choice. Network Bulls is one of the leading providers of networking training in India for CCNA, CCNP, CCIE, and related other emerging technologies. 
Whether you are planning for a career in networking or consider switching your career,
Network Bulls offers 10 times more placement than any other networking training institute in India. 
Let us check how network bulls delivers 10 times more placement than any other Cisco training institution in India - 
12+ Years of Educational Excellence
Network Bulls has more than a decade of experience in providing training in IT networking. The company has been honoured with several awards for the record-breaking placements it offered. More than 90% of the aspirants who joined CCIE succeeded in their first attempt.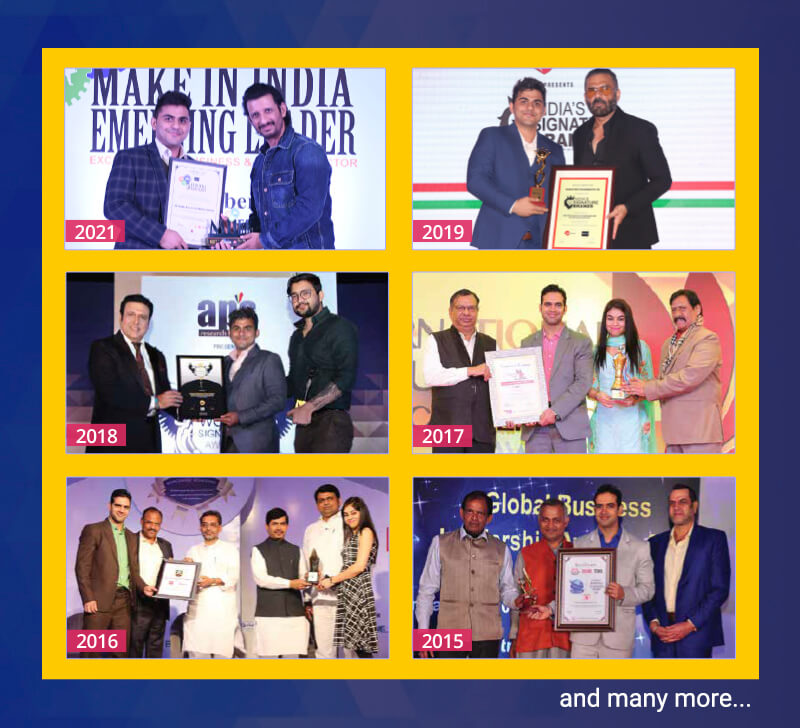 The highest standards, best quality study material and well-experienced trainers make the aspirants ready for real-time challenges in IT networking.
Largest Cisco Training Lab
The students are provided 100% practical training in the world's largest Cisco labs equipped with the latest devices. The Cisco devices at Network Bulls are upgraded from time to time to ensure the students are trained on the most advanced devices. In addition to Cisco devices, the students will have round-the-clock access to wireless racks, projectors, internet connectivity, and more to refine their skills.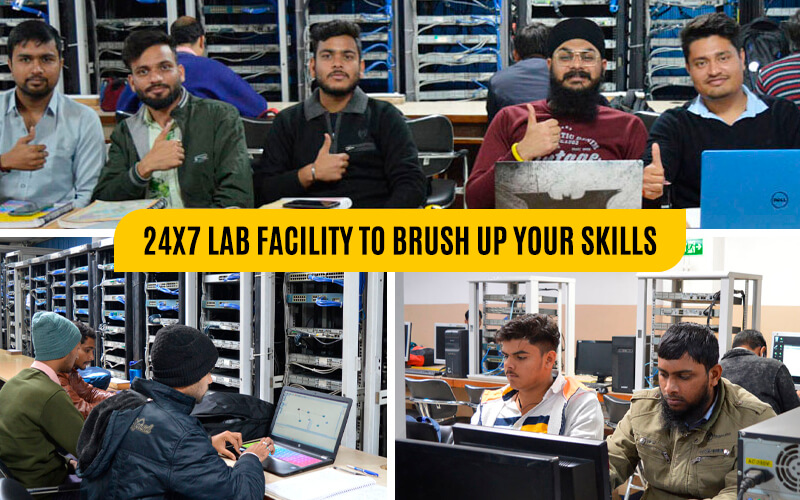 Being the world's largest Cisco lab, each student will have access to a dedicated rack for practice. It means the students don't have to wait for their turn. The students can access the labs anytime so that they never miss any opportunity to learn and practice. This is one of the reasons behind 10 times more placements than any other Cisco training institute in the world.  
100% Placement Guarantee Training Programs
Network Bulls offers 100% job guarantee courses -
CCIE Enterprise Integrated 
CCIE Security V6 integrated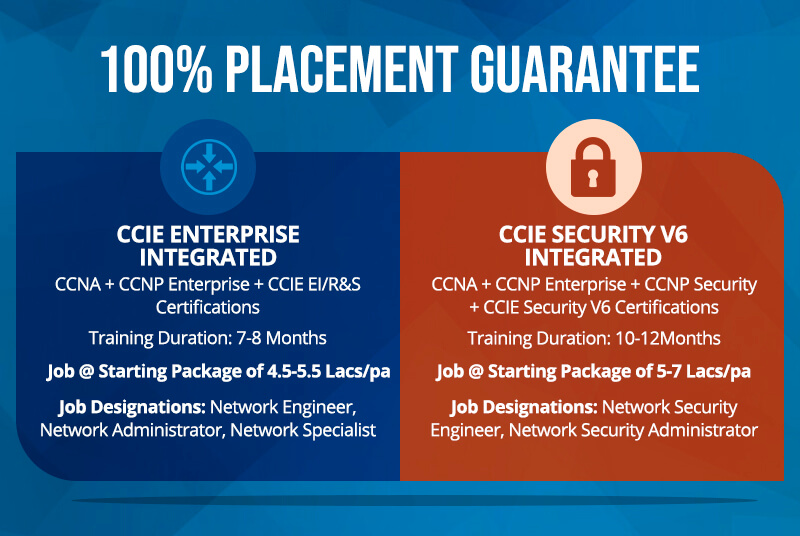 The institute offers 100% job placement guarantee to the students enrolled in these two courses.
With ultra-modern training methodology and updated equipment - one can get trained in the best environment and placed in some of the best IT networking companies.
With a dedicated placement team, the students are placed at reputated companies with good salary packages.  
Intensive Training Model
Network Bulls provides intensive training to the students so that they are prepared to face the challenges they come across in their professional life. 
The intensive training model trains the students for 6 hours per day in:-
 Theoretical session for 2 hrs
Practical session for 2 hrs
Personality development sessions
Also, the students are trained for interviews by arranging mock interviews. They get 24 X 7 access to the world's biggest Cisco labs to refine their skills. The students will have to practice in the labs for at least 3 hours to gain hands-on experience. No other Cisco training institute is offering such a facility to its students. Our intensive training model prepares the students for everything required to get placed in their dream job
Interview Sessions
Besides, theoretical and practical knowledge - Network Bulls prepares the students to face the technical interview. The interview sessions are organized under the guidance of CCIE certified instructors with years of industry experience. The regular interview sessions at Network Bulls help the students to face any type of interview to get placed in their dream job. The institute trains the students in such a way that they look like professionals. Moreover, Network Bulls make you attend interviews of reputed MNCs.  Over the last few years, the students of Network Bulls have shown great results.
Pool of CCIE Certified Trainers
Network Bulls has a pool of CCIE certified trainers with years of experience in the networking industry. They will teach students with proper guidance on several aspects such as - theoretical skills, practical knowledge, certification exams, and more.With dual-certified CCIE trainers, the technical team of Network Bulls is considered one of the biggest technical teams in the world. Our instructors The institute not just trains the students but transforms them into an expert by providing intensive training in personality development, mock interviews, group discussions, screening, industrial exposure sessions and technical interview preparation. This is another reason why the students of Network Bulls get placed in the top IT networking companies. 

Download PDF
How Network Bulls Delivers 10 times more Placement than any other Cisco Training Institute in India
World-Class Study Material
Network Bulls provides world-class study material of unmatched quality. The course material is designed with unlimited problem-solving scenarios and technical methodologies that are adapted for better exposure of real-time experiences. The workbooks emphasize on both theoretical and practical knowledge that companies seek in certified professionals. It is one of the reasons why students of Network Bulls are more likely to be hired by companies compared to any other training institute. 
Committed Placement Cell and 5x Placement Drives in a Month
Network Bulls has a well-established placement cell, which screens the student profiles, arranges opportunities, connects the students with reputed MNCs and corporate companies, conducts interviews, and helps them to get placed in good company with a good starting package.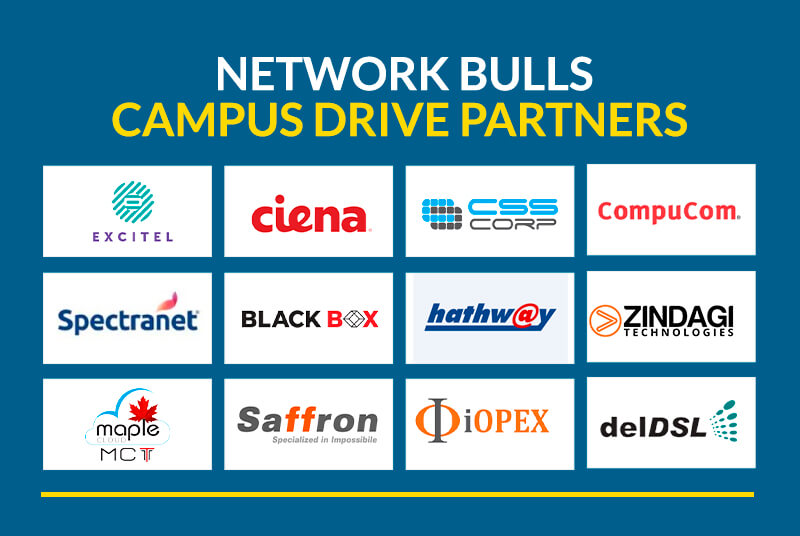 With the guidance of the Network Bulls placement cell, students face the interviews with complete confidence. The main motto of Network Bulls is to make students skillful and prepare well for the networking industry. The training programs with 360-degree personality development, 100% practical training, and skill improvement make the student a perfect candidate for securing a job in MNCs. 
With an outstanding placement record since its inception, Network Bulls is considered a pioneer in networking training and placement assistance. 
Check out the best networking courses offered by Network Bulls. For more queries on job guarantee programs, Contact Us on 1800-313-2545, WhatsApp at +91- 9540774889, or email us at admin@networkbulls.com.