Changes in CCNP R&S and Enterprise | Old vs New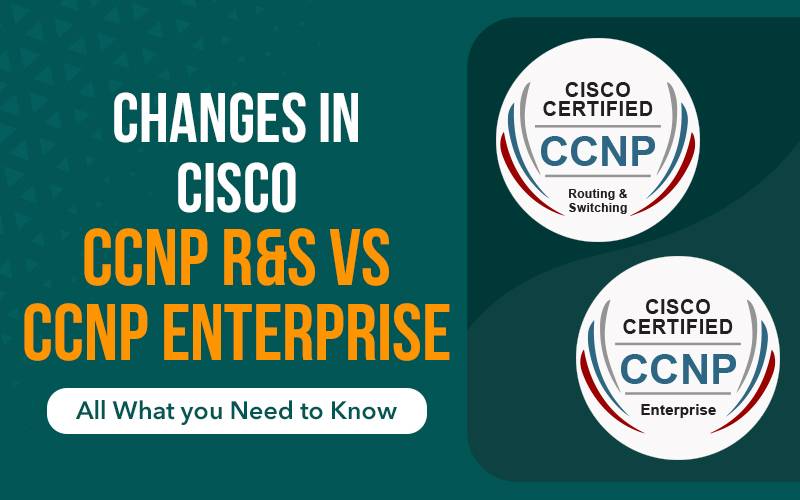 By
Networkbulls
In today's era technology is evolving at a rapid rate and to move with time we need to keep ourselves updated.
Companies keep on bringing new advancements to their devices and introducing new awestucking features. 
Cisco INC keeps on updating their certification courses from time to time to keep their professionals updated with the latest upgrades in the Cisco devices. 
Recently, in Feb 2020, Cisco INC retired their old technology-specific CCNA certification exam and introduced a single CCNA Certification for all the concentration exams. 
Not only this, 
But CCNP R&S was also replaced by CCNP Enterprise which is a more comprehensive course. Here are all the details that you need to know about CCNP Enterprise!
CCNP Enterprise Certification Exam Vs CCNP R&S Certification Exam
CCNP Enterprise Certification Exam 
Automation and programmability are now included in the CCNP  Enterprise certification, which can assist applicants grow their networking infrastructure. The implementation is the most important test. 
Candidates must complete two exams in order to earn the CCNP Enterprise certification. This comprises a "core" knowledge exam that everyone must pass, as well as a concentration exam.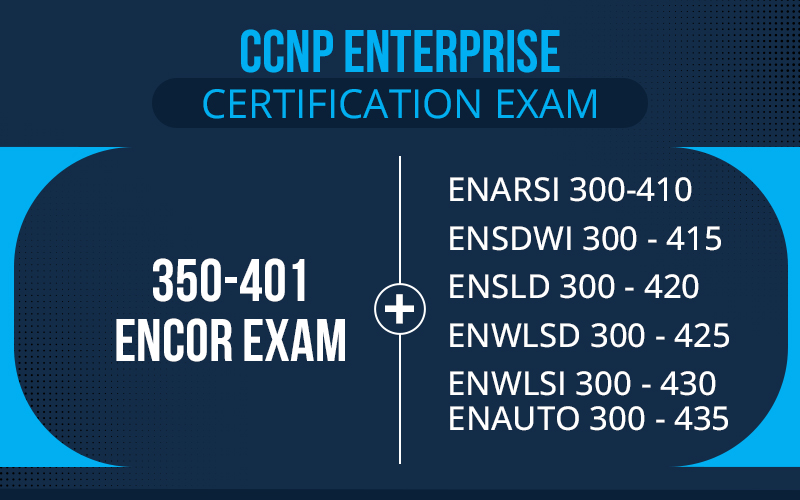 The 350-401 ENCOR Exam for CCNP Enterprise  
350-401 ENCOR is a 120-minute exam that assesses your understanding of implementing core enterprise technologies. how to integrate corporate networking technology. In the United States, the exam costs $400 (30k INR approx). 
While there are no official requirements, it is advised that you have three to five years of expertise installing business networking solutions. 350-401 ENCOR Exam is valid for three years, so you will have to pass, CCNP Concentration exam in three years to become a CCNP certified professional.
CCNP Concentration Exam 
Post completion of your ENCOR exam,  you have a list of six concentration exams available to choose from. Each concentration exam is a 90-minute examination and costs $300 (23k INR approx). Select any one Concentration exam from the list below on the basis of your interest as it takes a deeper dive into one particular topic!   
ENARSI 300-410 - Implementing Cisco Enterprise Advanced Routing and Services 
ENSDWI 300 - 415 - Implementing Cisco SD-WAN Solutions  
ENSLD 300 - 420 - Designing Cisco Enterprise Networks 
ENWLSD 300 - 425 - Designing Cisco Enterprise Wireless Networks 
ENWLSI 300 - 430 - Implementing Cisco Enterprise Wireless Networks 
ENAUTO 300 - 435 - Automating Cisco Enterprise Solutions 

Recommended Reads: Know How to Get CCNA, CCNP and CCIE Certifications | New Exams and Exam Codes

CCNP R&S Certification Exam 
CCNP R&S on the other hand had only three examinations which cost $900 i.e. $300 for each CCNP module. So, now you can easily see the difference in cost and number of exams between the two! Old CCNP R&S certification exam modules are listed below, have a look -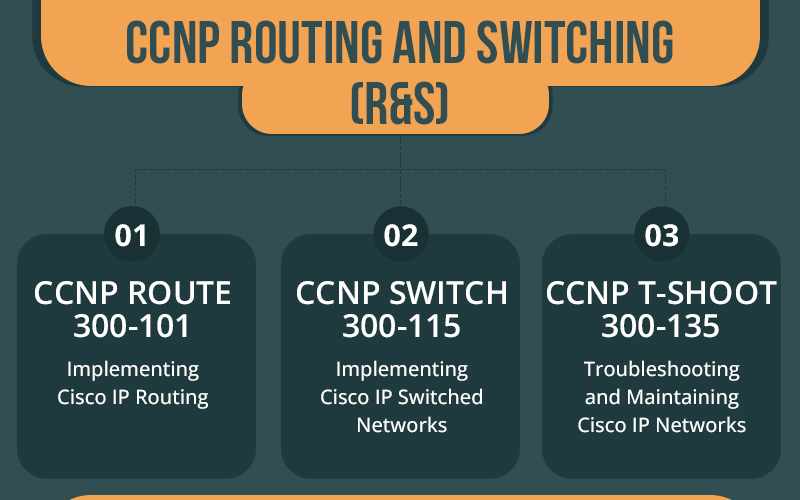 So, these were some basic changes in CCNP R&S and CCNP Enterprise. 
What if you have a valid CCNP R&S Cert. & want to pursue CCIE Enterprise lab?
The old CCNP Routing and Switching certification only cover 70% of the new ENCOR 350-401 topics. So, if you want to pursue CCIE Enterprise Lab then you must study some topics separately. Here is a list of all the eminent topics which were not these in CCNP Routing and Switching, have a look -  
Working principles of the Cisco SD-WAN solution

SD-WAN control and data planes elements
Traditional WAN and SD-WAN solutions

Working principles of the Cisco SD-Access solution

SD-Access control and data planes elements
Traditional campus interoperating with SD-Access

Describe network virtualization concepts
Describe DNA Center workflows. How to apply network monitoring,configuration,  and management
Configure and verify NETCONF and RESTCONF
Automation
Interpret basic Python components and scripts
Construct valid JSON encoded file
Describe the high-level principles & benefits of a data modeling language, like YANG
Describe APIs for vManage & Cisco DNA Center 
Interpret REST API response codes & results in payload using Cisco DNA Center & RESTCONF
Construct EEM applet for troubleshooting, data collection or automate configuration
Of course, there is no one-size-fits-all response to the question of whether the new examinations are harder than the old exams if you're looking at this information. That said, the quick answer is yes, they are more difficult than the old CCNP exams in our opinion. 
However, you must keep in mind that the older tests were older and needed a  considerable overhaul to address subjects that are more relevant in today's networking systems. 
The growing emphasis on automation necessitates learning Python and some simple scripts. These are topics that were not covered on previous CCNP examinations. While the upgrade makes the exams more difficult than before, it also makes them more reliable. 
The New CCNP Exams: How to Prepare  
Learning from experienced trainers, practising on the latest Cisco devices, studying according to the exam blueprints, and having the correct resources is the only success mantra.  

The new Cisco exams aren't simple, but you have a good chance if you study consistently and focus on learning the real-life implementation of the concepts. 
We at Network Bulls, provide CCNP Enterprise training on ultra-modern devices with a focus on complex topics such as IPV6, SSO, FHRP, SD-WAN, CEF, Wireless QoS, TCAM, LISP, GRE, NAT/PAT, VXLAN, EIGRP and OSPF, eBGP, SSH, Telnet, HTTP(S), BGP, SNMP and so on. 
For more information check our CCIE Enterprise course details 
We have the World's biggest Cisco training labs which are updated with the latest Cisco devices and live racks from time to time. At Network Bulls, we are focused on providing 100% practical training, thus our labs are open 24*7 and have dedicated lab instructors for hassle-free learning. 
In a Nutshell,  the new CCNP hasn't lost its prestige or value in the IT industry, but it has modernized the content. The new CCNP exams are more relevant, modern and challenging. Additionally, providing specialist certs will help students gain expertise in the technology of their interest. 
So, what are you thinking? Get in touch with our education counsellors today and enrol today to give wings to your career! Connect with us @1800-313-2545 or email at admin@networkbulls.com. International students can connect with us @+91-8745885377.